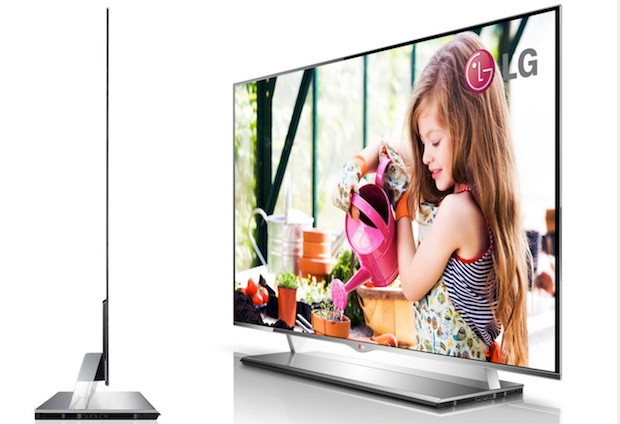 Currently stoking near-uncontrollable feelings of wanton lust and desire around the Wirefresh office is LG's ludicrously slim 55-inch OLED HDTV, which is coming to the UK soon
Already shipping in Korea and the US, the stunning 55EM970V TV has an incredibly thin frame that almost vanishes altogether in profile, and comes with a price tag that will makes you cross your legs in pain.
The slim, slender and super-sexy gogglebox meausrs up at a mere 4.5 millimetres thin and weighs less than 10 kilograms, so will look just divine on the wall of your luxury Pall Mall apartment.
Available for pre-order at the posh Harrods, Knightsbridge store, this 55 inch beaut will deplete your bank account to the order of around £10,000, with delivery expected in July.
I guess we'd better start saving then…
LG LAUNCHES WORLD'S FIRST 55-INCH OLED TV TO UK CONSUMERS

UK, 7th March 2013 – LG Electronics (LG) announces today the arrival of the stunning, World's first 55-inch OLED TV to the UK, showcased exclusively at Harrods Technology and available to customers on pre-order for delivery in July.

The LG OLED TV (55EM970V) ushers in a new era of TV screen technology, at just 4.5 millimetres thin and weighing less than 10 kilograms, yet producing exceptional picture quality and delivering spectacularly vivid and accurate colours due to its superior WRGB technology. LG's OLED TV truly represents the future of TV and is the culmination of years of research and development, with the company committed to continued investment in this technology.

"We are proud to be the first in the world to offer consumers a big screen OLED TV," said Brian Na, President of LG Electronics UK. "LG's next generation display is a true game changer, which will forever alter the way we think about TVs. Since OLED TV was first unveiled, we've been working tirelessly to bring what we call 'the ultimate display' to market. I'm sure you'll agree that our 55-inch OLED TV has definitely been worth the wait."

Andrew Mackay, UK Commercial Director of Home Entertainment and Home Appliances added: "Following the LG launch and supply to the Korean market earlier in the year, the UK is proud to be the next market to launch LG OLED TV, as this innovative and premium model launches first in Europe to UK consumers."

LG's OLED TV combines the company's leading Smart TV technology and Cinema 3D capabilities with edge-to-edge Cinema Screen Design, creating the most immersive and complete home entertainment experience with stunning style to match.

Since the LG OLED TV first debuted at a Trade Show in January 2012, it has received a number of accolades from prestigious international design associations and well regarded media outlets for both outstanding picture quality and truly exceptional design. In addition to being named Best of Show at CES 2012, the influential Industrial Designers Society of America recognised the 55EM970V with a coveted IDEA Award. Meanwhile, LG received the European Display Achievement 2012-2013 Award from the European Imaging and Sound Association (EISA) and the TV received Korea's Good Design Award in October 2012.

The LG 55EM970V is available now at Harrods, Knightsbridge for pre-order with delivery in July, priced at an estimated £9,999.99. The new LG OLED joins LG's other pioneering home entertainment technologies at Harrods Technology, including another World's First in the 84″ ULTRA HD TV (84LM960V).

For more information on LG's OLED TV and impressive wider portfolio of home entertainment technology, visit the UK website at http://www.lg.com/uk