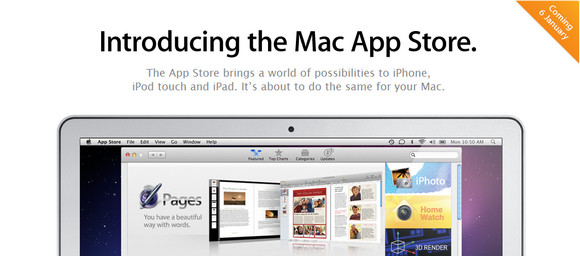 Apple has announced that it will be launching its new Mac App Store on January 6.
Available in 90 countries at launch, the store will feature access to both paid and free apps across several categories, including education, productivity, and games.
"The App Store revolutionized mobile apps," boasted Apple CEO Steve Jobs.
"We hope to do the same for PC apps with the Mac App Store by making finding and buying PC apps easy and fun. We can't wait to get started on January 6." he added.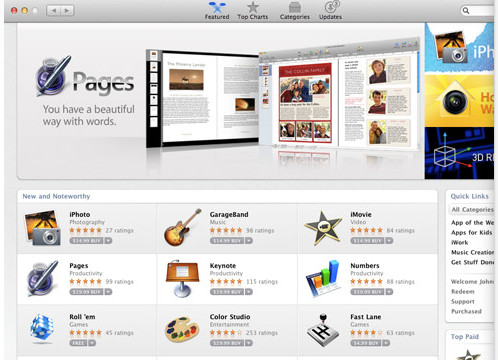 Users will be able to download the Mac App Store through Software Update and the store experience will be instantly familiar to anyone already using iOS-based devices.
There'll be the usual app information on offer, plus customer ratings and reviews, with updates available through the Mac App Store..
Developers flogging paid apps can expect Applet to snaffle a sizeable 30 per cent chunk for themselves, while there'll be no charge for free apps.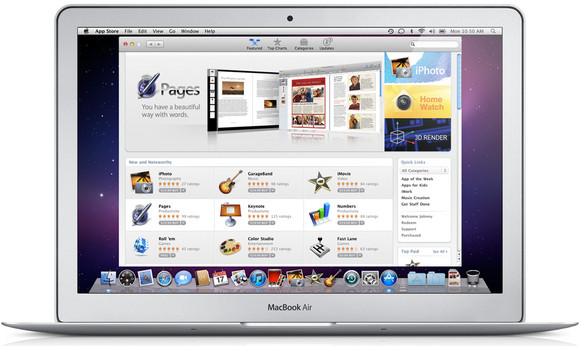 Here's how Apple big up the store:
Great apps for your Mac.
Right on your Mac.
The Mac App Store is just like the App Store for iPhone, iPod touch and iPad. So it's as easy to find and download Mac apps as it is to add your favourite magazine to iPad or a new game to iPod touch. You can browse Mac apps by category, such as games, productivity, music and more. Or do a quick search for something specific. Read developer descriptions and user reviews. Flip through screenshots. When you find an app you like, click to buy it.

The easiest installation ever.
The Mac App Store revolutionises the way applications are installed on a computer — it happens in one step. Enter the same iTunes password you use to buy apps on iPad, iPhone or iPod touch. And within seconds, your new app flies to your Dock, ready to go.

Buy and download.
And even re-download.
You can install Mac apps on every Mac you use and even download them again. This is especially convenient when you buy a new Mac and want to load it with apps you already own.

Keep your apps up to date.
Developers are always improving their apps. That's why the Mac App Store keeps track of your apps and tells you when updates are available. Update one app at a time or all of them at once, and you'll always have the latest versions.