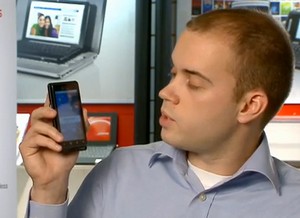 Seen being held in an array of uncomfortable positions and angles is Motorola's hotly anticipated Droid handset.
A quick reminder of the feast of specs in store: there's a large 3.7-inch (480 x 854 pixels) touchscreen, 5-megapixel camera with 4x zoom, autofocus, and dual LED flash, 3G, Wi-Fi, both physical and virtual keyboards and a 16 GB microSD memory card.
There's also a beta version of the Google Maps Navigation feature that has just sent Tom Tom and Garmin's share prices plummeting over a cliff.
Click on for Verizon's five minute video demo.