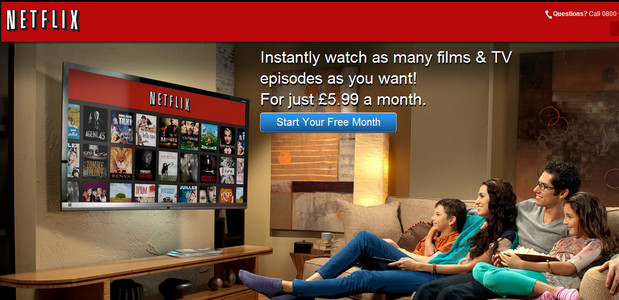 Netflix, the video-on-demand service launched in UK and Ireland back in January this year has announced that it has already hit the 1 million subscriber mark in the UK and Ireland.

Clearly feeling rather chuffed with themselves, the company have pointed out that by notching up 1 million registered users in the UK and Ireland in seven months, they're growing four times faster than Twitter managed on a global basis, and nearly twice as fast as Facebook.
The video service is looking to compete with LoveFilm, owned by Amazon, and BSkyB.
Reed Hastings, the chief executive of Netflix, insisted that by hitting the one million milestone so swiftly, there is plenty of demand for rival services offering cut-price subscription packages of on-demand films and TV shows.
"This membership milestone is evidence that Netflix has rapidly gained popularity in the UK and Ireland," said Hastings.
"Our British and Irish members clearly enjoy the ability to instantly watch a large variety of TV shows and films streaming from Netflix on their favourite devices whenever they want."
The service is certainly keenly priced, serving up unlimited film streaming for just £5.99 a month.