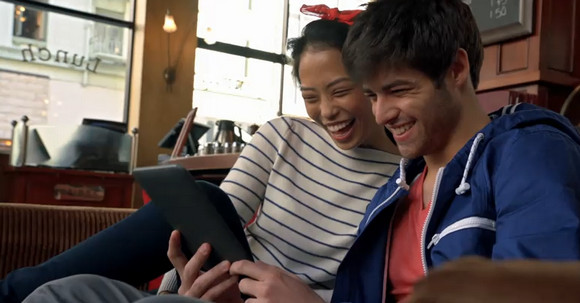 Amazon has just knocked out another commercial for the Kindle eReader, and it's pretty clear that it's taken the opportunity to have a pop at Apple's iPad on the way.
Sun-friendly
The commercial is keen to remind viewers that the Kindle store is bulging with over 800,000 titles and – unlike the iPad – the tablet can be easily read in bright sunlight. Take that Jobsie!
The advert – peppered with groovy, happening, attractive types in their twenties and thirties – also draws attention to the Kindle's mighty battery life throwing up the caption, "Battery life of up to a month" in big letters, while another scene shows a woman struggling to read her iPad-like device because of the screen glare.
Although Amazon's Jeff Bezos has repeatedly stated that the iPad is in a different product category than the Kindle, it's pretty obvious that there is a considerable overlap, and the advert  pulls no punches in pointing out the advantages of Amazon's device as an eBook reader.
In case you're wondering, the music in the advert is "Sweet Talk, Sweet Talk," by the New Pornographers. We loved their 2005 song, "Sing Me Spanish Techno."