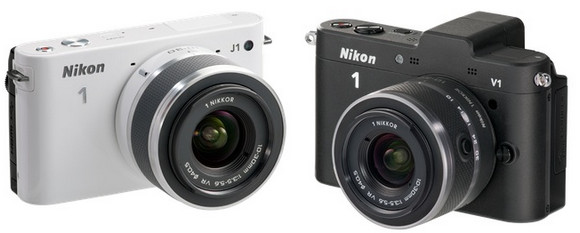 After ratcheting the pre-launch hype up to 11, Nikon has finally revealed that it is charging into the mirrorless market with its new Nikon 1 system, with two cameras ready to go; the new Nikon J1 and V1.
Initially consisting of two cameras, four lenses, and a heap of accessories (including an F-lens-to-Nikon-1 adaptor), the new  proprietary system looks to take on the Micro Four Thirds system pioneered by Olympus and Panasonic.
Nikon J1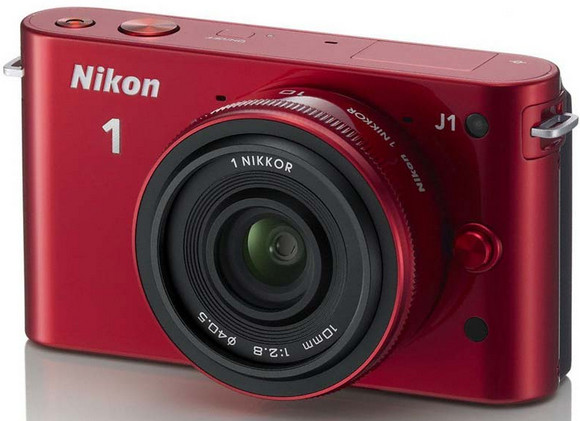 Packing a lot of oomph into its bijou frame, the J1 boasts a a maximum ISO of 3,200, rattles stills off at a speedy 10fps and can grab video at 1080p.
Designed for a, err, 'connected lifestyle,' the camera and the lenses come in a variety of matching colours, including white, pink, red, silver and black.
At the back there is a 3.0-inch high-resolution LCD monitor, and the camera can capture both HD movies and high resolution images simultaneously, with the ability to shoot full HD video.
The Nikon J1 10-30mm kit (in red, black, silver, pink, white) will retail for £549.99, and is available from 20th October 2011.
Nikon V1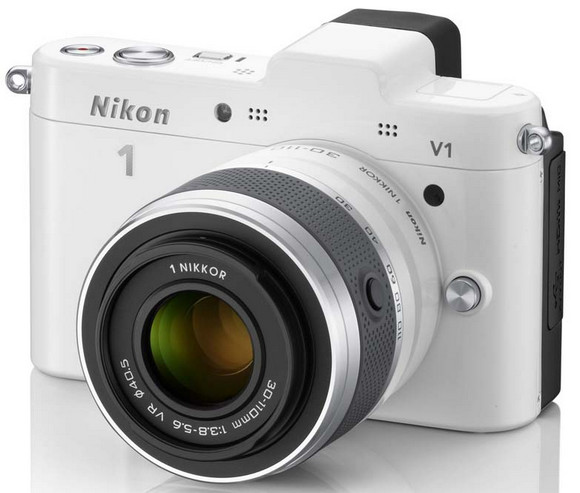 The V1 promises speedy focussing courtesy of a hybrid AF mode employing both phase and contrast detection, and comes with a 1.4 million dot viewfinder and an accessory shoe which works with an optional flash, microphone or GPS unit.
You can also shoot a still photo while you record video, and the camera  can shoot continuous stills at 60fps, with Full HD shooting at 30/60fps.
The Nikon V1 can shoot in both RAW and JPG up to 3200 ISO and weighs in at 294g, measuring 113mm x 76mm x 44mm.
With a release date of 20 October, the Nikon V1 has been priced at a wallet unsettling price of £829.99 with 10-30mm lens.
Small sensor
Before you reach for your wallets, it might be worth noting that both cameras come with Nikon's CX format 10.1-megapixel (13.2 x 8.8mm) CMOS sensor.
Notably, this is half the size of the sensor in a Micro Four Thirds camera, measuring up at a rather petite 13.2×8.8mm compared to the 18×13.5mm sensors found in the rival Micro Four thirds cameras.
That said, even Nikon's wee fella should still produce significantly better results than your average compact, with the sensor still being four times bigger than the ones in most compact cameras – and 2.5x bigger than the 1/1.7″ type used in expensive enthusiast compacts. [See:  Why make a small-sensor mirrorless camera?]
Our first thoughts
We have to say that we're not particularly enamoured by the utilitarian (some may 'prototype') looks of these new cameras, and we're not really sure what to make of a system that has a sensor half the size of its obvious rival.
With Nikon's new cameras employing a proprietary lens fitting, there's going to be a high cost of entry into this system, and without any obvious advantages over the Micro Four Thirds system (save the Nikon brand itself), we're not finding this a particularly compelling package.
Nikon J1 product page – Nikon V1 product page
Here's the full Nikon UK and US Press Releases. And they're both whoppers.
Nikon 1 – Every now and then a real game changer comes along

Nikon introduces the world's fastest, smallest, lightest interchangeable lens cameras[1]

London, UK, 21st September 2011: Nikon today introduces Nikon 1, a revolutionary digital camera system built from scratch to offer still image and movie recording without compromise. This next generation pioneers amazing photography features such as pre and post capture technology that starts before you – enabling groundbreaking new shooting modes that mean you'll never miss a thing – even the most fleeting of moments, bringing shots to life to help you to capture images you didn't think possible.

Launching with two cameras equipped with pioneering image technology — the Nikon 1 V1 and the Nikon 1 J1 — Nikon 1 sets a new benchmark for speed, precision, innovation, and portability. Offering the world's fastest autofocus system and continuous shot[2], as well as innovative shooting modes, uniquely compact 1 NIKKOR lenses and Nikon 1 accessories, Nikon 1 redefines what a portable digital camera system can do.

"This is Nikon's most significant announcement since we introduced our first digital camera 14 years ago" said Takami Tsuchida, President, Nikon Europe, "With the launch of Nikon 1, we're unveiling two groundbreaking interchangeable lens cameras that are packed with revolutionary technology."

Jordi Brinkman, Product Manager, Nikon Europe, said: "Our engineers have managed to house an incredibly powerful processor and sensor in a sleek, minimalist Nikon 1 body design: people will be able to take shots they didn't believe were possible. These are not only the world's fastest cameras – they have features that have never been seen before: shooting modes like Motion Snapshot and Smart Photo Selector are going to let people capture images in ways they could never have imagined, and the 1 NIKKOR lenses are unique in the way they've been designed with portability and movie making in mind."

Changing everything: Pre-post capture technology
The Nikon 1 range has a processor that is many times faster than the most professional cameras and this unprecedented speed powers some never-before-seen functions. Equipped with pre and post capture technology, Nikon 1 cameras are the first interchangeable lens cameras that can start recording images before you fully press the shutter button, and continue after you've clicked. These cameras don't just manipulate light – they redefine photography by manipulating time, letting you capture those few moments before, or after, a photograph was taken.

Groundbreaking automatic shooting modes: images as never before
Equipped with exciting new shooting modes that harness the cameras' incredible processing speeds and pre-post capture technology, Nikon 1 cameras are capable of recording moments in ways offered by no other camera in the world:

Motion Snapshot (MSS) brings a photo to life in just one click. It simultaneously records a slow motion movie and a still image, then instantly combines the two to create a photo that moves and captures the story of a moment as never before – a living picture.

Smart Photo Selector (SPS) captures the perfect moment in any scene; shooting 20 full-resolution images in the time it takes you to snap a photo: you just press the shutter once and, utilising the pre and post capture technology, the camera starts to take the pictures before you've even fully depressed the button. Your 'best' five shots are saved based on facial expression, composition and focus and the 'perfect' shot is presented to you. Never again will you miss the very second a dog catches a ball or the joy on your child's face while they are on a swing.
Still image mode will make you a master of movement as you switch to shooting sharp, full-resolution shots of the action at up to 60 frames per second[3].
Movie mode opens up a host of advanced movie functions. You can take a high-resolution photo[4] while filming a Full HD movie, without interrupting recording, or film in extreme slow motion.

First of the First: Advanced Camera with Interchangeable Lens (A-CIL)
The launch of Nikon 1 heralds more than simply the introduction of a new camera range — it marks the launch of a whole new category that Nikon has named the Advanced Camera with Interchangeable Lens (A-CIL). Built to bring incredible levels of speed, simplicity and enjoyment to the way you capture your world, these portable A-CIL Nikon 1 cameras offer a brand new shooting experience.

The thinking camera — Nikon 1 V1
The intelligent, iconic-looking Nikon 1 V1 is designed to propel your photography forward. Packing a high-resolution electronic viewfinder and multi-accessory port, it lets you pursue the moment and capture the unexpected from any location. The bright 1440k-dot electronic viewfinder delivers a clear, stable view and 100% frame coverage. It boasts a tough body with magnesium alloy (top and front) panel and a multi-accessory port gives you the freedom to expand your system further with the Nikon 1 range of system accessories. The Nikon 1 V1 is available in matte black and high-gloss white.

Always a click ahead — Nikon 1 J1
The quick-thinking Nikon 1 J1 is a camera that can keep up with busy lives filled with precious opportunities to record loved ones in action. Equipped with everything you need to shoot life as it happens, this fully automatic Nikon 1 is minimalist camera design at its best. Its super-small body is available in a range of colours with compact 1 NIKKOR lenses to match, and it boasts a built-in flash that offers extra light when you need it. It's so simple to use, all you need to do is decide what to shoot. The colours are high-gloss white, matte black, high-gloss red, silver and even hot pink.

CX-format CMOS image sensor with the world's fastest autofocus system[5]
Taking its place alongside Nikon's existing DX and FX-format sensors (used on Nikon D-SLRs), the all-new Nikon 1 CX-format CMOS image sensor is designed for Nikon 1 cameras and the 1-mount. Offering the perfect balance between system size, speed, light sensitivity, resolution and depth-of-field, Nikon 1 demonstrates superb colour reproduction with 100-6400 (extended) ISO, low noise, RAW shooting and 10.1 megapixel resolution, delivering consistently superb stills and movies.

Equipped with a revolutionary super high-speed AF image system that boasts the most focus points in the world, this sensor keeps your subject in focus in any situation.  If you're shooting shiny or moving subjects, it switches to the 73-point Phase-Detection AF system[6]. If your subject is stationary, or poorly lit, it will opt for the 135-point Contrast Detect AF system. Whichever system the camera chooses, the quick shot-to-shot turnaround gives you the freedom to shoot moments as they unfold, and Phase-Detection AF is available during movie recording for sharply focused action scenes every time.

The power behind the 1: EXPEED 3
EXPEED 3 is a super-fast image processor engineered to deliver unparalleled levels of speed and performance. To be as fast as a Nikon 1 camera, you need an engine that can handle speed, and this newly developed processor is equipped with two powerful engines that can process images at an incredible 600 megapixels a second.

EXPEED 3 is fully capable of managing performance without sacrificing quality, it offers superior noise reduction, so you can enjoy clean, finely detailed images. It enables the camera's groundbreaking shooting modes, and is the reason you can snap a full-resolution photo while recording a movie[7], or shoot full-resolution stills at up to 60 frames per second[8].

A new tradition: 1-mount & 1 NIKKOR lenses
When crafting Nikon 1, Nikon's engineers didn't just focus on the new. In fact, when it came to the new 1-mount, they drew on more than 50 years of expertise: the last time Nikon created a totally new lens mount was the F-mount in 1959. The 1-mount is what allows you to use the Nikon 1 system's range of interchangeable 1 NIKKOR lenses. Engineered to ensure each lens communicates perfectly with the camera, it's a key factor in the ability of Nikon 1 cameras to deliver still image and movie recording without compromise.

The family of 1 NIKKOR lenses cover practically every type of scene, are all optimized for movie recording and boast a compact design:
• The extremely compact and lightweight 1 NIKKOR VR 10-30mm f/3.5-5.6 is a 3x zoom lens with wide-angle capability. A brilliant lens for everyday scenarios, it boasts Vibration Reduction for steady stills and movies, and a retractable lens mechanism for superior portability.
• The 1 NIKKOR VR 30-110mm f/3.8 -5.6 is a truly portable telephoto zoom lens that gets close to distant subjects with ease. Built-in Vibration Reduction ensures steady stills and movies, and you can retract the lens when its not in use.
• The ultra-thin 1 NIKKOR 10mm f/2.8 lens is a fast wide-angle lens that slips easily into any bag for sharp shots on the go.
• The 1 NIKKOR VR 10-100mm f4.5-5.6 PD-ZOOM is made for anyone who loves to shoot movies. Boasting a power-drive zoom switch with adjustable speed, it captures video in superb clarity.
And all of this is just the beginning. Nikon know that the best lenses lead to the best images and future 1 NIKKOR lenses are already in development.

Expand your system — Stay compact: Nikon 1 system accessories
The Nikon 1 range of optional system accessories help you get the most out of your shooting without weighing down your bag:

The tiny SB-N5 Speedlight flash is a convenient way to control the direction and quality of light, or get creative with shots by 'bouncing' the flash off the ceiling or walls. Compatible with the Nikon 1 V1, it can be rotated vertically or horizontally, and a capture illuminator (LED) on the front of the unit provides extra light when using Motion Snapshot or Smart Photo Selector in the dark.

The ultra-compact GP-N100 GPS unit is the easy way to tag images on the go. Compatible with the Nikon 1 V1, it attaches directly to the camera's multi-accessory port and automatically records latitude, longitude, altitude and time as 'geotags' in the image data (EXIF).

The mount adapter FT-1 lets anyone use any NIKKOR D-SLR lens with a Nikon 1 camera. Compatible with both the Nikon 1 V1 and the Nikon 1 J1, it offers limitless possibilities to match a lens to the shooting situation and all AF-S and AF-I NIKKOR lenses are compatible with the Nikon 1 autofocus system.

But the complete range of Nikon 1 accessories doesn't stop there. A whole range of Nikon 1 branded camera and lens cases and straps, as well as lens hoods and camera grips are available to protect your equipment and contribute to more comfortable shooting. You can use Nikon's external stereo microphone, the ME-1, with the Nikon 1 V1. And both Nikon 1 cameras come with Nikon's new Short Movie Creator software, which automatically creates short movies from still images, movie footage and music — as well as your Motion Snapshots.

Nikon launches new version of my Picturetown
Today Nikon also released a new version of my Picturetown with a score of great new features. With the launch of Nikon 1 cameras, storing, playback and sharing of Motion Snapshot files has been introduced. The Map screen has been greatly improved, now including advanced GPS data showing altitude of the shot and direction of the shot. Point of interest embedded in GPS data will automatically show the name of the location of the shot as well as any landmarks situated within your shot. You can also relive your Photowalk by viewing the animated tracking log, which will show the route you have covered on the map. The combination of the new features with existing functionality makes my Picturetown a great tool for storing and sharing your photos, movies and Motion Snapshots in a fun and interactive way. Please see http://www.mypicturetown.com for more details.

Nikon 1 RRPs and Sales Start Dates

Nikon 1: J1 and V1 cameras
Nikon 1 V1 10-30mm kit (available in black and white)
RRP: £829.99 / €962.00

Nikon 1 V1 10mm Kit (available in black and white)
RRP: £879.99 / €1020.00

Nikon V1 10-30mm & 30-110mm Twin Kit (available in black and white)
RRP: £979.99 / €1136.00

Nikon J1 10-30mm kit (available in red, black, silver, pink, white)
RRP: £549.99 / €638.00

Nikon J1 10mm kit (available in red, black, silver, pink, white)
RRP: £599.99 / €696.00

Nikon J1 10-30mm & 30-110mm kit (available in red, black, silver, pink, white)
RRP: £699.99 / €812.00

Nikon J1 10-30mm & 30-110mm kit Pink Special kit
RRP: £749.99 / €870.00

Sales start date: 20th October 2011

Nikon 1 lenses
1 NIKKOR VR 10-30mm f/3.5-5.6 – Black
RRP £179.99 / €209.00
1 NIKKOR VR 30-110mm f/3.8-5.6 – Black / White
RRP: £229.99 / €267.00
1 NIKKOR 10mm f/2.8 – Black / White
RRP: £229.99 / €267.00
1 NIKKOR VR 10-100mm f/4.5-5.6 PD-ZOOM – Black
RRP: £679.99 / €789.00

Sales start date: 20th October 2011

Nikon 1 Accessories
Nikon F Mount adapter FT-1:
RRP: £229.99 / €267.00

Sales start date: 1st December 2011

SB-N5 speedlight:
RRP: £129.99 / €151.00

Sales start date: 20th October 2011

GP-N100 GPS Unit – Black
RRP: £ 109.99 / €128.00
Sales start date: 20th October 2011

Nikon USA Press Release

Built From The Ground Up: The Nikon 1 System Balances Speed, Style And Simplicity To Creatively Capture All Of Life's Spontaneous Moments
The New Nikon J1 and V1 Cameras as Well as Four New Ultra-Portable Lenses are Engineered for Expressive Living

MELVILLE, N.Y. (Sept 21, 2011) – Nikon Inc. today announced a revolutionary new digital imaging system built from the ground up to empower users with new ways to tell stories through photography, driven by imaginative next-generation technology. The iconic new Nikon 1 system is designed to become one with the user and their lifestyle, providing a unique form of expression with amazing image quality, speed and portability.

From Nikon, a company with more than 75 years in imaging excellence, the Nikon 1 J1 is an advanced camera with interchangeable lenses that opens the door to a fresh way to capture pictures and High Definition (HD) movies. This Nikon 1 system represents a new category of camera that challenges conventional thinking, emphasizing a pocketable form factor with unbelievable speed, combined with the high image quality that only Nikon could create. Thanks to a wealth of innovative technologies, the Nikon J1 camera is a simple to use conduit for creativity, seemingly anticipating a consumer's needs in any situation. Moments are instantly captured using amazingly fast new hybrid Autofocus (AF), and blazing fast speed with continuous AF. Users can also shoot with confidence knowing that the Smart Photo Selector will automatically capture the best possible image without a second thought. Furthermore, just a touch of the shutter button instantly captures a high quality image while simultaneously recording Full HD 1080p movies, and the exciting new Motion Snapshot mode captures fleeting moments like never before with a combination of moving and still images, bringing memories to life. To accompany this exciting new form factor, Nikon created the entirely new 1 NIKKOR lens system that seamlessly integrates powerful precision optics into a camera platform to capture more of the world around the user.

"The needs of the consumer are changing and the world is becoming one of visual conversation, which paves the way for the next chapter in image capture devices. The new Nikon 1 system is the culmination of more than 75 years of optical excellence and relentless pursuit to the unrivaled technological advancements in camera technology," said Bo Kajiwara, Director of Marketing, Nikon Inc. "Nikon's new 1 J1 camera allows consumers to have confidence in a new way to express themselves, with amazing speed, versatility, ease of use and portability."

One Purpose: A Revolutionary New System
The new Nikon 1 system is a completely original concept, engineered specifically to strike the ultimate balance of performance, intuitive simplicity and portability to chronicle life like never before. This breakthrough platform lays the foundation for future technologies, and the Nikon 1 system has been created for the consumer who wants to capture, share and connect to life. The fully electronic lens system enables the camera to keep pace with an active lifestyle and delivers amazing images and Full HD 1080p movies to connect with friends and family. Whether it's a spontaneous outing or a planned trek abroad, the versatility of interchangeable lenses in a convenient form factor will allow a consumer to take the camera with them wherever life leads. Furthermore, the J1 camera makes a personal style statement with a variety of matching colored camera bodies and lenses.

The heart of the new J1 camera is the new Nikon developed CX-format, 10.1 megapixel High-Speed AF CMOS sensor that helps make this camera the pinnacle of portable performance.  The newly developed CMOS sensor has been engineered for amazing image quality in a variety of lighting conditions, with a native ISO range of 100-3200 (6400 Hi-1) for maximum versatility. Images captured with this new sensor exhibit striking colors, vivid hues and rich detail so lifelike, it's the next best thing to being there as memories unfold.

Nikon's exclusive new EXPEED 3™ image processing engine drives the system and is the catalyst behind the camera's rapid response, fast AF and high-speed performance. In addition, the new dual core EXPEED 3 processor works to maximize battery efficiency while yielding images and movies with low noise and vibrant tones. The Nikon J1 is engineered for maximum ease of use, featuring a clean button layout and intuitive graphical interface. Distractions and menus are minimized; creating a clear path to the camera's advanced functions, further unleashing creative potential.

The Fastest One
From first steps to first date, life moves fast and the Nikon J1 is the camera to keep pace. The camera seemingly anticipates action with amazing autofocus, response time and operation. The new advanced hybrid AF system is the world's fastest autofocus1, allowing consumers to capture more of their world than ever before. The Nikon J1 features new focal plane phase detection AF that reacts instantly to deliver incredibly fast, split-second response. Wherever action is happening in the frame, the 73-point AF system will get the shot. This newly developed hybrid system continuously evaluates the scene at hand for optimal results, and can switch between phase detection and contrast detect AF to best suit the scene. Whether shooting in low-light conditions like a late night block party, or a fast moving pick-up game, photographers can capture details with confidence.

When the action is happening, users can also shoot at a fast 10 frames per second (fps), with full adaptive AF for frame after frame of images with incredible sharpness and detail. Additionally, the scene can be captured at full resolution up to a staggering 60 fps (AF locked), which is the world's fastest continuous shooting speed2. So go ahead and capture a best friend's high dive at the next pool party, and then confidently share every aspect of the leap with stunning detail.

The One That Inspires a New Way to Capture with Motion Snapshot
Motion Snapshot is a new approach to capturing images that will dramatically alter the way we perceive digital photography. By selecting the Motion Snapshot icon from the Mode Dial at the back of the camera, consumers can capture fleeting moments with staggering depth and emotion like never before. The result unites a frozen still image with a slow-motion movement set to a built-in audio soundtrack to create a portrayal of an occurrence with maximum impact. With Motion Snapshot, users are now able to relive memories in stunning detail, as real movement and depth are included in the image. Motion Snapshot provides a way to once again experience someone's hair flowing in the breeze or relaxing scenes like waves crashing or rustling leaves that evoke an emotional response.

Consumers are also able to create masterpieces of moving images from multiple files using the included Short Movie Creator software. This easy-to-use, intuitive software works in conjunction with Nikon's View NX2 to make managing photos and movies fun and easy. With these programs, users are empowered to organize, share and edit photos, Motion Snapshots and HD movies.  Users are also able to connect and share Motion Snapshot files using Nikon's my Picturetown, an online resource at http://www.mypicturetown.com.

The One to Set Trends
Both the camera technology and exterior design were inspired by the pursuit of balance, as a device that lives in perfect accord with any lifestyle. The lines are clean and minimalist, the colors are vibrant, creating a stylish accessory for every personality. The design is meant to inspire creativity, with a simple interface and easy-to-use camera controls, intuitively placed for any user. Switching from modes and accessing advanced features is easy, enabling the user to further push creative boundaries, whether trusting the smart automatic settings or creatively exploring the full manual control modes.

Control highlights include a Mode Dial, with the four main common functions readily available, in addition to a Command Dial with common camera settings. The new "F" (feature) button is a new design element to Nikon cameras, which automatically brings up relevant menus and options based on what mode the camera is set.

The Nikon 1 system is further complemented by fashionable, premium accessories tailored to perfectly fit a user's lifestyle. These accessories include a custom fit body case set available in a variety of colors, as well as fashionable, color coordinated leather neck and hand straps.

The Smart One: Nikon's Smart Photo Selector
The new Nikon J1 is an advanced camera with interchangeable lenses that features new technologies aimed at creating better pictures, easier. Nikon's new Smart Photo Selector feature strives to deliver a perfect image every time. When a "can't miss" photo opportunity arises, users can switch to the Smart Photo Selector mode which uses the camera's pre-cache to start shooting and storing images. All of these images are analyzed within the camera, and the best photo is selected based on a number of factors including exposure, focus and advanced facial recognition. While the camera suggests the best image, five frames are recorded, providing the user a choice of their favorite photo.  What's more, the J1 also includes favorite core Nikon technologies, such as Active D-lighting, Auto Scene Selector and Picture Controls.

One Device That Also Captures HD Movies
The new CX-format CMOS sensor produces breathtaking Full HD movies at 1080p (30 fps). Users can also shoot at a rapid 60 fps (1080i), or elevate the production with additional 30/60/400 and 1200 fps modes for super slow motion effects. The J1 is made to be flexible, and can capture both HD movies and high resolution images simultaneously. Simply press the shutter while recording to freeze the action with a high quality image file with sharp focus.

Additionally, the Nikon J1 applies noise reduction to movie files, giving the user amazingly sharp, crisp movies with deep black levels. This feature makes this the ideal camera for shooting movies when light is less than ideal, such as indoors or at night. A full HD movie can record a full 29 minutes, while the senses are further treated to sound sampled in full stereo for lifelike reproduction.

One Vision, Two Distinct Cameras
The Nikon J1 is the model designed for those consumers who use a camera as part of their connected lifestyle; always carrying it to bring passion and depth to visual storytelling. Both the camera and the lenses come in a variety of matching stylish colors, including white, pink, red, silver and black. Photos and movies are easily composed and shared on the bright 3.0-inch high-resolution LCD monitor. With the aid of the concealed pop-up flash, consumers can easily add fill flash as needed or shoot in most conditions including low-light.

The Nikon 1 V1 is for photo enthusiasts who value interchangeable lens versatility and desire a small form factor. In fact, it's the world's smallest and lightest camera in the world with interchangeable lens versatility and an electronic viewfinder (EVF)3. Aimed at the user excited about creating amazing images and movies, the Nikon V1 has added features including a 1.4 million dot high resolution EVF that automatically activates when the user raises the camera to their eye. In addition to the high-speed electronic shutter, the magnesium alloy body conceals a high performance mechanical shutter that affords tactile feedback and expanded shooting options. The V1 camera also features Nikon's new Multi-Accessory Port for attaching options such as the new SB-N5 compact speedlight, or the GP-N100 GPS module. For those making movies, the V1 has a stereo microphone input for professional quality audio.

1 NIKKOR Lenses and Accessories
Building upon a 75 year legacy of NIKKOR lenses and optical excellence, the new 1 NIKKOR lens system has been developed to push the boundaries of what's possible. Experience as the world leader in optical engineering has driven Nikon to create a compact, lightweight lens system that provides users with stunning image quality. New technology in these lenses includes a Silent Stepping Motor (STM) for whisper quiet AF and zoom during operation and while shooting movies. Additionally, this high performance system places Nikon's VR II image stabilization technology inside lenses to minimize instances of camera shake. The result is sharp images in a variety of challenging lighting conditions, even while handheld.

The new system offers a lens for every occasion. The camera kit includes a color-matched 1 NIKKOR VR 10-30mm f/3.5-5.6 lens (27-81mm 35mm equivalent) for optimal focal range in a small lens. For those needing maximum versatility, a 1 NIKKOR VR 30-110mm f/3.8-5.6 lens (81-297mm equivalent) is available, or users can explore their creative side with a color matched 1 NIKKOR 10mm f/2.8 pancake lens (27mm equivalent). For the movie enthusiast, a new 1 NIKKOR VR 10-100mm f/4.5-5.6 (27-270mm equivalent) power zoom lens will be available. This new lens is Nikon's first powered zoom, and provides smooth and silent changes in focal length while recording movies. Additionally, the FT-1 F-mount adaptor for legacy NIKKOR lenses will be available in the future, so that photographers can utilize their collection of quality NIKKOR lenses.

Price and Availability
The Nikon J1 and V1 will be available throughout the United States beginning October 20th. The Nikon J1 camera with 10-30mm lens kit will be available at a suggested retail price4 of $649.95. The Nikon V1 camera with 10-30mm lens kit will be available for a suggested retail price4 of $899.95. For more information, please visit http://www.nikonusa.com.

1: Based on performance with shooting using a standard zoom lens (10-30) at the maximum wide-angle position with AF-area mode set to Single-point (results based on Nikon test conditions)
2: The world's fastest continuous shooting speed: 60 fps (while the AF is locked in the first frame) (shot at full resolution (10M)). Among cameras with interchangeable lenses
3: Among cameras with interchangeable lenses with a built-in electronic viewfinder (EVF).
4:  Suggested retail price listed only as a suggestion. Actual prices are set by dealers and are subject to change at any time

*Comparison models include the Nikon D3100, Sony NEX-5, NEX-2 NEX-C3 NEX-5N, Olympus E-PL1s, E-PL2, E-P3, E-PL3, Panasonic G10, GF-2, GH2, G3 Samsung NX-10, NX100