Nikon has unveiled the upgrade to their high-end professional  D3 dSLR, the envy-inducing D3S, packing a beast of a CMOS sensor, measuring up at  a massive a 36 x 23.9 mm and delivering 12.1 of some of the finest megapixels you'll ever see.
Looking tough enough to take Rocky the full ten rounds, the new D3S  adds 720p HD video recording and is capable of snapping an astonishing 48 RAW frames in one burst.
ISO performance has hit stratospheric, with the camera capable of capturing images in conditions which were – and we'll quote Nikon here –  "previously believed to be impossible"
The camera's seven-stop ISO range of 200 – 12,800 lets photographers grab images and movies in extremely low ambient light conditions, with three additional ISO boost levels taking the D3S up to the ISO equivalent of a near-unbelievable 102,400.
That sounds like taking portraits of dirty coal miners deep in a Rhondda pit without a flash should be a breeze with this beauty!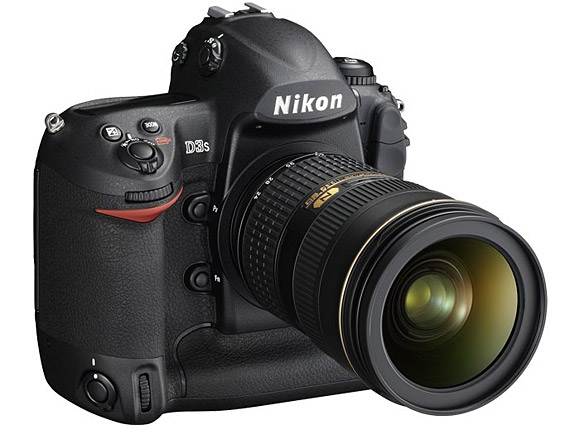 Movies are captured at 720p/ 24fps in motion JPEG with stereo sound using an input jack, with Nikon's  high-density 51-point Multi-CAM3500 AF system featuring 15- highly sensitive cross points taking care of all focus-related concerns.
Sssshhhh!
With the camera designed to be used by pros in all conditions, there's a built image sensor cleaning function, and a new Quiet shutter release mode lets photographers sneak up on a Spix's Macaw without terrifying the thing with a thunderous percussive racket.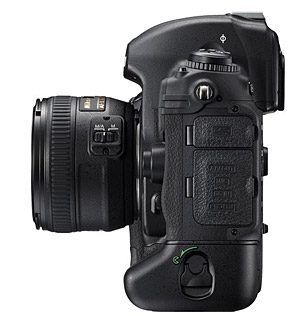 There's now five options for Active D-Lighting when shooting high contrast or high key subject matter (Auto, Extra High ,High, Normal and Low) with new onboard RAW processing options in the Retouch menu.
These let users  adjust parameters like JPEG compression, Size, White Balance, Exposure Compensation, Picture Control, Noise Reduction, Colour space and Vignette Control settings on the fly.
Naturally, all this high end goodness doesn't come cheap, and the D3S comes with a price high enough to make photographers weep: £4199.99.
And that's just for the body!
Update: check out these two videos showing off the camera's superlative performance.
Here's the full press release:
NIKON LAUNCHES D3S, THE ULTIMATE CAMERA FOR PROFESSIONAL NEWS, SPORTS, AND WILDLIFE PHOTOGRAPHERS
D3S redraws the boundaries for fast paced extreme photography
October 14, 2009: Nikon today announces the introduction of the D3S, the camera that enables professionals to take control of the unpredictable and extends the possibilities for action photographers everywhere. Built upon the widely acclaimed Nikon D3, the D3S advances low light photography to another level and sets in motion new creative options for multi-media movie shooting.
Robert Cristina, Manager, Professional Products for Nikon Europe, comments: "The D3S rewrites the rules for extreme low light photography, enabling photographers to take control of ambient light. Professionals from all over the world have contributed to making the best even better."
It's what we need, now.
Francois Marit, Photo Technical Manager at global news provider, Agence France Presse, said: "Since we started using the Nikon D3, we have also been exploring movie capture to see exactly how it can help us. Now the D3S gives us exactly what we need, the ability to shoot pictures and movies with one piece of professional equipment. This enables us to transmit complete packages of still images and movie clips from the thousands of news and sports events we cover every week, and will really give us the edge in both online and print formats"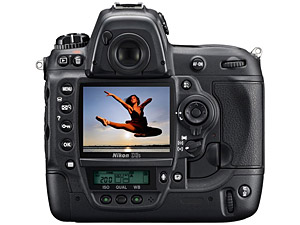 Bill Frakes, one of the first professional photographers to trial the D3S, said: "I make career decisions in milliseconds and I want the best possible image quality every time I push the button. I need a camera that responds precisely, quickly and consistently. The D3S does that and more and this gives me enormous freedom."
When flash is not an option
The D3S features a completely re-designed 12.1 effective megapixel image sensor. The large pixel pitch, with a completely modified inner structure, means that the D3S can capture images under light conditions which were previously believed to be impossible. The seven stop ISO range of 200 – 12,800 enables image and movie capture in extremely low ambient light conditions which is essential for today's news and sports photographers.
Further proof of the D3S's incredible capacity for low light photography is the fact that it is the first camera to offer no less than three additional ISO boost levels, up to Hi-3, (ISO equivalent of an astounding 102,400).
FX format HD movies
The D3S delivers a new look and feel to the emerging trend of DSLR movie capture and exploits the creative depth-of-field effects offered by the large FX-format sensor and the benefits of wide aperture NIKKOR lenses, the lens of choice for the world's leading photographers. Instant and intuitive in use, the D3S's D-movie function is prioritised for high productivity.
Movies are captured at 720p/ 24fps in motion JPEG with stereo sound using the input jack. The file format enables a unique 'Save Selected' frame option that enables the user to shoot video freely, secure in the knowledge that a still image of a key moment can be transmitted as well.
Acclaimed autofocus tuned for movie capture.
Completely configurable to set up, but extremely simple to use, Nikon's acclaimed high-density 51-point Multi-CAM3500 AF system, with 15- highly sensitive cross points, provides users with an industry leading system for tracking fast moving subjects. The D3S contrast detection AF system has also been tuned to provide autofocus support during movie capture and Live View.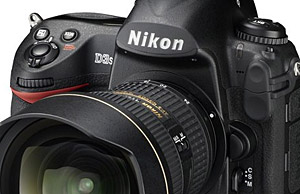 Image sensor cleaning
Following extensive feedback from professional photographers, the D3S implements a new image sensor cleaning function that generates vibrations at four different frequencies to reduce the impact of static dust collection on the optical low pass filter of the image sensor. This has been implemented without impacting on the 100% viewfinder coverage expected from a flagship, professional D series camera.
Total flexibility
The D3S now offers no less than three alternative crop modes, all masked automatically in the viewfinder. The photographer can now choose from 5:4 (30×24); 1.2x (30×20); and DX (24×16). The new crop mode is designed to offer a practical combination of lens magnification and slightly reduced file size.
When discretion is required
The D3S features a new Quiet shutter release mode that enables the photographer to mitigate the sound caused by the mirror return. Suitable for wildlife photography and other situations where shutter noise might distract the subject, this innovation again reflects and responds to practical feedback from photographers using Nikon's D3 series cameras.
Improved Active D-Lighting options
The D3S now offers no fewer than five options for Active D-Lighting when shooting high contrast or high key subject matter. Alongside a new Auto setting, users now have four manual control levels; Extra High ; High, Normal and Low.
In camera post processing
Another aid for increasing productivity in the D3S is the new RAW processing options in the Retouch menu. The following image settings can be applied to RAW (NEF) files in the camera on-the-fly: JPEG compression, Size, White Balance, Exposure Compensation, Picture Control, Noise Reduction, Colour space and Vignette Control settings. These options accelerate post production worklflow for the busy photographer on the road, by reducing the need to use a PC and Capture NX2 software.
Ready for anything
The D3S redraws the boundaries for photographers allowing them even more control over unpredictable subjects in testing lighting conditions. The camera sensor is so sensitive that it can capture subjects that are practically invisible to the naked eye and render results that are remarkably clear of noise and ready for print. The weather-sealed durable magnesium construction is built to withstand extreme temperatures and humidity to enable users to complete assignments faster and more efficiently.
Feature Highlights
ISO performance: ISO 12800 as standard, expandable to ISO equivalent of 102400 (Hi 3)
Professional photographers can now rely on ISO 200 to ISO 12800 as the professional standard of image quality for their assignments — an incredible advantage when shooting indoor sports, stadium events at night or any other shooting situations where light is limited and Speedlights are not practical. Shooting at ISOs as high as 12,800, the D3S can take commercial-quality, pin-sharp images in low light at action-freezing shutter speeds — a capability that will open a new world of photographic opportunities. When needed, the D3S expands to the amazing ISO equivalent of 102,400, still revealing colours and details even in extremely low-lit places where human eyes may find it difficult to discern objects. This exceptional low-noiseperformance also applies to D-Movie capture, which creates new potential for multimedia projects and assignments.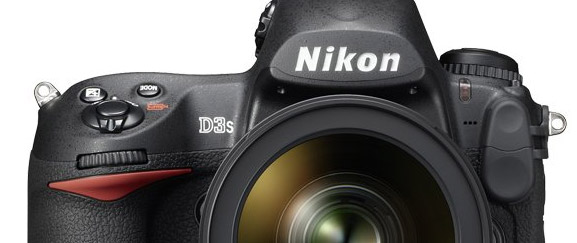 Large pixel pitch: the 12.1-megapixel FX-format advantage The D3S's image sensor has been completely redesigned from the D3; the inner structure has been further optimised, with the pixel count and large pixel pitch maintained for even greater latitude in high ISO performance. As a result, the D3S captures and renders light in ways that no other ordinary digital SLR cameras has yet achieved, with a significantly higher signal-to-noise ratio and a wide dynamic range for unmatched image quality for both still images and movies throughout the broadened ISO sensitivity capabilities. New and improved D-Movie function
From well-lit scenes to extremely low-lit situations, the D3S's D-Movie mode delivers unique versatility. The newly refined D-Movie offers HD quality (1,280 x 720 pixels) Motion-JPEG movies at 24 fps. By controlling the aperture from the widest f-stop to the smallest, the large FX-format sensor renders low-noise images with beautiful bokeh effects from a large selection of NIKKOR lenses. High-Sensitivity Movie mode allows users to shoot at up to ISO equivalent of 102,400in places too dark to see clearly with their own eyes. D-Movie footage is easy to trim in-camera by simply selecting the starting and ending point. An extra bonus for sports and news photographers is the ability to save selected movie frames as JPEGs for immediate printand web publishing needs. The D3S has both an internal mono-aural microphone and an external stereo microphone input, enabling higher fidelity audio recording.
Image sensor cleaning: assured protection
Another significant improvement from the D3 is the employment of the Image Sensor Cleaning function, which generates vibrations at four specific frequencies to optimise dust removal. This function can be set to operate automatically when the camera is turned on and off, or manually.
EXPEED: Nikon's comprehensive approach to quality digital images
Nikon's fast, comprehensive, and energy-efficient approach to in-camera image processing maintains the rich initial data's integrity through 14-bit A/D conversion and 16-bit image-processing, which demonstrates the enormous creative potential of NEF (Nikon Electronic Image Format). Combined with Nikon's FX-format sensor, the D3S produces an exceptional tonal range and minimized tone jumps. Users can expect more accuracy with difficult colour combinations such as skin tones and strong reds in the same frame without over-saturation and finer tonal gradation in highlights, even with extremely bright subject matter.
Lateral chromatic aberration reduction: edge-to-edge sharpness
The D3S corrects colour fringes caused by chromatic aberrations that, in some instances, can appear at the edges of differing subject elements. Lateral chromatic aberrations are corrected regardless of lens type — whether telephoto, wide-angle, non-CPU and other types of NIKKOR lenses. Active D-Lighting: rescuing tone in highlights and shadows
Nikon's Active D-Lighting automatically regulates the dynamic range of high-contrast scenes, pulling out shadow details and preserving highlights while maintaining proper contrast. The D3S allows photographers to choose from six Active D-Lighting settings, including the newly added Auto and Extra High, as well as High, Normal, Low and Off. You can also bracket Active D-Lighting strength levels up to five frames and select the best rendition afterwards.
Picture Control: custom-tailored tone and color
Picture Control helps you define the look and feel of your images by custom-tailoring sharpness, saturation and other parameters to match your creative intentions. The D3S comes with four pre-installed Picture Control profiles, which can be fine-tuned and saved as new custom Picture Control profiles that match your personal shooting style or particular shooting conditions. These profiles can easily be copied to additional cameras.
Speed and readiness throughout the workflow
The D3S optimises workflow speed and fluidity throughout the entire shooting process. Start-up time is approx. 0.12 seconds* and release time lag is minimised to approx. 0.04 seconds*, exactly as fast as the D3, but the D3S's increased buffer memory is twice as large as that of the D3's. In addition, the D3S's autofocusing, image processing, memory card access and recording, USB interface and optional wireless transmitter all work together to keep professional photographers focused. And for sport and news photographers, many of the D3S's JPEG files are print-readywith little or no post-production: an extra edge when time is short.
9-frames-per-second* shooting rate in FX-format, 11 fps* in DX crop
The D3S's continuous shooting rates are impressive, and the D3S's powerful stepping motor allows for a more steady delivery of fast continuous shooting speeds at a wider range of aperture settings than lesser cameras can claim. Professionals will now have greater control and fewer limitations when making the images they desire. With the DX crop, photographers can also add a 1.5x picture angle and a faster frame rate to their arsenal. Furthermore, the factory-installed buffer memory is twice the capacity of the D3, dramatically increasing the power of continuous shooting.
Scene Recognition System: enlightened accuracy and intelligence
Nikon's exclusive 1,005-pixel RGB sensor precisely reads brightness and colour information to raise the overall accuracy of AF, AE, i-TTL flash control and auto white balance to new heights, thanks to the Scene Recognition System. The D3S's AF delivers superb subject tracking and subject identification performance. Highlight analysis used for AE reproduces brightness faithful to the eye, and light source identification makes auto white balance uniquely precise and reliable.
51-point AF: fast and accurate subject acquisition
The D3S's strategically positioned 51 AF points deliver faster focus, even with quick and/or erratic subject movement. The 15 cross-type sensors in the centre of the frame maintain the same outstanding performance with any AF NIKKOR lens f/5.6 or faster. There are four Dynamic-area AF options, including 51 points (3D-tracking), which accurately follows your subject by shifting focus points using colour and brightness information from the Scene Recognition System. This gives users an extra advantage when composition is important but your subject's movement is extremely erratic. Single-point and Auto-area AF modes are also available.
Sophisticated AE with highlight analysis
Nikon's exclusive 3D colour matrix metering II is highly praised for its outstanding performance and faithful exposure results — even in complex, unforgiving lighting conditions. The D3S takes accurate exposure further, using highlight analysis from the Scene Recognition System and then carefully selecting from a database containing information from over 30,000 actual shooting situations. Informed auto white balance
Leading professionals often note that Nikon's auto white balance exhibits remarkable results, even in challenging conditions with mixed light sources. With the D3S, auto white balance makes even further progress. Professionals can expect white as truly white in a wider variety of settings.
Approx. 100% frame coverage
The D3S's large prism gives you the FX-format visual advantage when you shoot. The viewfinder image is not only larger and brighter, but the focusing screen is also carefully designed to help you to more intuitively sense sharp focus, be it manual or autofocus.
Superior durability
For the reliability professionals demand, the shutter of the D3S has been tested for up to 300,000 cycles in fully assembled cameras under rigorous conditions. The ruggedly constructed D3S employs a strong yet lightweight magnesium alloy for its body, exterior cover, chassis and mirror box. Furthermore, a comprehensive series of O-rings and other specialised seals, combined with additional Nikon engineering, protect the D3S against invasive moisture, dust and even electromagnetic interference.
Twin CF card slots
The D3S lets you designate each card slot for certain tasks: record two full CF cards of data sequentially for a large amount of storage, record the same data onto two cards (backup), record RAW and JPEG simultaneously onto separate cards, and transfer data from one card to another. You can also designate the slot for data-heavy D-Movie recording.
Long-life battery
The D3S uses the EN-EL4a rechargeable batteries. Power consumption and power management systems have been engineered for greater operating efficiency, so you can expect long battery life, shooting up to 4,200 images* per charge.

Easy-to-access Live View mode
The dedicated Live View button gives you instant access to two Live View modes: Tripod mode for accurate AF operation and Hand-held mode for more versatile shooting angles. The speed for Contrast-detect AF in Tripod mode has also been improved for enhanced practicality.
Quiet Shutter-release mode for non-intrusive shooting
Photographers can select "Q" on the release mode dial to substantially reduce the sound of the camera's mirror-down during shooting. This is particularly useful when shooting in restrictive conditions such as when photographing theatrical performances or wildlife.
3-in., approx. 921k-dot color, 170º viewing angle LCD monitor
The D3S's large, high-resolution LCD monitor delivers bright, crisp image playback with up to 27x enlargement for immediate and precise image confirmation. Each LCD is covered with scratch resistant tempered glass and individuallycalibrated and fine-tuned at the factory to deliver consistent performance.
Additional Nikon D3S Features
Newly added image area of 1.2x crop (30 x 20) format with approx. 8.4 megapixels
Multiple exposure operation that can be repeated by designating the function to the bracketing button
Electronic virtual horizon that is available in Live View shooting
Extended menu banks that stores up to four combinations of exposure mode, shutter speed and aperture value
Versatile in-camera Retouch Menus, including RAW processing to enhance your images without using a computer
Compatible with HDMI (High-Definition Multimedia Interface) output. Type C connector (mini size) is employed
With the optional GPS Unit GP-1, location information such as latitude, longitude, altitude and time are automatically recorded to each image's EXIF data. The Time Adjustment feature, which adjusts your camera's time zone, is also available using the GP-1. Especially useful for group assignments that require several D3S cameras to be synchronized.
Exclusive Nikon Software — Nikon Transfer and ViewNX software packages (supplied) for a range of basic photo browsing and editing operations; Capture NX 2, Camera Control Pro 2, and Image Authentication Software (all optional) enable more advanced operation and image editing.
* Based on CIPA Guidelines.