PURE – who proudly bill themselves as the world's leading radio maker – have whisked out the Élan II portable DAB radio in time for the Christmas rush.
Priced at a penny under a ton, the Élan II boasts DAB/ DAB+* and a FM radio with the fantastic ReVu technology letting you pause and rewind live DAB radio.
Styled on traditional lines, the radio looks rather a smart affair, bedecked in a black satin-touch finish with anodised aluminium fascia and chromed handle with rubberised grip.
Reeewind
As well as the handy ReVu feature, the radio comes with intellitext and textSCAN, letting users pause and control scrolling text, or store broadcasts such as traffic reports or the footie scores (and how can anyone tire of hearing the latest Cardiff City victorious scoreline being replayed?).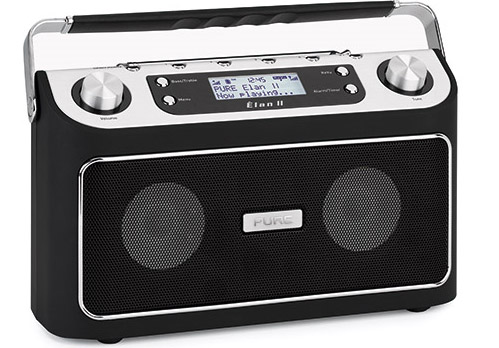 The Élan comes with digital amplifiers, custom-wound 3" speakers,  a handy input for an iPod/ MP3 player, an alarm and kitchen timer and 30 DAB and FM presets.
The radio is mains powered but an optional  'fit and forget' ChargePAK rechargeable battery will offer to 35 hours of portable listening per charge.
DAB+
*What's this DAB+ thing you ask? Well, it's a new and enhanced version of DAB  currently being adopted by many countries as their platform choice for digital radio. But don't get too excited – it's likely to be several years before UK broadcasters join the party.