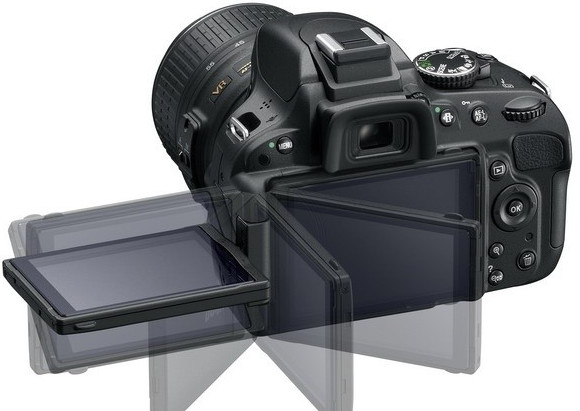 Nikon Canada  has just slipped out news of another tempting mid-priced offering in the shape of the D5100, which replaces the popular D5000.
Full HD movies
Able to record full 1080p HD movies (30 and 24 fps) with full-time autofocus, the prosumer D5100 serves up a D7000-matching 16.2 megapixel CMOS sensor, with a handy 3-inch 921k dot articulated display on the back.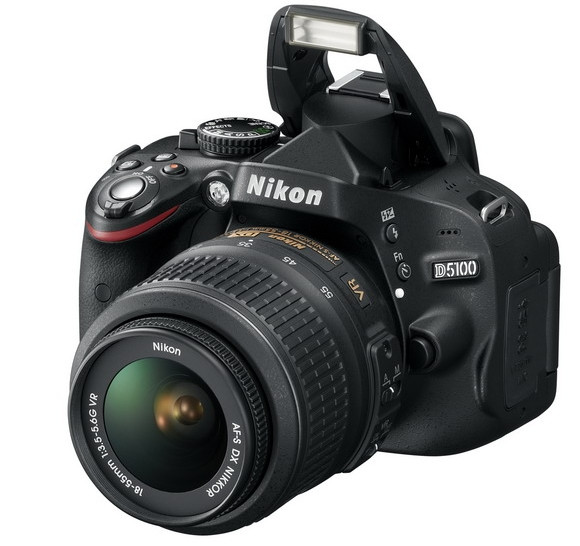 ISO settings roam from 100 to 6,400 (expandable to an almighty 25,600 ISO), with the camera seemingly only available in a kit with 18-105mm lens.
Keen to push home its camcorder abilities,  Nikon are also releasing a new ME-1 microphone for high quality audio recordings.
The camera comes Nikon's nifty Active D-Lighting feature for controlling shadows and highlights , while the Picture Control system allows the choice of Standard, Neutral, Vivid, Monochrome, Portrait, or Landscape settings, with the usual slew of Scene Modes aboard.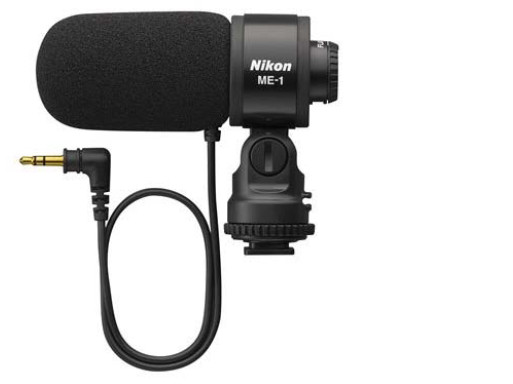 The D5100 is also the first Nikon digital SLR to provide in-camera effects that can be applied to photos and movies.
There's no mention of UK pricing or availability yet, but the kit is set to sell for $899.95 in Canada, with the mic – which is compatible with any Nikon boasting a 3.5mm audio input jack, like the D7000, D300S, D3S, and P7000 cameras – priced at $159.95.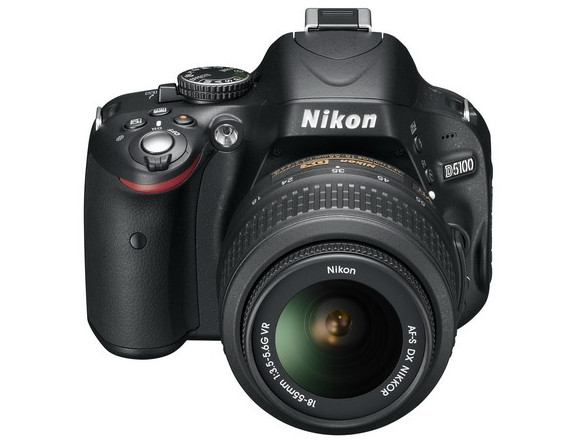 Here's the full press release:
"Mississauga, ON, April 5, 2011- Today Nikon Canada announced the new 16.2 megapixel Nikon D5100 digital SLR, designed for those ready to step up and be artistically expressive with a versatile camera.

The NikonD5100 digital SLR houses a host of new and innovative features aimed atgiving photographers the tools to shatter creative constraints and tell stories with amazing image quality and stunning HD movies.

Designed to enhance the shooting experience, the Nikon D5100 includes an impressive new 3-inch, sharp 921,000-dot Vari-angle LCD screen and full 1080p HD movie recording with full-time autofocus.

The 16.2 megapixel D5100 is also the first Nikon digital SLR to provide in-camera effects that can be applied to photos and movies, putting more tools of creative expression at the users fingertips.

Our newest digital SLR offers a wide range of options users can apply to photos and videos as they shoot, or in-camera after the shots have been taken, transforming them into works of art, said Gregory Flasch, National Advertising and Communications Manager at Nikon Canada Inc.

The in-camera Special Effects Mode presents many creative possibilities, all at the twist of a dial. It's like having 24-hour access to a digital editing studio.

Ready for the Adventure of Life
The D5100 allows photographers of all levels to confidently execute new and creative ways to tell stories with amazing colour and clarity.

Whether shooting over crowds or down low from a toddlers point of view,the swing-out style, Vari-angle LCD screen makes it easy to compose andshare great images. Displaying even the most subtle details with clarity, the super sharp LCD has a 1000:1 contrast ratio and 921,000-dot resolution with the ability to pivot 180 degrees horizontally and vertically.

To further test creative boundaries, photographers can take advantageof the D5100s in-camera Special Effects Mode. Applied to either stills or D-Movies, these innovative effects are easy to implement and add ahigh level of creativity.

By selecting the Effects position on the mode dial located on top of the camera, photographers can easily apply effects such as Selective Colour and choose up to three different colours while the remainder of the scene is converted to monochrome.

Colour Sketch creates photos and a stop-motion movie in a colourful sketched drawing style, while the Miniature effect records photos and high-speed movies to bestow a feeling of a mini-scale scene.

To record photos in extreme lighting conditions or to produce movies with a gritty appearance, the new Night Vision mode calls upon Nikons pro digital SLR low-light technology to offer extreme low-light capability by enabling the camera to shoot up to a super-high 102,400ISO.

In addition to the Effects mode, users can create photos withamazing tonal range by selecting the high dynamic range (HDR) function within the camera.

With this selected, the D5100 will automatically bracket up to three exposure stops with two images in rapid succession to produce a finished photo with an amazing range of midtones and highlights that wouldn't otherwise be possible in a single shot. Additionally, Active D-Lighting can be selected and combined with HDR for even more dramatic effects.

The versatile Nikon D5100 digital SLR will motivate shooters to further explore creativity with its advanced camera features including full manual controls (P,S,A,M on the mode dial) offering the ability to manage the cameras aperture and shutter speeds.

Once a photo is captured, photographers have the flexible retouch menu at their disposal to apply additional in-camera effects and editing options including colour and filter effects, red eye correction and NEF (RAW) processing.

The remarkably wide ISO range of 100-6,400 (expandable to a staggering 25,600 ISO) allows photographers to shoot confidently in outdoor and indoor low-light situations, even handheld with low noise. In challenging lighting conditions such as when a subject is backlit, Nikons Active D-Lighting feature keeps shadows and highlights consistent for even exposures.

To further unleash creativity, the Picture Control system allows the choice of Standard, Neutral, Vivid, Monochrome, Portrait, or Landscape settings to apply a personal look and feel to pictures, and the versatile Scene Modes let photographers choose from Portrait, Landscape, Child, Sports, Close-up or Night Portrait for stunning results in just about all possible lighting conditions.

Create Full HD Movies
The Nikon D5100 captures full 1080p HD movies with full-time autofocus. Users can quickly switch focus modes to stay with the action through a variety of AF functions, including Face Priority which can track up to 35 human faces, Subject Tracking and normal or wide-area autofocus. To activate movie mode and Live View, a new switch is positioned on the top of the camera near the shutter button for improved ergonomics and easier access.

The D5100 digital SLR offers variable frame rates and resolutions, andcan record 1080p at a cinema-like 24 frames per second (fps).  Alternatively, for playback on HD devices, it can record at 30 fps or a web-friendly 720p at either 24 or 30 fps. All clips can record for up to 20 minutes in the AVC-HD H.264 codec. Once recorded, movie clips can be trimmed in the camera to save time in post-production.

Whether utilizing a wireless or hot shoe-mounted microphone such as the new ME-1, sound can be recorded via the stereo microphone input for professional audio results. Captured movies can be easily shared via HDMI output, andcontrolled remotely with HDMI CEC compatibility.

Superior Image Quality
The 16.2 megapixel DX-format CMOS sensor is capable of capturing imagesthat erupt with colour, offering amazing sharpness and clarity to createimages and full HD movies even in low-light conditions.

Coupled with Nikon's exclusive EXPEED 2 TM image-processing engine, images are brought to life with vivid colours and amazing contrast, accurate exposure and low noise levels resulting in brilliant image quality.

The EXPEED 2 TM engine also drives the quick 11-point AF system on the D5100 to provide for rapid focus acquisition even on fast-moving subjects. When shooting action, split-second shutter response and four frames per second burst rate make sure no moment is missed, forever putting to rest the story ofthe one that got away.

Whether shooting lush wilderness landscapes or an urban skyline, theD5100 utilizes Nikon's exclusive Scene Recognition System to analyze subject information from a database containing more than 30,000 imagesto optimize focus, exposure, i-TTL flash exposure and white balance.

To assist in creating amazing imagery, the Scene Recognition System reads data from the 420-pixel 3D Colour Matrix Meter RGB sensor that examines the scenes brightness and colour data then optimizes the cameras performance prior to the actual exposure.

An entirely greater world of creativity will open up to photographerswhen adding versatile AF-S NIKKOR lenses to the equation. With a wide range of focal lengths and versatile features, AF-S NIKKOR lenses helpto create a variety of photo perspectives to images and movies such as the ability to isolate subjects with a shallow depth of field or zoom close to the action from afar.

Combining the D5100 digital SLR with NIKKOR lenses also delivers the sharpness essential for HD movies, and Nikons innovative Vibration Reduction (VR) II technology helps to eliminate the effects of camera shake.

New ME-1 microphone
To address the needs of the ever growing community of shooters abandoning their video cameras for the versatility of a digital SLR,Nikon now offers the ME-1 stereo microphone. Engineered specifically for a digital SLR, the new ME-1 microphone attaches to the hot shoe and has noise dampening components designed to minimize noise resulting from AFoperation.

The microphone also has a low-cut filter to reduce wind noisenot already blocked by the wind screen. Designed with digital SLR users in mind, the ME-1 also features a cable stop to keep the cable out of the way when using the camera, and reduce instances of noise from unintentional contact.

Because it utilizes a standard 3.5mm stereo jack, the ME-1 is ideal for the D5100 and other Nikon HD movie capable digital SLRs such as the D3s, D300s, D7000 and the COOLPIX P7000.

Availability and Pricing
The Nikon D5100 digital SLR camera is scheduled to be available at Authorized Nikon Canada Dealers beginning late April 2011 at a Manufacturers Suggested Retail Price (MSRP) of $899.95 for a kit that includes the AF-S DX Zoom-NIKKOR 18-55mm f/3.5-5.6G ED VR lens.

The new Nikon ME-1 microphone is scheduled to be available at Authorized Nikon Canada Dealers in May 2011 at a MSRP of $159.95.
[Via]