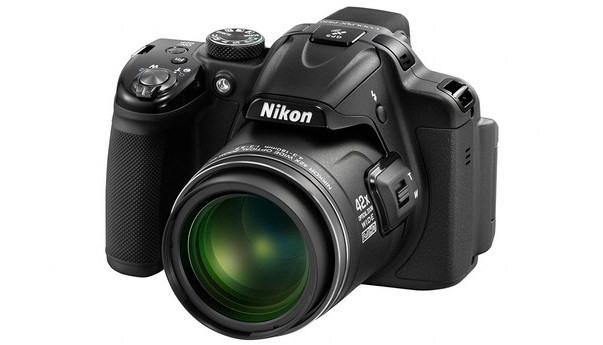 Nikon has given their Coolpix L and P camera range a bit of a shake'n'vac, and come back with two shiny new refreshed camera models, the Nikon Coolpix L820 and P520.
 Nikon Coolpix L820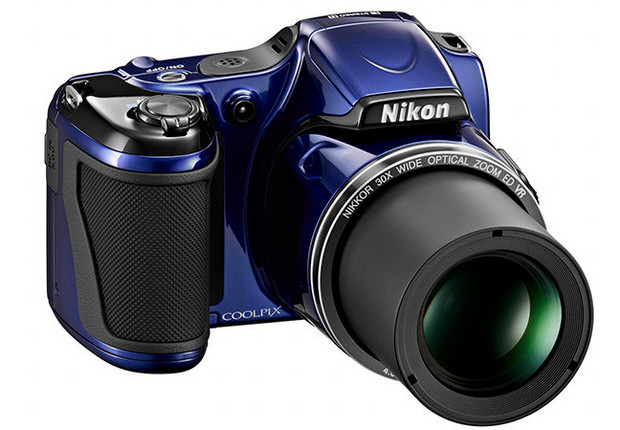 The $279.95 Nikon Coolpix L820 is an AA battery powered 16MP beastie, offering a 30x optical zoom and Full HD video capture.
There's also Vibration Reduction on board to bat off the blurs, Eye-Fi memory card compatibility, a 3-inch rear screen and a "smart portrait system."
The L820 is  available plum, blue, red or black.
Nikon Coolpix P520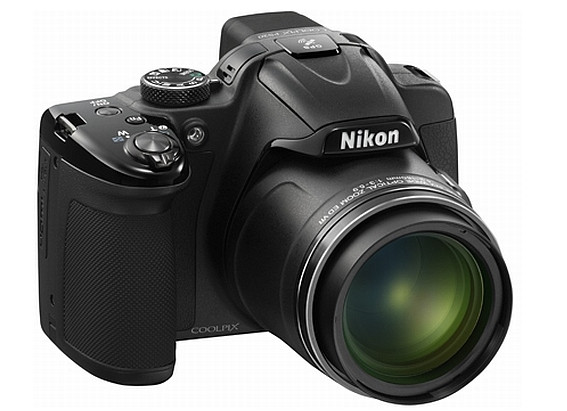 The more upmarket 18MP Nikon Coolpix P520 retails for around $449.95, and packs a formidable, nay truly bonkers 42x optical zoom, covering   a colossal range from a 24mm wide-angle to 1000mm super-telephoto equivalent.
Around the back can be found a vari-angle, 3.2-inch, 921k-dot display for those kerrrazxy camera angles and full manual control over the shooting settings. There's also full HD movie recording (with zooming) and built-in GPS.
The camera can take an optional Wi-Fi dongle for wireless sharing, with other features including 7fps continuous shooting at full resolution, auto HDR mode, a 1cm macro mode, Easy Panorama and 3D shooting modes.
Scroll down for the full release and all the juicy details:
Nikon Press Release
Nikon reveals a compact superzoom duo: introducing the COOLPIX P520 and COOLPIX L820

London, UK, 29th January 2013 – Nikon today announces two new additions to its range of powerful super zoom cameras. Combining an astounding NIKKOR 42x optical zoom lens with advanced lens-shift vibration reduction, 8.0-cm (3.2-in.) vari-angle LCD monitor, Full HD movie recording and built-in GPS, the P520 is ideal for passionate photographers who want the versatility of a huge focal range in a compact body. Meanwhile, the classic-looking L820 packs in a NIKKOR 30x extreme wide-angle optical zoom lens but is easy to carry and simple to use. It boasts a 16-megapixel CMOS sensor, 7.5-cm (3.0-in.) LCD monitor, lens-shift vibration reduction, and Full HD video recording.

"With a focal range covering 24mm for wide-angle shots to 1000mm super-telephoto distances, the P520 gets you closer to the action," explains James Loader, Product Manager for Consumer Products at Nikon UK. "It's perfect for those who want to be able to shoot from anywhere, whether they're at the back of a concert or on safari, and want the added benefit of full manual control with a larger vari-angle screen. Meanwhile, the L820 offers a simpler way to enjoy super zoom; a camera that is great for every day shooting. The extensive optical zooms in both cameras can be utilised when shooting Full HD movies."

The P520 – Zoom beyond your expectations

The COOLPIX P520 is an incredibly versatile bridge camera that covers every shooting situation. Its 42x NIKKOR lens, one of the most powerful on the market, captures both close up portraits shots and distant landscapes easily.

Even when performing at full zoom, an 18-megapixel backlit CMOS sensor and advanced lens-shift vibration reduction make sure frames remain steady and subjects are pin-sharp, in any light. Meanwhile, the vari-angle 8.0-cm (3.2-in.) 921k-dot LCD monitor encourages you to get creative and shoot from a different angle. The superbly high-resolution screen, as featured on professional Nikon D-SLR cameras, has an anti-reflective coating and best-in-class colour rendering and image brightness.

For more advanced users, the P520 offers full control over camera settings, with a mode dial for access to manual exposure settings (P/S/A/M) and User mode with which you can recall your preferred camera settings instantly. One-touch Full HD movie mode makes switching to filming movies instantaneous and built-in GPS records the exact location where a picture was taken as a geotag in the image data, making the P520 a great option for travellers. Keeping you connected, an optional Wi-Fi dongle can instantly transfer images and movies to any smart device*, ready to upload to the internet.

The COOLPIX P520 comes in 3 colours: Dark silver, black and red.

The L820 – Easy to use features for every occasion

With a super-zoom 30x NIKKOR lens and Full HD movie recording, the COOLPIX L820 is clever with images – so you don't have to be. Easy Auto mode takes care of the camera settings for you, matching the setup of the camera to the situation you are in and making shooting effortless, while the remarkably sensitive 16-megapixel backlit CMOS image sensor captures outstandingly detailed images, even in low light conditions.

The broad focal range of the L820 encompasses both extreme wide-angles shots such as capturing a sweeping beach landscape, and super-telephoto distances like picking out a distant surfer riding a wave. Its clever side lever helps shift between the two perspectives within seconds, and ensures smooth, steady zooming throughout the entire focal range whether filming or shooting still images. Meanwhile, four different automatic anti-blur functions ensure your subject remains sharp. When the moment is worthy of a movie, a one-touch record button switches instantly to Full HD (1080p) filming, and a large 7.5-cm (3.0-in.) LCD screen displays all the action captured with superb clarity at any time of day or night.

The COOLPIX L820 comes in four colours: plum, blue, red or black.

Nikon COOLPIX P520: Additional features

– Auto HDR mode: combines two shots taken at different exposures during a single shutter release to create an image with wide dynamic range and rich colour gradation, allowing you to capture images with impressive tonal detail in any situation.
– Macro mode: allows you to focus on subjects really close-up (effectively from just 1 cm distance) to capture the smallest of details.
– Easy Panorama 360°/180°: pan vertically or horizontally to create dynamic panoramas.
– 3D shooting mode: create a 3D image of any still subject to be played back on 3D-enabled TVs and computers.
– Customizable function button: allows you to bypass the menu by creating shortcuts to your favorite camera settings.
– Advanced movie features: use the optical zoom with autofocus when recording and film in slow or fast motion at speeds of up to 120 fps (VGA), with a resolution of 1920 x 1080 and a choice of frame rates (60i, 50i, 30p or 25p). Movies can also be recorded in iFrame format and a built-in HDMI connector allows you to connect directly to an HDTV.
– High-speed continuous shooting: shoot up to ten full-resolution shots at 7 fps, or up to 30 full-resolution shots at 1 fps.
– Fast and accurate AF: when you want to capture complex subjects, you can shoot in manual focus with a 99-point autofocus system for extra-sharp results.
Subject Tracking AF: capture sharp shots of subjects that can't or won't stay still. – Subject Tracking AF: keeps the camera focused on a selected subject even if it is moving around.

Nikon COOLPIX L820: Additional features

– Smart portrait system: snap perfect portraits every time. Smile timer takes the shot when your subject smiles, Blink proof alerts you when someone's eyes were closed, and Glamour retouch options help you make portraits look more flattering.
– Retouch menu: enhance your photos on the spot with a wide range of filter effects. Examples include Selective Colour, which converts your image to monochrome and then adds a splash of color to the area of your choice, while Cross Screen adds a starry effect to bright objects.
– AA-size batteries: your camera is powered by four AA-size batteries, which are readily available across the world.
– 19 scene modes: automatically optimize the camera settings to produce popular photographic styles and effects. Achieve great shots simply by selecting the mode that best matches your situation.
– Wireless transfer: compatible with Eye-Fi X2 (or later) cards. Transmit your digital photos (in JPEG format) directly to your smart device or personal computer and take advantage of Nikon's online photo sharing service, Nikon Image Space.