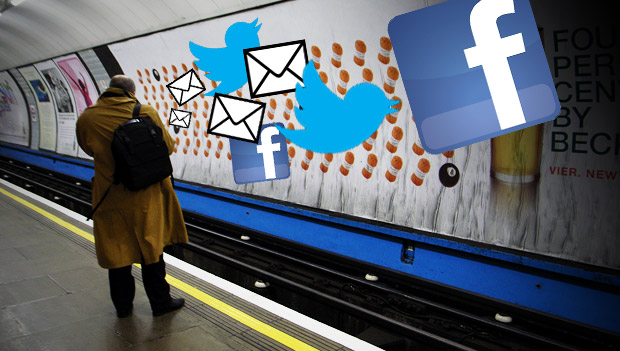 We've rather enjoyed using the free wi-fi service that has been available at a large chunk of the London Underground's stations since last Summer, but the gravy train has just come to a shuddering halt for many travellers.
From today, Virgin will start rattling the cash tin for wi-fi access – unless you happen to be on the EE, Vodafone or Virgin networks.
We're not on those networks, so for us that's the end of our underground Tweets, football updates and IM chats.
Although we've enjoyed being able to access the internet when we're deep, deep underground, Virgin's new asking price of £2 a day, £5 per week, or £15 a month for access seems just too rich for the small amounts of time we've been using it.
However, keen to entice waverers and potential deserters like us, Virgin's running a promo for the next month. Anyone who signs up in February for a month will get three months service for their £15.
That's not enough to tempt  us – but how about you? Do you think it's worth it?  What would you pay for underground access?
Here's Virgin Media's press release:
Virgin Media WiFi on London Underground – update more stations coming online

As you're probably aware, free WiFi on London Underground is coming to an end this month. But, from 29th January, millions of Virgin Media, Vodafone, EE, T-Mobile and Orange customers can stay connected at no extra cost thanks to wholesale agreements announced in November.

All Tube passengers will continue to have free access to Virgin Media's comprehensive WiFi portal, with up-to-the-minute Transport for London (TfL) travel updates and great London entertainment and news, alongside a choice of Virgin Media WiFi Passes to keep everyone connected:

Virgin Media WiFi Pass Cost
Daily
£2
Weekly
£5
Monthly
£15

And, throughout February, passengers taking up the monthly WiFi pass will enjoy three months access for the price of one!

Another 11 stations are coming online this week, including Hampstead, Tooting Broadway and Great Portland Street, joining the 92 London Underground stations already WiFi enabled. We continue to work with TfL to install more stations throughout London, with around 120 stations due to be connected by the end of March 2013.

Virgin Media's WiFi service on London Underground was launched ahead of the London 2012 Olympic Games and made available to all Tube passengers for free throughout 2012. Virgin Media confirmed plans to wholesale the service in June 2012 and announced EE and Vodafone as wholesale partners in November 2012.