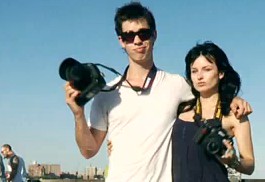 Moderately amusing and perhaps worth a few moments of your time is this music video documenting a doomed love affair based on the couple's choice of dSLR.
Here's the chorus to give you an idea of what you're in for:
Cause I'm a Canon gangsta and your a Nikon shawtay
I wanna take a picture of that rockin bootay

We couldn't keep the act up we just had to face the facts
but hey look on the bright side at least we're not a Pentax
Actually, by the time we'd got to the end of the video, we'd gone right off it, but maybe it'll amuse you. Tell us what you think!
[thanks boohoo]