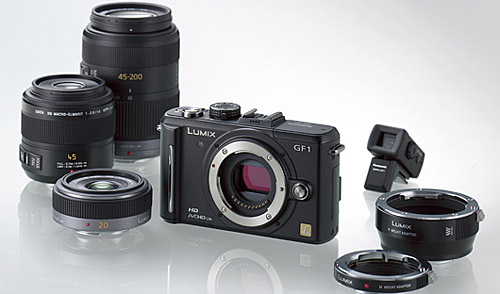 We raved and we frothed over Panasonic's Lumix DMC-GF1 camera, before eventually caving in and buying a GF1/20mm f1.7 lens recently, so it's good to see firmware updates coming through.
Panasonic have a pretty good reputation for supporting their high end cameras – we were chuffed to see a fairly substantial update to the LX3 digital compact over a year after its release  –  and the firmware v1.1 update for the GF1 promises a series of improvements.
These include improvements to autofocus in movie mode and the Manual Focus Assist function. Auto white balance performance is also given a boost.
Firmware updates for the 14-45mm, 45-200mm, 14-140mm HD, 7-14mm and 20mm pancake lenses serve up improved autofocus in movie mode and extend AF support to 'Full HD' mode for the 14-45mm and 45-200mm lenses.
Grab the update from Panasonic's website here.