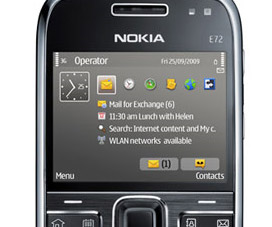 The successor to Nokia's popular E71 business handset is currently taxiing on the runway ready to beguile besuited types across the land.
The new Nokia E72 is now listed for pre-order on the Nokia site for £359, with colour options being  black, black or black, with no definite release date as yet announced.
We've always rather liked the no-nonsense lines of the Nokia E series, and the specs aren't too shabby either, with the handset sporting a 5MP camera (with LED flash), a 3.5mm headphone jack and an optical trackpad for zipping through those important business messages at a whizzy pace.
There's video on board (maxing out at VGA: 640 x 480 at 15fps) with 10x digital zoom, although we wouldn't get your hopes up too high about the quality of images at the far end of that digi-zoom.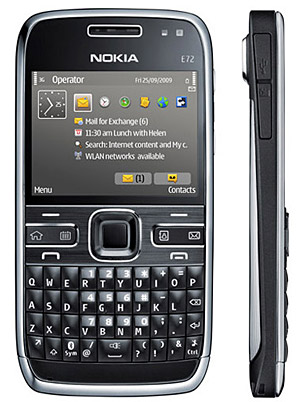 We're a little disappointed by the rather diminutive 320 x 240 pixels (QVGA) screen, although the onboard Bluetooth, A-GPS with compass, FM Radio, Wi-Fi and voice commands mopped our fretting brows a tad.
The E72 measures up at a highly pocketable 14 x 58.3 x 10.1 mm with its 128g weight unlikely to cause too much serious saggage in the pocket area.<
Talk time from the 1500 mAh Li-Ion standard battery is listed as a hefty 12 .5 hours on GSM with standby an impressive 492 hours.
Overall, we think this is a great, fully featured business phone with enough multimedia widgets to ensure it'll get taken out at the weekend too.
Want to know more?
Here's a veritable avalanche of Nokia E72 specs, just for you. Enjoy!
Size
Form: Monoblock with full keypad
Dimensions: 114 x 58.3 x 10.1 mm
Weight: 128 g
Volume: 65 cc
Contemporary design with fully integrated QWERTY keypad
Display and 3D
Main display:
– Size: 2.36″
– Resolution: 320 x 240 pixels (QVGA)
Up to 16.7 million colours
TFT active matrix
Keys and input method
QWERTY keyboard
Nokia Eseries one-touch keys for Home, Calendar, Contacts and Email
Volume and mute keys
Intuitive Optical Navi Key
Media (Camera, Gallery, Music Player, Radio, Real Player, Voice Recorder)
Messaging (Messaging, New email, New message, Read emails, Read messages, Read new emails, Read new messages)
Organiser (Calculator, Calendar, Clock, Converter, Data Synchronisation, File manager, Notepad, What time is it)
Profiles (General, Silent, Meeting, Outdoor, Pager, Offline)
Tools (Connection manager, Device manager, Help, Landmarks, Personalisation, Profiles, Settings, Speed dialling, Voice commands, Voice mail)
Application manager
Bluetooth
Browser
Logs
Navigator (= GPS data)
Phonebook
Colours and covers
Available in-box colours:
– Zodium black
– Metal grey
– Topaz brown
Connectors
Micro-USB connector which supports charging. High-Speed USB 2.0
3.5 mm Nokia audio connector
Memory
4 GB MicroSD memory card (with hot swap), support for up to 16 GB
One-touch use as USB mass memory storage
250 MB free user disk space
Power
Nokia Battery BP-4L 1500 mAh Li-Ion standard battery
Talk time (maximum):
– GSM 12 h 30 min
– WCDMA 5 h 54 min
– VoIP 13 h 42 min
Standby time (maximum):
– GSM 492 h
– WCDMA 576 h
– WLAN 110 h
Video playback time (maximum): 13 h 6 min
Video recording time (maximum): 6 h 24 min
Video call time (maximum): 4 h
Music playback time (maximum): 37.5 h
Communication and navigation
Communication and navigation
Operating frequency
E72-1 Quad-band EGSM 850/900/1800/1900, WCDMA 900/2100 HSDPA
E72-2 Quad-band EGSM 850/900/1800/1900, WCDMA 850/1900 HSDPA
E72-3 Quad-band EGSM 850/900/1800/1900, WCDMA 850/2100 HSDPA
Offline mode
Data network
GPRS class A, multislot class 32, maximum speed 107/64.2 kbps (DL/UL)
EGSM class A, multislot class 32, maximum speed 128/384 kbps (DL/UL)
WCDMA 850/1900/2100, WCDMA 900/1900/2100
HSDPA maximum speed: 10.2 Mbps
HSUPA maximum speed: 2 Mbps
WLAN 802.11b, 802.11g
– WLAN Security: WPA2-Enterprise, WPA2-Personal, WPA-Enterprise, WPA-Personal
– WLAN Quality of Service: WMM, U-APSD
– WLAN wizard
TCP/IP support
Capability to serve as data modem
Support for MS Outlook synchronisation of contacts, calendar and notes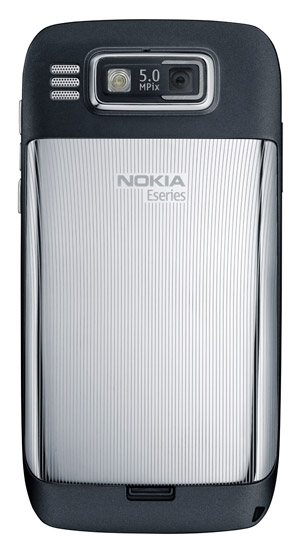 Local connectivity and synchronisation
Bluetooth version 2.0 with Enhanced Data Rate, A2DP
Add-on solutions enable integration into enterprise private branch exchange (PBX) infrastructure
Digital Home support
UPnP support
MTP (Mobile Transfer Protocol) support
Printing
Network (Raw). Direct TCP/IP socket connection to any specified port
Network (LPR). Line Printer Daemon protocol (RFC1179)
Printing to file
USB PictBridge printing
Support for PC synchronisation with Nokia PC Suite 7.1 (preinstalled) and Nokia Ovi Suite
Service
SIND
Call features
Integrated hands-free speakerphone
Conference calling
Number screening for messaging and calls
Any key answer
Call waiting, call hold, call divert
Call timer
Logging of dialled, received and missed calls
Automatic redial
Speed dialling
Enhanced voice dialling
Side volume keys
Mute/unmute
Contacts with images
Conference calling with up to 6 participants
Video calling (VGA): up to 640 x 480 pixels, up to 15 fps
Push to talk
SIP VoIP 3.0
Voice call continuity (VoIP cell/WLAN handover)
Messaging
SMS with support for up to 10 concatenated SMS (long messages)
SMS Storage: up to 999 messages
Speed dialling for SMS sending
List of recently used numbers
Multiple SMS deletion
Undo function for SMS deletion
Text-to-speech message reader
EMS picture messaging (send and receive)
MMS version 1.2, message size up to 300 kb
Automatic resizing of images for MMS
Common inbox for SMS and MMS messages
Number screening for messaging
Distribution lists for messaging
Instant Messaging:
– Windows (MSN) Live
– OMA IM
– Presence
– Ovi Contacts
E-mail
Supported protocols: IMAP4 (with idle), Nokia Messaging, Microsoft ActiveSync, POP3, SMTP
Support for Nokia Messaging service
Support for Mail for Exchange
Support for Lotus Notes Traveller
HTML email support
Multiple simultaneous email accounts (e.g. business email + private email)
Support for e-mail attachments
Support for e-mail with filtering
OMA e-mail notification support
Integrated Nokia Mobile VPN
Web browsing
Supported mark-up languages: HTML, XHTML, MP, WML, CSS
Supported protocols: HTTP, WAP
TCP/IP support
Nokia MiniMap browser:
– HTML 4.01
– XHTML MP 1.1
– ECMAScript / JavaScriptTM 1.5
– AJAX
– OMA 2.1
– HTTP / HTTPS
Nokia Mobile Search (for the device and the internet)
GPS and navigation
Integrated A-GPS with compass
Nokia Maps 3.0
Image and sound
Photography
5 megapixel camera (2592 x 1944 pixels) with autofocus and flash
Image formats: JPEG, Exif
CMOS sensor
5x digital zoom
One-touch autofocus key Focal length: 4.7 mm
Focus range: 10 cm to infinity
LED flash
Flash modes: Automatic, On, Off, Red-eye reduction
Flash operating range: 1 m
Automatic, sunny, cloudy, incandescent, fluorescent
Automatic, Manual exposure compensation +2,0 ~ -2,0
Capture modes: Still capture mode, video mode, panorama mode and sequence mode
Scene modes: Auto, user defined, close-up, portrait, landscape, sport, night mode (w/o flash), night portrait
Colour tone modes: Normal, sepia, black & white, vivid, negative
Light sensitivity modes: Automatic, low, medium, high
Show viewfinder grid
Still image editor
Video
Main camera
VGA: 640 x 480 at 15fps
QVGA: 320 x 240 at 15 fps
QCIF: 176 x 144 at 15 fps
Up to 10x digital video zoom
Front camera:
– Up to 2x digital video zoom
Video recording file formats: .mp4 – default (VGA, QVGA) or .3gp (QCIF for MMS)
Audio recording formats: AMR, AAC stereo
Automatic, sunny, cloudy, incandescent, fluorescent
Scene modes: Automatic, night
Colour tone modes: normal, sepia, black & white, vivid, negative
Clip length (maximum): 90 mins (High or Normal quality) or limited to MMS size approx. 30 seconds (Sharing quality)
Note: Clip length is dependable on available memory
Media player
Real Player
Video playback file formats: .mp4, AVC/H.264, .wmv, RV, Flash Video, H.263/3GPP
Video streaming: .mp4, AVC/H.264, .wmv, RV, Flash Video, H.263/3GPP
Video calling (VGA) 15 fps
Video ring tones
Video editor on device
Ovi Share for sharing your videos and images
Music and audio playback
Music player
Media player
– Equalizer
– Shuffle
– Repeat
– Loudness on/off
– Stereo widening
– Selection by artist, album and genre
– Album graphics display
Music playback file formats: AAC, AAC+, eAAC+, MP3, AMR-NB, WMA
Audio streaming
Dedicated volume keys
FM radio 87.5-108 MHz with RDS support
3.5 mm audio connector
Nokia Music Store support
Ring tones: polyphonic (25 built-in tones)
Voice and audio recording
Voice commands:
– Media (Camera, Gallery, Music Player, Radio, Real Player, Voice Recorder)
– Messaging (Messaging, New email, New message, Read emails, Read messages, Read new emails, Read new messages)
– Organiser (Calculator, Calendar, Clock, Converter, Data Synchronisation, File manager, Notepad, What time is it)
– Profiles (General, Silent, Meeting, Outdoor, Pager, Offline)
– Tools (Connection manager, Device manager, Help, Landmarks, Personalisation, Profiles, Settings, Speed dialling, Voice commands, Voice mail)
– Application manager
– Bluetooth
– Browser
– Logs
– Navigator (= GPS data)
– Phonebook
Enhanced voice dialling Voice recorder
Audio recording formats: .mp4
AMR-NB, GSM EFR, FR & HR, AMR-WB for CS speech call
Digital microphone
Text-to-speech message reader
Personalisation: profiles, themes, ring tonesCustomisable profiles
Ring tones: polyphonic (25 built-in tones) HH: US ring tone, ROW ringing tone
Video ring tones (3 built-in tones)
User-defined themes
Home screen modes: Business and personal
Software
Software
Software platform and user interface
S60 3rd Edition Feature Pack 2 (S60 3.2.3)
Symbian OS version 9.3
Active standby
Voice commands
FOTA (Firmware update Over The Air)