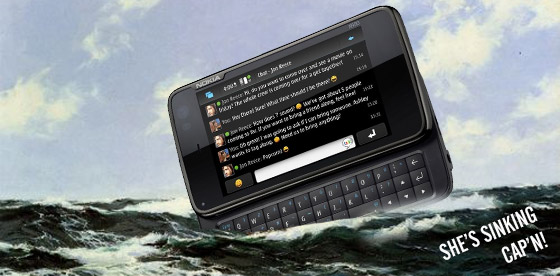 Nokia's all singing, all dancing, top of the range N900 handset has failed to set the world alight, with  research firm Gartner saying that less than 100,000 models have been sold since launching first five months ago.
To be honest, we're not surprised that it failed to find favour with the wider public: although its upmarket specs excited beardie techie sorts, its chunky lines and unfamiliar OS failed to impress the iPhone-bedazzled public.
Fast spin cycle
Alberto Torres, Nokia's head of business solutions was having none of it, rapidly reaching a high level of spin and insisting, "Sales have substantially exceeded expectations."
Although Nokia's excellent, no-nonsense business handsets have continued to do good business, the company has failed spectacularly to come up with anything to dent the all-conquering iPhone's progress.
Total sales of under 100,000 of the Maemo-powered N900s look very small beer indeed compared to the 8.75 million iPhones shifted in January-March alone.
[Via]
Pup?
Do you think the Nokia deserves to do better? Or is it a bit of a pup?
Here's some videos and specs to help you decide:
Display
3.5 inch touch-sensitive widescreen display
800 × 480 pixel resolution
Language support
British English, American English, Canadian French, Czech, Danish, Dutch, Finnish, French, German, Italian, Norwegian, Polish, Portuguese, Spanish, Latin American Spanish, Swedish, Russian
Connectivity
3.5mm AV connector
TV out (PAL/NTSC) with Nokia Video Connectivity Cable
Micro-USB connector, High-Speed USB 2.0
Bluetooth v2.1 including support for stereo headsets
Integrated FM transmitter
Integrated GPS with A-GPS
Battery
BL-5J 1320mAh
Processor and 3D accelerator
TI OMAP 3430: ARM Cortex-A8 600 MHz, PowerVR SGX with OpenGL ES 2.0 support
Memory
Up to 1GB of application memory (256 MB RAM, 768 MB virtual memory)
Size and weight
Volume:

Approx 113cc

Dimensions:

110.9 × 59.8 × 18 (19.55 at thickest part) mm

Weight:

Approx 181g
Mass memory
32 GB internal storage
Store up to 7000 MP3 songs or 40 hours of high-quality video
Up to 16 GB of additional storage with an external microSD card
Keys and input method
Full QWERTY tactile keyboard
Full QWERTY onscreen keyboard
Colour
Black
Operating frequency
Quad-band GSM EDGE 850/900/1800/1900
WCDMA 900/1700/2100 MHz
Data network
GPRS class A, multislot class 32, maximum speed 107/64.2 kbps (DL/UL) EDGE class A, multislot class 32, maximum speed 296/177.6 kbps (DL/UL) WCDMA 900/1700/2100. Maximum speed PS 384/384 kbps (DL/UL) HSPA 900/1700/2100. Maximum speed PS 10/2 Mbps (DL/UL) WLAN IEEE 802.11b/g
Call features
Integrated hands-free stereo speakers
Call waiting, call hold, call divert
Call timer
Logging of dialed, received and missed calls
Speed dialing via contact widget
Virbrating alert (internal)
Side volume keys
Mute/unmute
Contacts with images
Conference calling with up to 3 participants
Internet calling
Email & Messaging
Supported protocols: Mail for Exchange, IMAP, POP3, SMTP
Support for email attachments
Support for rich HTML
SMS and Instant Messages as conversations
Support for Nokia Messaging service
Instant messaging and presence enhanced contacts
Multiple number, email and Instant Messaging details per contact, contacts with images
Support for assigning images to contacts
Web browsing
Maemo browser powered by Mozilla technology
Adobe Flash™ 9.4 support
Full screen browsing
GPS
Integrated GPS, Assisted-GPS, and Cell-based receivers
Pre-loaded Ovi Maps application
Automatic geotagging
Camera
5 megapixel camera (2584 × 1938 pixels)
Image formats: JPEG
CMOS sensor, Carl Zeiss optics, Tessar lens
3 × digital zoom
Autofocus with assist light and two-stage capture key
Dual LED flash
Full-screen viewfinder
Photo editor on device
TV out (PAL/NTSC) with Nokia Video Connectivity Cable (CA-75U, included in box) or WLAN/UPnP
Landscape (horizontal) orientation
Capture modes: Automatic, portrait, video, macro, landscape, action
Video
Wide aspect ratio 16:9 (WVGA)
Video recording file format: .mp4; codec: MPEG-4
Video recording at up to 848 × 480 pixels (WVGA) and up to 25fps
Video playback file formats: .mp4, .avi, .wmv, .3gp; codecs: H.264, MPEG-4, Xvid, WMV, H.263
Music and audio playback
Maemo media player
Music playback file formats: .wav, .mp3, .AAC, .eAAC, .wma, .m4a
Built-in FM transmitter
Ring tones: .wav, .mp3, .AAC, .eAAC, .wma, .m4a
FR, EFR, WCDMA, and GSM AMR
Personalisation
Background pictures
Widgets on your desktops
Intelligent contact shortcuts
Shortcuts to your favourite websites
Shortcuts to applications
Themes
Operating system
Maemo 5 software on Linux
Applications
Maemo Browser
Phone
Conversations
Contacts
Camera
Photos
Media player
Email
Calendar
Ovi Maps
Clock
Notes
Calculator
PDF reader
File manager
RSS reader
Sketch
Games
Widgets
Application manager for downloads
Gaming
What´s in the box
Nokia N900
Nokia Battery (BL-5J)
Nokia High Efficiency Charger (AC-10)
Nokia Stereo Headset (WH-205)
Video out cable (CA-75U)
Nokia charger adaptor (CA-146C)
Cleaning cloth