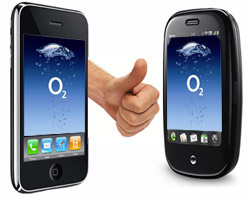 Telefonica – owners of the O2 mobile network – says it has shifted 2 million Apple iPhones in Britain and reckons the future's bright with good Palm Pre sales keeping the cashtills kerchinging.
Apple's original mobile phone partner in the UK, O2 lost its exclusivity on the iconic smartphone last year, which it first offered for sale in November 2007.
The iPhone is now available on Orange, Vodafone and Tesco Mobile in Britain.
Ronan Dunne, chief exec of O2 UK said the iPhone deal continued to give the company a warm glow deep inside. "It will take a long time before that goes away," purred Dunne
Dunne added that sales of the iPhone backed by good sales for the Palm Pre had helped the operator finish on a high note in Britain in 2009, and expected the next set of trading results to show that O2 was the only operator to grow in the period.
The folks at O2 also reckon that they suffer less churn than their rivals ('churn' is punters ending contracts and switching network providers) and say they've seen signs that the UK economy is beginning to look healthier, noting improvements in the UK small business market.
[Reuters]