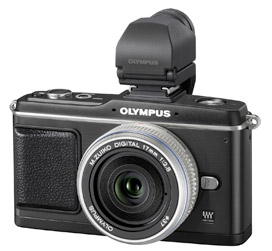 We were stoked to the max when Olympus's retro-styled Micro Four Thirds Pen E-P1 was announced earlier this year, but our enthusiasm waned a tad when we took a closer look.
Although there was no denying that the Olympus cut a mean gash with its old-school looks, disappointment lurked once it was let out in the wild.
Slow focusing made a mockery of its street shooter styling and the lack of an onboard flash meant that some shots were likely to go uncaptured.
There was still a lot to like, but as far as we were concerned it was game over when Panasonic unveiled the Lumix GF-1, which out-gunned the Pen E-P1 in just about every department.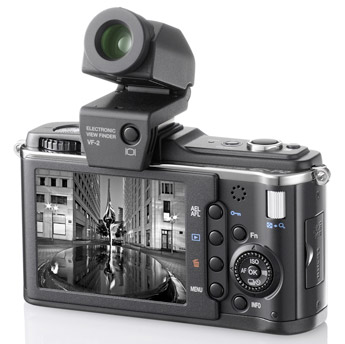 Righting those wrongs
Word is that the gang at Olympus have been busy righting wrongs, and a Pen E-P2 follow-up camera could be on the cards for a late 2009 release.
According to BJP-online, Olympus's second Micro Four Thirds camera will be a 12.1 megapixel number, offering AF tracking; a tiltable, electronic viewfinder al la GF-1; a top 3fps shooting mode and 30fps 720p movie capture with stereo sound.
There's a 1.44 million dot 230K electronic viewfinder onboard with 100% field of view, plus two new Art Filters, adding to the six seen in its predecessor.
The new Diorama mode creates the illusion of a model world (I'm sure someone will find a use for that one day) while a Cross Process mode flips colours around but – crucially – there's still no onboard flash to be seen.
It won't be getting out before Santa's finished his rounds, but press images of the updated snapper have already started leaking out over the internet.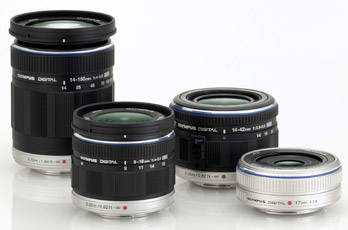 Mark Thackara, national marketing manager at Olympus UK was on-message and enthusiastic:
With the E-P1, many experts already told us that we had defined a totally new camera segment.

Adding superb new features like an accessory port, viewfinder and new Art Filters has made an already incredible camera even better.
This Pen E-P2 will be offered in 'classic black' as opposed to, err, plain black, and will become available from January 2010 for £849, including the electronic viewfinder, making it keenly priced against the Lumix.
Update: here's the full press release from Olympus:
London, 5 November 2009 – Welcome back to the PEN story and the next chapter: "Back to Black". This latest retro-chic digital Olympus PEN builds on EISA's 2009/2010 "Best Camera of the Year", an icon of style and quality. To enrich photographic potential, the new E-P2 includes a port for an electronic viewfinder or external microphones. Two additional Art Filters combine with the new i-Enhance function for yet more creativity and image enhancement.
Two new Micro Four Thirds lenses are due in the first half of 2010: the M.ZUIKO DIGITAL ED 9-18mm F4.0-5.6 (18-36mm*) super wide-angle zoom and M.ZUIKO DIGITAL ED 14-150mm F4.0-5.6 (28-300mm*) high-power telephoto zoom lenses. Cloaked in classic black, the hybrid photo and HD movie Olympus PEN boldly brings fun and simplicity back to SLR quality.
It's the next exciting chapter in a photographic story that is set to run and run. Available from January 2010 for £850 including the electronic viewfinder.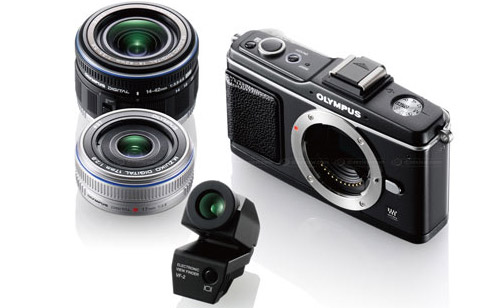 Building on brilliance
The new generation of PEN (E-P2) boasts an enviable pedigree. It comes hot on the heels of Olympus' award-winning first Micro Four Thirds System camera inspired by the revolutionary Maitani design of the original PEN series. This second digital model takes usability and functionality even further by with diverse fresh features:
Accessory port for accessories like viewfinder and microphones
Two additional Art Filters (Diorama and Cross Process)
Colour-boosting i-Enhance function
AF tracking
Remote slideshow control (via HDMI)
HD movies in M-mode
Experience true framing freedom
A dedicated accessory port on the back of the camera extends flexibility. The first compatible device, an electronic viewfinder is included with the E-P2. Enjoy bright, high-resolution depictions under all conditions and a 100% field of view. Tiltable by up to 90°, reminiscent of medium format camera viewfinders it also promotes shooting from unique perspectives. Viewing picture information and adjustments as you go is a given. More accessory port attachments starting with an external microphone adapter for a variety of microphones will also follow soon.
Click for creativity
Inspiring creativity, two new Art Filters join the six already introduced by the E-P1. Use Diorama to create the illusion of a model world or flip colours around with Cross Process, both available for use in still or HD movie mode. Meanwhile, the new i-Enhance function boosts specified colours within the frame to add even more punch to the image if you so desire. Like its predecessor, the E-P2 offers the choice of aspect ratios and multiple exposures. Also remaining on board is the level gauge, i-Auto mode, and the flattering e-Portrait option.
AF tracking is added making the sharp capture of moving subjects easier than ever and when it's time to take a look at the results, just kick back and relax as high-definition slideshows and HD movies can be viewed using the remote of a TV set connected to the camera via HDMI.
A legacy of chic styling and SLR quality continues
The latest PEN inherits the inimitable looks and ultra-compact form of its critically-acclaimed sister model in addition to all its outstanding technologies. Photographers benefit from a defined high-end standard based on the Micro Four Thirds System that guarantees SLR quality results.
The large pool of compatible interchangeable lenses provides tremendous versatility – from the ultra-slimline M.ZUIKO DIGITAL Pancake to the complete Four Thirds lens line-up (with adapter). Attachment of an external flash unit, such as the retro-styled Olympus FL-14, extends the possibilities even more.
Reliably crisp images are secured through the 12.3 Megapixel Live MOS sensor combined with a dust reduction system and high-performance in-camera image stabilisation giving protection against shake to 4 EV. And at the core of this PEN is the guarantor for fast, top-quality image processing, even at up to ISO 6400: the state-of-the-art TruePic V engine. The Live Control GUI simplifies operation while the effect of functions can be monitored in real time – on both the 7.6cm/3.0" HyperCrystal LCD and the 1,440,000 dot electronic viewfinder.
HD movie magic
Capable of recording AVI format movies in 30fps 1280x720p HD resolution and boasting immaculate PCM sound quality, the PEN also lets users discover the magic of movie making. Seven minutes of footage can be recorded in a single shot. Furthermore, many still photography functions and options; including the application of Art Filters, depth of field, angle of view and AF tracking, remain operational in movie mode.
Another new perk is the ability to film using the M-mode, good news for those with a creative touch. And because shooting is possible using any attached lens, a whole new world of framing potential emerges. Users can also capture high resolution still shots while filming at the touch of a button.
The Olympus E-P2 builds on its coveted predecessor's wealth of high-performance temptations. "With the first PEN, many journalists and experts already told us that we had defined a totally new camera segment. Adding superb new features like an accessory port, viewfinder and new Art Filters has made an already incredible camera even better" explains Mark Thackara, National Marketing Manager at Olympus UK.
This retro-cool model is finished in classic black and will become available from January 2010 at a price of £849 including the electronic viewfinder. An optional, matching black leather body jacket will also be on offer.
Pricing
Full UK pricing on all kits is yet to be confirmed. The E-P2 14-42 Zoom kit with viewfinder included is expected to have an RRP of £849. This and the other kit prices will be confirmed nearer the availability date.
The Olympus E-P2 – main features:
Small & stylish design
Extremely small and light-weight Micro Four Thirds System
Stylish design with black metal finish
Accessory port to clip-on electronic viewfinder and microphone adapter
SLR image quality
12.3 Megapixel Live MOS Sensor
TruePic V image processor
Built-in IS with max. 4 EV steps efficiency
Adapter for all ZUIKO DIGITAL & OM lenses
Easy operation
Live Control GUI for intuitive handling & real-time views of effects
Automatic recognition of common scenes possible with i-Auto
i-Enhance function to boost colours
Clear skin with e-Portrait
AF Tracking
Two dials for easy handling
Face Detection and Shadow Adjustment Technology
20 shooting modes (5 exposure, i-Auto, 14 scene modes)
Creativity & HD Movie
HD Movie with stereo sound featuring depth of field and Art Filters now available in M-mode
8 Art Filters, Multi-Aspect ratios
Multi Exposure function
Art Filters can be applied to previously taken RAW images in the camera and with Olympus software
Enhanced creativity with special lenses e.g. fisheye is available via Four Thirds lens adapter
Additional features of the Olympus E-P2:
Based on the Micro Four Thirds Standard
HDMI interface
Linear PCM sound recording
Level gauge
Hi-Speed USB 2.0 interface
3fps with sequential shooting (max. 10 in RAW mode)
ISO 100-6400
Bracketing functions for white balance and exposure
Supersonic Wave Filter dust reduction system
Wide dynamic range in highly lit areas
Simultaneous writing of RAW and JPEG
SD memory card slot (SDHC compatible)
High-speed data writing and lossless RAW compression
7.6cm/3.0" HyperCrystal LCD
AE/AF lock functionality
Auto gradation adjustment to prevent blown highlights and
blocked-in shadows
Remote release possible via the optional remote cable RM-UC1
New accessories:
M.ZUIKO DIGITAL ED 9-18mm F4.0-5.6 super wide-angle zoom lens (first half of 2010)
M.ZUIKO DIGITAL ED 14-150mm F4.0-5.6 high-power telephoto zoom lens (first half of 2010)
Leather strap in black
Leather body jacket in black
*35mm equivalent
Appendix
AF Tracking
This system tracks the moving subject automatically and keeps it continually in focus for pictures that are optimally focused and exposed. It also memorises subject data even when the subject goes out of frame and resumes tracking when it reappears.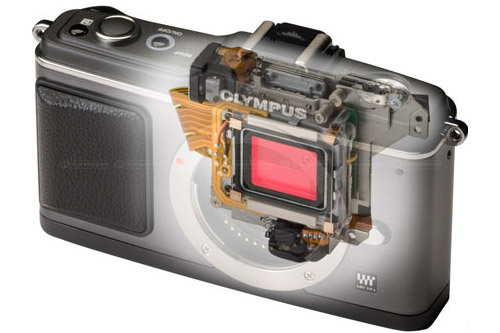 Building on brilliance
Art Filters
Enables special artistic effects to be created directly in the camera. The following Art Filters are available in the Olympus E-P2:
Diorama: Enhances a composition's depth of field to give the image an unreal touch and model-like structure.
Cross Process: Returns depictions with striking colour and contrast shifts akin to those achieved through the cross processing technique in silver halide film development.
Pop Art: Enhances colours, making them stronger and more vivid to create high-impact pictures that express the happy, light-hearted feeling of the pop art style.
Soft Focus: Creates a soft tone which gives pictures an ethereal, otherworldly atmosphere. It renders pictures as though they were veiled in heavenly light, without obscuring details such as the hair or flower petals.
Pale & Light Colour: The foreground is enclosed in flat, gentle light – similar to a flashback scene in a film – creating a sense of déjà vu.
Light Tone: Creates a picture with a gentle feel to it, similar to one taken under artificial lighting. Both the shade and highlight areas are rendered very softly to provide a sophisticated atmosphere.
Grainy Film: This effect recreates the feeling of reality evoked by grainy, high-contrast monochrome pictures. The strong presence and dramatic atmosphere make the subject stand out impressively.
Pin Hole: Reduces the peripheral brightness like an image seen through a pinhole. Added to this is a unique colour tone that results in a style that has an air of secrecy or portrays the feeling of being lost in another dimension or space.
Built-in image stabilisation
Built directly into the camera, it enables the photo-enhancing effects of image stabilisation to be enjoyed irrespective of the attached lens. A gyro sensor detects the precise direction of the shake. Using the on-board Supersonic Wave Drive (SWD), the image sensor shifts to compensate for movement caused by camera shake.
e-Portrait
Touches up the appearance of subjects even while the shot is being taken. This feature recognises faces and automatically makes skin on the face and adjacent areas appear smoother, brighter and more youthful.
HD Movie
High-definition video (HD video) delivers high-quality movies at a resolution of 1280×720 pixels and a rate of 30 frames per second.
i-Auto mode
This "intelligent-Auto" mode uses advanced automatic detection technology to allow the camera to recognise the six most commonly used scenes automatically. They enable the capture of perfect photos without any need for manual settings.
i-Enhance function
By invoking this function, the camera automatically enhances colours. In this way the saved results resemble the way we recollect memories more closely.
Micro Four Thirds Standard
Micro Four Thirds was developed to maximise the performance potential of digital imaging technology. It allows users to enjoy the same high image quality as the Four Thirds Standard's 4/3-type image sensor in a much more compact body. The new Micro Four Thirds Standard enables the development of ultra-compact interchangeable lens type digital camera systems unlike anything seen before. It also incorporates a greater number of lens-mount electrical contacts for the support of new features and expanded system functionality in the future.
Multi-Aspect
The E-P2 lets photographers choose from four different aspect ratios that enable individualised framing of scenes. These provide a new means of adding expression to shots and the selected ratio can be seen directly on the camera's LCD. The available aspect ratios include: 16:9, 3:2, 4:3, and 6:6.
Multi Exposure
With this function, two RAW images can be overlapped to create a new picture while shooting. Up to three RAW images can be combined in editing mode.
PEN
The PEN series was first introduced in 1959 as a half-frame camera. With its revolutionary design and price, this camera made photography available to a much bigger user group. The idea behind its design was pure and elegant – to create a camera that was as easy to carry and use as a pen.
The PEN was designed by legendary Olympus designer Yoshihisa Maitani, one of the most famous product designers in the history of photography. In 1963 the PEN F was launched as the world's first 35mm half-frame system SLR. By the time it was introduced, 16 lenses were available.
17 million PEN cameras were sold, making it one of the most popular and successful cameras ever. Today PEN cameras are a much sought after collector's item and are traded for incredible prices on the second-hand market.
Supersonic Wave Filter
Dust entering digital cameras with interchangeable lenses can cause damage to photos. The Supersonic Wave Filter is a transparent filter which is located between the camera's shutter and sensor. It shakes off settled dust particles by generating a series of ultrasonic vibrations. Olympus was the first to incorporate dust protection.
TruePic V image processor
Olympus' latest image processing engine. It automatically enhances important aspects of image quality including: colour reproduction (colour range, saturation and brightness), picture sharpness (reduced image noise, improved edge reproduction), as well as providing faster processing speeds. Furthermore, it supports Art Filters, HD movie quality recording, and high sensitivity shooting at up to ISO 6400 to enable unprecedented creative expression.