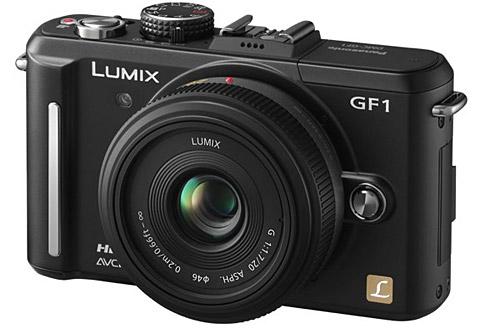 Olympus created a bit of a splash with the launch of their beautifully retro-styled E-P1 Micro Four Thirds camera, but as soon as we cast eyes on the Panasonic Lumix DMC-GF1, we were filled with rampant wads o'want.
Looking like a grown up version of the Lumix LX3 – still our favourite digital compact – the GF1 offers dSLR-like performance in a compact package (we would say 'pocket-sized', but if you like to strut around in a pair 0f Rod Stewart's finest spandex trews, it'll be a bit of a squeeze).
The modern-looking camera sports a 12.1-megapixel sensor, a 3-inch 460k pixel LCD, and comes with either a 14-45mm zoom lens or a superbly slim 20mm f/1.7 'pancake' prime lens.
Unlike the Olympus Pen E-P1, Panasonic have managed to squeeze in a pop-up flash (albeit a rather feeble affair),  and there's also a hot shoe for mounting an external flash gun.
Sizing it up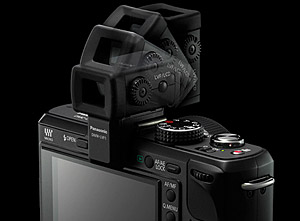 For a dSLR, the Panasonic Lumix GF1 is a pleasingly bijou affair, weighing in at  16.08 ounces (456g) with the 20mm lens and measuring 4.68 x 2.79 x 1.43 inches (119 x 71 x 36.3mm).
The top plate of the camera looks much like the LX3's, with a flap c0vering the pop up flash, a hotshoe, a large mode dial surrounded by a switch for selecting shooting modes, an on/off slider, shutter release and a Movie record button.
The hotshoe also doubles up as a mount for an optional electronic viewfinder -like the one seen in the Ricoh GX100/GX200 digicams – which is tiltable by 90 degrees.
Exposure modes
The top dial lets users select between the excellent Intelligent Auto mode (the smartest auto mode we've seen on a camera to date) and Program, Aperture and Shutter-priority, Manual shooting modes, plus Motion Picture P, Custom 1 and 2, Scene, and My Colour positions.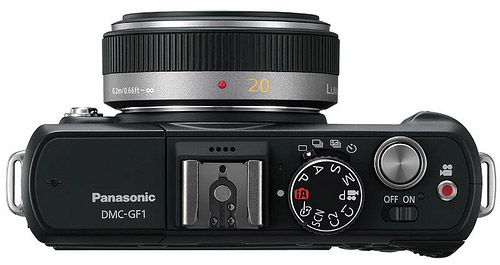 Selecting the scene mode unleashes a veritable torrent of presets to cover just every shooting scenario imaginable, including Night Portrait, Macro, Sports, Scenery, Portrait, Soft Skin, Scenery, Architecture, Sports, Peripheral Defocus, Flower, Food, Objects, Night Scenery, Illuminations and Baby 1 + 2.
Portraits taken with the camera's Face Recognition function are smartly dropped in to a folder of the name registered with the camera, and movies can be snappily uploaded directly to YouTube using the built-in YouTube uploader.
Shutter speeds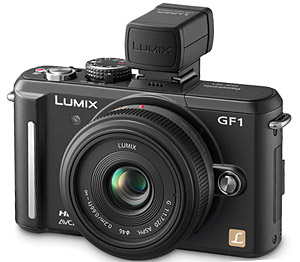 The Panasonic GF1's focal plane shutter range serves up speeds from 1/4,000 to 60 seconds, with a bulb mode limited to four minutes maximum, and flash sync set at 1/160 second.
Exposures are controlled by Panasonic's 144-zone multi-pattern metering system, with selectable Intelligent Multiple, Centre-weighted, and Spot options.
A healthy 3.0 EV of exposure compensation is available in 1/3 EV steps; there's three, five, or seven-shot bracketed exposures in 0.3 or 0.7 EV steps, with white balance modes including Auto, five presets (Daylight, Cloudy, Shade, Halogen, Flash), and two manual white balance settings.
There's also a range of  Film modes simulating different film types in both colour and black and white, with options to adjust  contrast, sharpness, saturation and noise reduction strength.
A really clever touch is the ' Multi Film setting' which captures a sequence of images using two or three film types every time the shutter button is depressed.
Shooting
The GF1 can capture RAW or EXIF 2.21-compliant JPEG files at either Fine or Standard compression levels, with the option to capture both  RAW + JPEG formats simultaneously.
At full rattle, the camera can capture up to three frames per second, limited to around seven RAW images in each burst.
Movie mode
The Lumix GF1 can capture movie clips using either AVCHD Lite or Motion JPEG compression, offering a maximum of 720p (1,280 x 720 pixel) resolution, with user control over aperture and exposure compensation.
Sadly, there's no microphone input and the built in mic only offers mono recording , but from the samples we've seen (see below), the sound is good and the movie quality is impressively high.
Our opinion – we love it!

If you're fed up dragging a hefty dSLR around and are frustrated by the limitations of your digital compact camera, the Lumix GF1 looks to offer the best of both worlds in a wonderfully small package.
When it's married with the flat 20mm f1.7 lens, it's almost the perfect camera for street shooting, (although it's not a camera we'd recommend for sports enthusiasts) and the interchangeable lens mount offers the kind of flexibility you won't find in bridge cameras or high end compacts.
There are some compromises in handling and low light photography compared to a fully fledged dSLR, but we reckon the GF1 is one of the most exciting cameras to come out this year, and despite its wallet-ripping high price (body only price around £500
with the 20mm f1.7 pancake lens weighing in at a hefty £345
), it still has to be worthy of some very serious consideration if you're a mad-for-it photographer.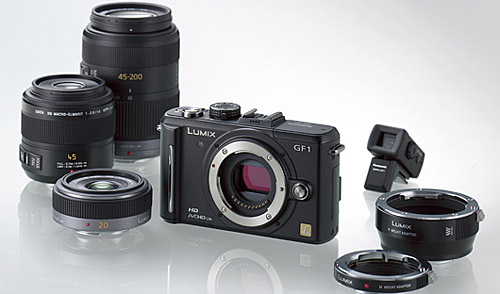 Reviews
We're still trying to get our hands on a review model, but early reviews have been thoroughly positive – here's a selection:
Possessing nearly everything you want in a digital SLR with the convenience of a smaller digital camera, the Panasonic GF1 is the most refined of the new category of small, interchangeable-lens digital cameras. Its small size allows it to fit into very small bags or briefcases along with an accessory lens, but its large sensor size and interchangeable lens design means you're not sacrificing image quality or versatility by leaving the SLR behind…

Overall, the Panasonic GF1 is an extremely good camera for such a small package, recording impressive detail thanks to its quality sensor, image processor, and fine optics.
[IR]
Of course it's by no means perfect; the size and minimalist design inevitably impact somewhat on handling compared to an SLR (it really doesn't suit long lenses), Panasonic needs to work on its JPEG processing, and the electronic viewfinder, though welcome, is something of a compromise. I missed the G1/GH1's ability to display a status panel whilst using the viewfinder, and the automatic switching between viewfinder and screen, and I struggled to justify the expense (if you really want a viewfinder, buy a G1). I also wish it had a quieter shutter (like the E-P1 it clunks fairly loudly for such a small camera).

Overall though – and I guess you probably already know this – I really loved the GF1, and will find it very hard to return it when this review is finished, meaning that I may have to wipe the dust and cobwebs off my wallet and actually hand over my own hard earned cash for one. The Olympus E-P1 now has some very, very strong competition in the form of possibly the most engaging and enjoyable camera on the market today. A compromise, for sure, but a surprisingly happy one.
[DPReview]
This camera can be carried with you, it's unobtrusive, quick to respond, quick to focus, has a fast lens, produces excellent image quality and has good low-light performance. There will be a viewfinder for it soon (albeit an electronic one). One can attach a multitude of older lenses, and new ones will keep being produced. It shoots great video to boot. Can it be improved? Sure. For starters, I wish it had an articulating LCD, in-body image stabilization, a more powerful flash, and 1080P video. But, I can live with this camera. It does not cause me any real frustrations, and because it is as compact as it is, I can always have it with me.

Even though I have owned it for only a few weeks, I am serious when I say that as an all-around picture taker, this Panasonic GF1 may be my favorite digital camera ever.
Full specifications
KEY FEATURES
Intelligent Auto (iA) Mode Face Recognition (Still)
Optical Image Stabilizer (Still & Movie)
Intelligent ISO Control (Still & Movie)
Face Detection (Still)
Intelligent Scene Selector (Still – Portrait, Scenery, Night Portrait, Night Scenery, Macro; Movie –
Camera Effective Pixels 12.1 Mega Pixels
Image Sensor Size 17.3 x 13.0mm
Dust Reduction System Supersonic wave filter
Extra Optical Zoom Max.2x (Not effective with L size recording. Magnification ratio depends on the recording pixels and aspect ratio.)
Digital Zoom 1 2x
4x (live view only)
LENS SPECIFICATIONS
Mount Micro Four Thirds mount
Closest Focusing Distance 0.2m / 0.66ft
Maximum Magnification Approx. 0.13x / 0.25x (35mm camera equivalent)
Diagonal Angle of View 57°
Filter Size φ46mm / 1.81 in
Max. Diameter φ63mm / 2.48 in
Overall Length (Lens only) Approx. 25.5mm / 1.00 in (from the tip of the lens to the base side of the lens mount)
Weight (Lens only) Approx. 0.22 lbs
PERFORMANCE FEATURES
Focus Type: Contrast AF system
Mode: AFs/AFc/MF
AF Detective Range: EV 0-18 (ISO100)
AF mode: Face detection
AF Tracking/23-area-focusing/1-area-focusing
Others: Pre AF (Quick AF/Continuous AF), AF+MF, MF Assist (5x, 10x)
AF/AE Lock Yes (AF/AE LOCK button or Shutter button halfway pressed in AFs mode)
ISO Sensitivity Auto / 100 / 200 / 400 / 800 / 1600 / 3200 / Intelligent ISO
White Balance Auto / Daylight / Cloudy / Shade / Flash / Halogen / Color Temperature / White Set 1 / White Set 2
(Selectable at Portrait, Soft Skin, Sports, Baby, Pet, High Sensitivity, Hi-Speed Burst, Pinhole, Panorama Assist mode
White Balance Adjustment Blue/Amber Bias
Magenta/Green Bias
Color Temperature Setting 2500-10000K in 100K
White Balance Bracket 3 exposures in blue/amber axis or in magenta/green axis
Exposure Program AE, Aperture Priority AE, Shutter Priority AE, Manual
Exposure Compensation 1/3 EV Step, ± 3 EV
Auto Bracketing (AE) 3,5,7 frame, in 1/3 or 2/3 EV Step, ±2 EV
Light Metering System 144-zone multi-pattern sensing system
Light Metering Intelligent Multiple / Center-weighted / Spot
Metering Range EV 0-18 (F2.0 lens, ISO 100)
Scene Modes Portrait, Soft Skin, Scenery, Sports, Night Portrait, Night Scenery, Self-Portrait, Food, Party, Candle Light, Fireworks, Starry Sky, Beach, Aerial Photo, Snow, High Sensitivity, Baby1&2, Sunset, Pet, Hi-Speed Burst, Multi Aspect
Shutter Speed/Shutter System Type: Focal-plane shutter, Speed: 1/4000 ~ 60 and Bulb (up to approx. 4 minutes)
Self Timer 2 seconds / 10 seconds / 10 seconds / 3 images
Recording Format Still Image: JPEG(DCF, Exif 2.21), RAW, DPOF compatible
Still Image with Audio: JPEG(DCF, Exif 2.21) + Quicktime
Motion Image: AVCHD / QuickTime Motion JPEG
Image Quality RAW, RAW+Fine, RAW+Standard, Fine, Standard
Color Space sRGB, Adobe RGB
RECORDING IMAGE SIZE (Pixels)
4:3 Aspect Ratio (Still Image) 4000 x 3000(L), 2816 x 2112(M), 2048 x 1536(S)
3:2 Aspect Ratio (Still Image) 4000 x 2672(10.5M) / 3264 x 2176 (7M EZ) / 2560 x 1712 (4.5M EZ) / 2048 x 1360 (2.5M EZ)
16:9 Aspect Ratio (Still Image) 4000 x 2248(9M) / 3264 x 1840 (6M EZ) / 2560 x 1440 (3.5M EZ) / 1920 x 1080 (2M EZ)
Motion Image (4:3 Aspect Ratio) QVGA : 320 x 240, 30fps / VGA : 640 x 480, 30fps
Motion Image (16:9 Aspect Ratio) WVGA : 848 x 480, 30fps
CONVENIENCE FEATURES
Burst Shooting Mode 7 pics(when there are RAW file with the particular speed)
Unlimited consecutive shooting (when no RAW file) (depending on memory card size, batt. power, pic size, & compression)
For 3 frames/sec (High speed) or 2 frames/sec (Low speed)
Real-time Histograms Yes
Composition Guide Lines Yes (3 patterns)
STANDARD FEATURES
Protection/Erase Protection: Single / Multi or Cancel
Erase: Single / Multi / All / Except FAVORITE
Built-in Flash Type/Mode Type: TTL Built-in-Flash, GN6.0 equivalent (ISO 100 ?m), Built-in Pop-up
Mode: Auto, Auto/Red-eye Reduction, Forced On, Forced On/Red-eye Reduction,Slow Sync., Slow Sync./Red-eye Reduction, Forced Off
X-Sync Speed Less than 1/160 second
Flash Synchronization 1st. Curtain Sync. , 2nd Curtain Sync.
External Flash TTL Auto with FL220/FL360/FL500 (Optional)
LCD Monitor Type: Low temperature Polycrystalline TFT LCD
Monitor Size: Free-angle 3.0inch / 3:2 Aspect / Wide viewing angle
Pixels: 460K dots
Field of view: Approx. 100%
Brightness Adjustment: Auto, Power LCD, Manual (7 levels)
Film Mode Color: Standard / Dynamic / Nature / Smooth / Nostalgic / Vibrant
Black and white: Standard / Dynamic / Smooth
Others: My Film1 / My Film2 / Multi Film
Playback Mode
Normal playback, 30-thumbnail display, 12-thumbnail display, Calendar display, Zoomed playback (16x Max), Slideshow, Playback Mode, Title Edit, Text Stamp, Resize, Trimming, Aspect Conversion, Rotate, Rotate Display, Print Set, Protect, Audio Dubbing
OSD Language English, French, Spanish, Portuguese
Recording Media SD memory card, SDHC memory card
Microphone Monaural, Wind-cut: Off / Low / Standard / High
Speaker Yes
Interface USB: USB 2.0 High Speed
HDMI: miniHDMI TypeC
Video: Auto / 1080i / 720p / 480p (576p in PAL system)
Audio: Dolby® Digital Creator
Audio video output: NTSC
Remote: 2.5mm
External microphone terminal: No
Direct Print PictBridge compatible (Print size, Layout, Date setting is selectable)
Colour Black
Power Supply ID-Security Li-ion Battery Pack (7.2V, 1250mAh) (Included) Battery Charger/AC Adapter (Input: 110-240V AC, DC Cable is required)
Battery Life 2 CIPA Standard :
Approx. 380 images(LCD), Approx. 430 images(optional LVF) with H-H020
Approx. 350 images(LCD), Approx. 400 images(optional LVF) with H-FS014045
ACCESSORIES
Included Software PHOTOfunSTUDIO 4.0 HD Edition
SILKYPIX® Developer Studio 3.0 SE
USB Driver
Standard Accessories Battery Charger/AC Adapter, Battery Pack, Body Cap, AV Cable, USB Connection Cable, AC Cable, DC Cable, Shoulder Strap, CD-ROM
Aspect Ratio 4:3, 3:2, 16:9, 1:1 (Multi-aspect recording except 1:1)
Movie Scene Mode Portrait, Soft Skin, Transform, Self-Portrait, Scenery, Low Light, Food, Party, Candle Light, Sunset, High Sensitivity, Beach & Surf, Snow, Aerial, Pinhole, Film Grain, Underwater
Viera Link Yes
HDMI Output miniHDMI TypeC
Video: Auto / 1080i / 720p / 480p (576p in PAL system)
Audio: Dolby® Digital Creator
Motion Image (HD Movie) 1280 x 720, 30fps
Operating Humidity 10% to 80%
Operating Temperature 32°F to 104°F (0°C to 40°C)
Flash Output Adjustment 1/3EV Step ±2EV
Motion Image (AVCHD) NTSC: [HD] 1280 x 720, 60p (sensor output is 30fps)(SH: 17Mbps, H: 13Mbps, L: 9Mbps)
1:1 Aspect Ratio (Still Image) 2992 x 2992(L), 2112 x 2112(M), 1504 x 1504(S)
Remote Control Remote control with bulb function by DMW-RSL1 (Optional)
CCD (Image Sensor) 13.1 Total Megapixels
Live MOS Sensor
Primary Color Filter
Continuous recordable time (Motion images) AVCHD Lite with picture quality set to [SH]: Approx. 210 min with H-H020 / Approx. 170 min with H-FS014045
Actual recordable time (Motion images) AVCHD Lite with picture quality set to [SH]: Approx. 110 min with H-H020 / Approx. 100 min with H-FS014045
My Color Mode Expressive/Retro/Pure/Elegant/Monochrome/Dynamic Art/Silhouette/Custom(Color/Brightness/Saturation/ adjustable)
Burst Speed 3 frames/sec (High speed) or 2 frames/sec (Low speed)
Dimensions (H x W x D) 2.80" x 4.69" x 1.43"
Weight Approx. 0.63 lbs lbs
Buy it on Amazon: Panasonic Lumix GF1 12.1MP Digital System Camera Body – Black

Panasonic Lumix G 20mm/F1.7 Pancake Lens
Videos
Video sample

Video review: