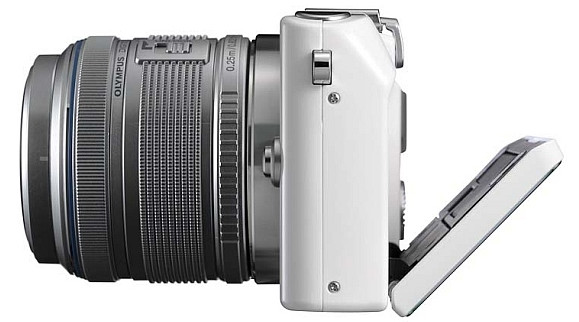 We're very much liking the sleek, shiny lines of Olympus's new E-PL3  12-megapixel FourThirds format camera, and if your wallet has been making involuntary convulsions in its direction, we can now reveal the all-important price.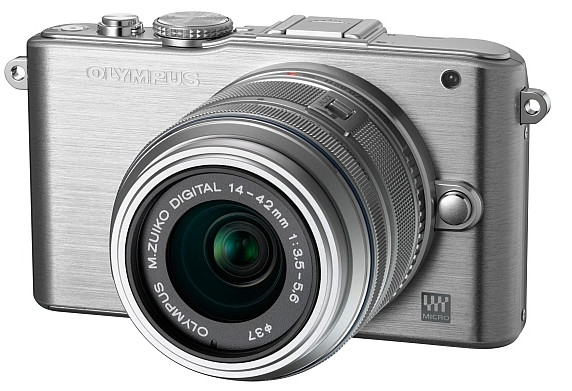 Olympus UK has announced that the camera – also known as the PEN Lite – will be stampeding into stores in 'late summer' and made available in black, white, silver or red finishes for £549.99, with a 14-42mm f/3.5-5.6 II R zoom lens bundled in the price.
The Olympus PEN E-PL3 compact system camera boasts super-speedy auto-focus, a new 12-megapixel FourThirds format sensor, a handy tiltable rear screen for those funky angled shots, flash hot-shoe, accessory port and all-important built-in image stabilisation.

The camera can also knock out Full HD movie recording (AVCHD or Motion JPEG) and offers ISO sensitivity up to ISO 12800.
The specs certainly look seductive to our eyes, although that price point is rudely charging into the territory of fully fledged dSLR cameras like the exemplary Nikon D5100, although that can't match the bijou dimensions of the PEN.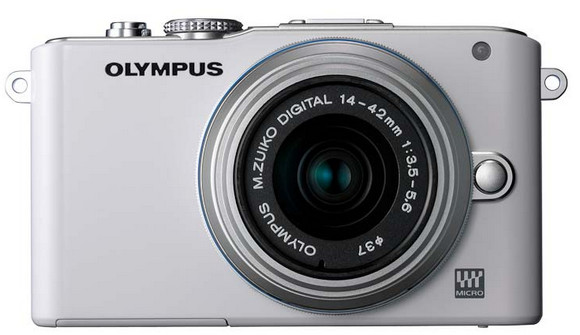 Hang on to your hyperboles, here's the full Olympus Press Release
SLR creativity, compact beauty

PEN Lite adds tiltable LCD to cutting-edge spec

Hamburg, 30 June 2011 – Olympus has done it again, launching a new generation of head-turning, compact PEN cameras that offer SLR creativity, simple, no-nonsense controls. For people looking to express themselves with state-of-the-art technology in an easy-to-use package, the compact and cute PEN Lite (E-PL3) is ideal. Like the top-of-the-range E-P3, the Lite is packed with some of the very best imaging innovations around.

For example, FAST AF, the world's fastest* autofocus system for interchangeable cameras. There's also in-body Image Stabilisation and combinable, one-touch Art Filters for adding creative flair to Full HD movies and stills. And then there's the new tiltable LCD.

Whether you're a serious photographer or a snap-happy amateur, a 3-inch, tiltable display makes capturing stand-out images in awkward situations as easy as taking a regular shot. The tiltable LCD is just one of the user-friendly features that puts the PEN Lite streets ahead of any other camera of comparable size.

The fact that 'comparable size' means compact speaks volumes about the E-PL3. For a system camera with interchangeable lenses that delivers SLR quality, it's remarkably small and chic – with a premium, brushed aluminium finish. Stunning pictures from a cool camera that's as easy to use as a point-and-shoot? Absolutely. That's what the Lite's all about. The Olympus E-PL3 is available from autumn 2011 with pricing to be confirmed.

New perspectives
One of the things people love about PEN cameras is the way they make it easy to take high-class pictures, even if you don't know much about photography. Thanks to some of the latest high-tech innovations, the PEN Lite takes that user-friendliness to a whole new level. It's the very first PEN with a tiltable LCD that makes seemingly impossible shots a piece of cake. By pulling out and angling the 3-inch display, you can comfortably frame and capture unusual perspectives, even with the camera at arm's length. For example, if you need to shoot over the heads of a crowd or focus on an insect by your ankles without bending down.

Easier settings
To make the most of excellent optics and to get the very best shots, camera settings need to be spot on. For an amateur, that's often a challenge that ends in frustration. Not with the Lite, and Live Guide is the key. Live Guide lets you easily master the settings that make all the difference – motion and background blur, colour intensity, lighting mood and brightness. In a typical shooting situation, the Live Guide helps blur out the background to make a shot more dramatic and show off the foreground to the best effect. To achieve this, you'd normally have to adjust the depth of field using the lens or menu, but with Live Guide you just press a dial to move a bar up and down until you see the shot you want on the LCD. The Lite chooses the right settings automatically. Adjusting more permanent settings in the menu is simpler too, now that each menu choice has a pop-up window with a description of how it works. And for other menu settings that need adjusting more regularly, Olympus have fitted a row of fast-access buttons – on the top of the camera right next to the shutter release.

Faster focusing
When you purchase a PEN Lite, you can be confident you're taking home cutting-edge technology. And that means fantastic still and movie quality. Like the other two new PEN cameras, the E-PL3 is powered by the new Olympus TruePic VI image engine. TruePic VI makes the camera faster and more responsive all-round, but the speed of the autofocus is amazing. FAST AF is the world's fastest* autofocus system. An AF of this speed gives you every chance of capturing even the most spontaneous, fast-moving shots. And with 35 separate focus points spread over nearly the whole sensor, it's even possible to focus on objects tucked away in the corners of the display. Thanks to AF Illuminator, low-light focussing is better than ever and new AF tracking technology ensures subjects stay sharp even when they move in and out of the frame. And all this in the blink of an eye, because Full Time AF means the AF is always on – and the main subject already in focus.

Higher resolution
The supercharged TruePic VI processor also makes it possible to record Full HD 1080i movies and capture pristine images in 12.3 Megapixel quality, even in low light. With a 60Hz frame rate, Full HD resolution and a stereo soundtrack, movie picture quality and realism has to be seen to be believed – ideally with a group of friends on a big Full HD TV. What's more, there's a choice of video formats. For TV playback, users can choose AVCHD, which generates a smaller file size. If they want to edit their movies on a PC first, 720p HD Motion JPEG is ideal. Whether you're shooting movies or stills, the PEN Lite is especially designed to deliver consistently high performance – irrespective of the interchangeable lens. Unlike on other comparable cameras, Image Stabilisation is built into the body, so the camera automatically counteracts blur with any lens you attach.

More creativity
Among the most advanced automatic aids on the Lite are the creative Art Filters and new Art Filter Bracketing. All six filters can be applied on-camera to both HD movies and stills and some filters can even be combined ­to startling effect. Using Art Filter Bracketing, you can experiment with different looks by simultaneously applying different filters to one and the same shot. The Art Filters are Pop Art, Soft Focus, Grainy Film, Pinhole, Diorama and Dramatic Tone and at the touch of a button these can be combined with up to five additional Art Filter Effects, including the new Starlight or White Edge. As soon as photos are ready, you can play them back on the LCD as a slideshow – or on a TV via the HDMI interface.

Stunning looks
By any standards, the Lite is a striking camera. Available in black, white, silver or red, the brushed metal casing and refined design details give it an unmistakeably contemporary and premium style. Not to mention its compact dimensions. For a system camera that offers SLR-quality, these are even more remarkable than the overall look.

Big family
The Lite is compatible with a growing family of high-grade Olympus lenses and accessories. It comes supplied with the re-sculpted M.ZUIKO DIGITAL 14-42mm (28-84mm**) 1:3.5-5.6 II R, just one of 20 dedicated Micro Four Thirds lenses available for PEN cameras. The supplied lens is specially designed for near-silent operation so you can shoot HD movies in stereo without the annoying background whir. For outstanding still portraits and movies with beautiful background blurring, the new M.ZUIKO DIGITAL 45mm 1:1.8 (90mm**) portrait lens is the lens of choice. Stylish accessories include the FL-300R external flash in silver with the wireless flexibility and the affordable and tiltable new Electronic Viewfinder with a 100% viewing angle and 920,000 dot resolution. Attached via Accessory Port 2, it's excellent for shooting in bright sunshine or with a telephoto lens.

The PEN Lite is available from late summer 2011,

PEN Lite main features:

Image Quality
Powerful TruePic VI image engine for faster recovery time and excellent image quality
Ultra-effective in-body image stabilisation for blur-free movies and stills with any lens
Compact M.ZUIKO DIGITAL 14-42mm (28-84mm**) 1:3.5-5.6 II R fast and near-silent (Movie and Still compatible) lens
12.3 effective Megapixel High Speed Live MOS sensor for excellent low-light performance and Full HD movie recording
ISO 12800 sensitivity
1080i Full HD stereo movie recording as AVCHD or Motion JPEG

Ease of Use
FAST AF, world's fastest* autofocus system. Always on, with 35 AF points, low-light AF Illuminator and out-of-picture AF Tracking
Tiltable 3.0" LCD with 460,000 dot resolution for easily capturing otherwise awkward shots
Direct access buttons (one customisable) for quick manual adjustments
Live Guide in HD Movie, still and P/S/M/A mode
Pop-up description for each menu point
Live View in HD Movie and still mode
Easy-to-use Live Wheel feature menu

Creativity & Flexibility
Six creative Art Filters in HD Movie and still modes, combinable with Art Filter Effects incl. new Starlight and White Edge
Accessory Port 2 for compatibility with the growing family of PEN accessories
Compatible with 20 Micro Four Thirds, 27 Four Thirds and more than 500 other lenses (via an adapter)
Compatible with optional underwater case
1/4000th sec. shutter speed with 5fps sequential shooting
Multi Exposure mode for 2 RAW images
Long-life BLS-5 Li-ion battery

Design
Beautiful, compact design with premium brushed aluminium casing
Interchangeable decoration ring on supplied lens
Available in four attractive colours: black, white, silver and red

Other highlights
External, tiltable flash supplied
3D still photos
Slideshow playback
SDXC card*** and Eye-Fi compatible
Wireless flash control