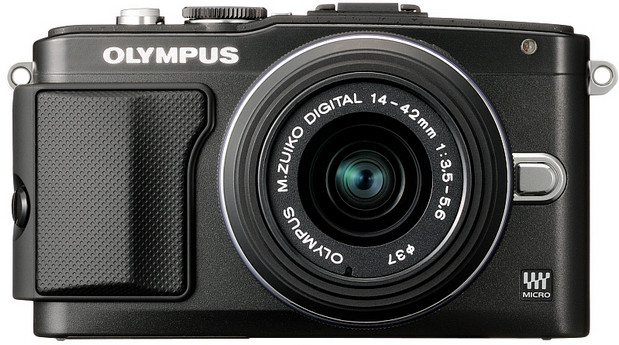 Olympus has announced two Micro Four Thirds compact system cameras featuring the same 16MP live MOS sensor seen in their rather wonderful Olympus OM-D E-M5.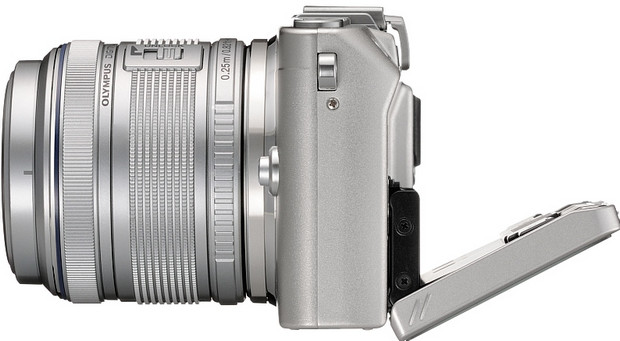 Both the E-PL5 PEN Lite (above) and the Olympus E-PM2 PEN Mini pack the same TruePic VI image processor of the top of the range OM-D, serving up super swift FAST AF autofocus plus 3D tracking for improved moving object tracking.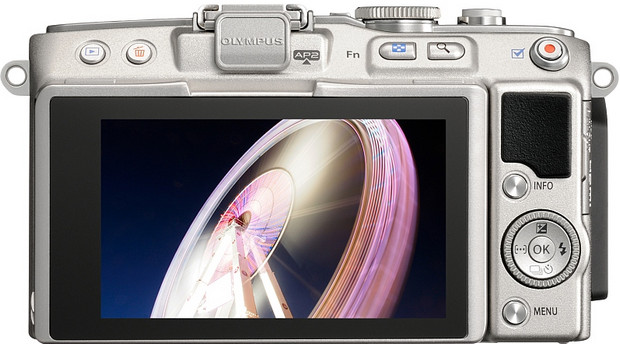 The Olympus E-PL5 PEN Lite improves on its preprocessor (the E-PL3) bu strutting its stuff with a tiltable, 3.0" 460,000 dot LCD capacitive touchscreen panel, while the E-PM2 offers a fixed 3.0" LCD with 460,000 dot resolution.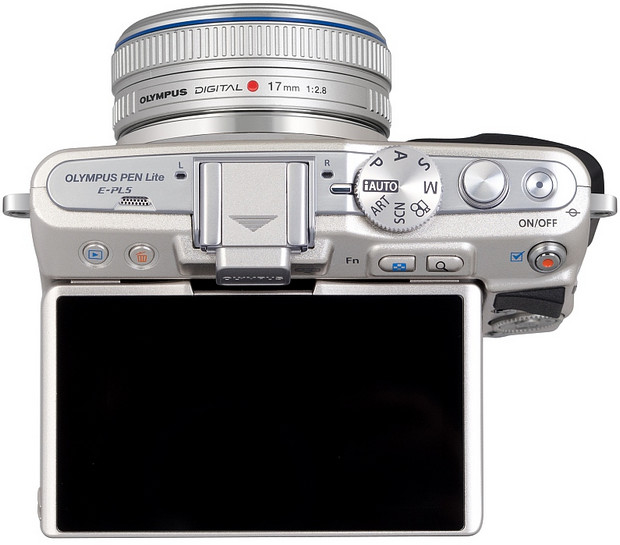 Set to be released in late October, the E-PL5 PEN Lite will be offered in a bundle with an M.Zuiko Digital 14-42mm f/3.5-5.6 IIR lens and Flash Air memory card for £599, while the E-PM2 PEN Mini  (pictured below) plus lens will retail for Mini £499.
Another £99 bags users the double-zoom kit which lobs in a 40-150mm telezoom, PEN case and SD card.
As big fans of the OM-D, we're really rather excited by these two cameras and are thinking they could be prove to be excellent second cameras when we're out taking photos.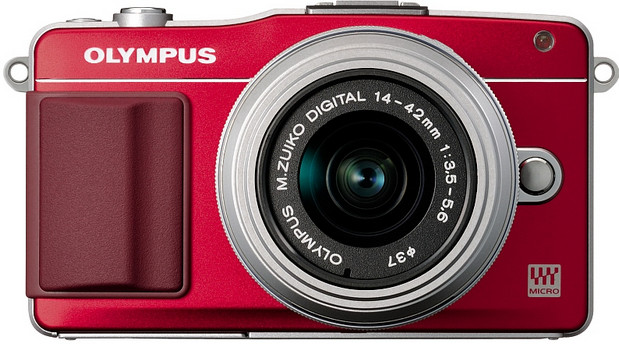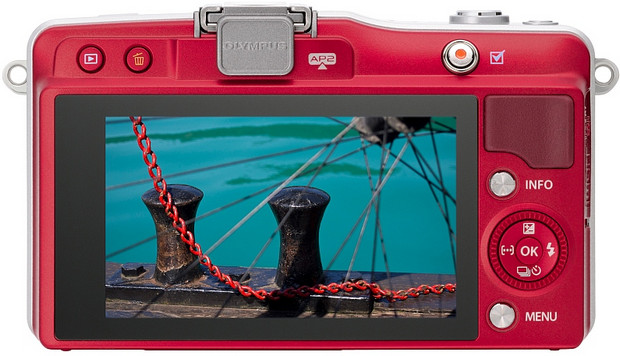 Olympus Press Release
Two new PENs turn on the style – and turn up the speed PEN with O-MD quality. Fast and sharp.

O-MD technology puts PEN Lite & mini top of the class Plus new £99 40-150 Zoom kit kit offer.

Hamburg, 17 September 2012 – Olympus took just a few short months to transfer the impressive Live MOS sensor from its award-winning Micro Four Thirds O-MD flagship to its beautiful range of PEN cameras. The result is the new PEN Lite (or E-PL5) and new PEN mini (E-PM2), which combine best-in-class image quality with the stand-out styling that has made PEN a must-have for fans of iconic product design.

The new sensor teams up with another O-MD component – the TruePic VI image processor – to power FAST AF, which makes the autofocus on the new PEN duo comparable to the lightning-quick O-MD E-M5. Like every PEN, both new models are unusually easy to use – owners will love the PEN Lite's tiltable, touch-sensitive monitor.

And both cameras have in-body IS that ensures blur-free recording with any lens, 12 easyaccess Art Filters and a direct wireless link to social media for sharing images via smartphone. In spec terms, the diminutive PEN mini is very nearly as strong as the Lite and in the style department it's more than capable of holding its own.

Both the PEN Lite and mini are available from late October with a precision, near-silent M.ZUIKO DIGITAL 14-42mm 1:3.5-5.6 IIR lens. Bundled with the new Flash Air card, the new Lite costs £599, the new mini £499 and for just £99 when bought with the cameras from selected stockists there will be Zoom kit including a 40-150 Zoom, Pen case and SD card.

The fast track to best-in-class
The new PEN Lite and PEN mini join the PEN pantheon of masterpiece cameras. But while the cool design is 100% PEN, the technology inside is 100% high-end O-MD. The large Live MOS sensor and TruePic VI image processor do much more than provide the power for FAST AF. They generate exceptional, 16.1-Megapixel stills and Full HD movies, even in low light. In fact, sensitivity runs as high as ISO25600. When you're recording a Full HD movie, Olympus technology makes it easy to react quickly and get the ideal shot. You can magnify a subject up to 4x as you record with no loss of that radiant 1080 High Definition resolution.

The easy way to creative posts
The tiltable, touch-sensitive 3-inch LCD on the PEN Lite gives its owner the flexibility to get creative in all sorts of new ways. Of course it helps with overhead movies and shooting very low down, and if you flip it around it's also ideal for self-portraits. Another major plus is FlashAir™ compatibility and the free app that lets you upload images to your favourite social network via the familiar interface on your smartphone. You can get creative with 12 Art Filters and Art effects that apply to movies and stills, and test the effect in real time on the LCD before you capture your shot. This works in the same way as Olympus' trademark Live Guide that lets you test the effect of changes to key settings like exposure time and aperture. What's more, in HD Movie Mode you can blend from one Art Filter to another using Art Fade.

The simple way to access PEN mini movies
The chic new PEN mini (E-PM2) scores over its predecessor with extra buttons that make it easier to replay and delete images. With the exception of the tiltable monitor, it shares nearly all the features of the PEN Lite including a practical self-timer that lets you take up to ten stills at customisable time intervals – a great feature for shooting self-portraits together with friends.

The PEN Lite is available in black, silver and white for £599 while the PEN mini comes in black, silver, white and red for £499. For just £70, you can enjoy the added protection and flexibility of a super-slim 15mm 1:8.0 Body Cap lens. When your regular lens is detached, the Body Cap lets you shoot spontaneously and provides a built-in barrier against dust. If it's waterproofing you need for diving and snorkelling, the PEN Lite is compatible with the optional PT-EP10 housing that's watertight down to fully 45 metres. The housing will be available from the end of November 2012.

Outstanding features

Imaging Quality
· 16.1-Megapixel new Live MOS sensor for high resolution and excellent low-light performance
· Powerful TruePic VI image processor for faster recovery time and excellent image quality (still image shooting sensitivity as high as ISO25600)
· Ultra-effective, double-axis in-body image stabilisation for blur-free movies and stills with any lens
· Compact M.ZUIKO DIGITAL ED 14-42mm (28-84mm*) 1:3.5-5.6 IIR fast and near-silent (Movie and Still compatible) lens
· 1080 Full HD stereo movie recording in mov format

Ease of Use
· FAST AF autofocus system plus 3D tracking for improved moving object tracking
· Tiltable 3.0" 460,000 dot LCD incl. a capacitive touchscreen panel with fast response (E-PM2: non-tiltable 3.0" LCD with 460,000 dot resolution)
· Live Guide in Full HD Movie, still and P/S/M/A mode
· 'My set' settings assignable to any symbol on mode dial (PEN Lite EPL5 only)
· Mode selection by using the touch screen instead of a mode dial (PEN mini E-PM2 only)

Creativity
· 12 creative Art Filters in HD Movie and still modes incl. new Water

Colour, combinable with Art Filter Effects incl. new Monochrome
· Art Fade in HD Movie mode for blending from one Art Filter into another
· Art Filter Bracketing for capturing multiple versions of one subject with different Art Filters – and just one shot
· HDR Bracketing for capturing one subject with five different exposures
· Live Bulb/Live Time feature, updating the Live View image on the rearpanel monitor at pre-set intervals during long exposures

Design
· Beautiful, compact design with an all-metal finish
· Interchangeable, removable grip for E-PL5, stylish fixed grip on E-PM2

Other highlights
· Compatible with 26 Micro Four Thirds, 27 Four Thirds and more than 500 other lenses (via an adapter)
· Compatible with 15mm 1:8.0 Body Cap lens with built-in barrier for protection against dust
· 8fps high-speed sequential shooting
· SDXC™ card and Eye-Fi™ compatible
· FlashAir™ compatible to link camera with smartphone for perfect social network communication
· Free iOS and Android software downloads for editing and sharing images in social networks via smartphone and/or computer
· Optional PT-EP10 waterproof case for dives up to 45m deep (for E-PL5 only)
Twin kits will also be available