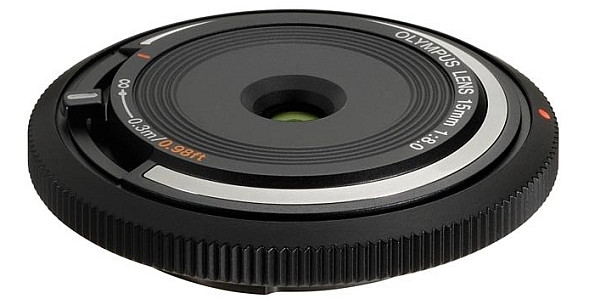 Olympus have released a rather unusual 15mm f/8 Micro Four Thirds lens which, at 9mm deep, is no bigger than a lens cap.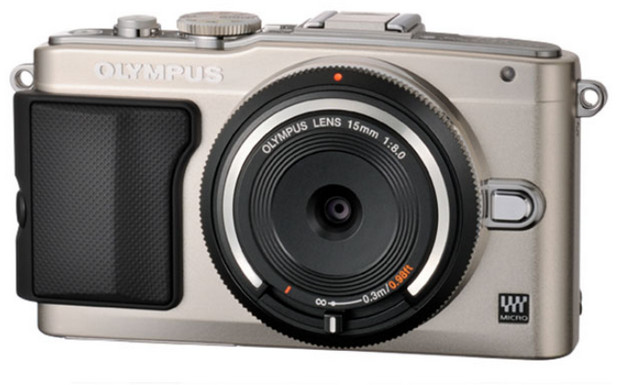 At this size you can imagine there's been compromises a-plenty, and you'd be right: the 30mm equivalent lens is fixed-focus affair affair, with the aperture firmly stuck at f8, making it positively calamitous for low light photography.
The lens only has one moving part in the shape of a lever that enables shooting in the macro range.
However, its super slim dimensions means that it could serve as an excellent point'n'shoot lens, with its diminutive proportions making smaller Micro Four Thirds cameras like the  PEN lite or PEN mini positively pocketable.
The Olympus 15mm f/8 Body Cap Lens will go on sale in October for £70.
Here's the Olympus Press Release
15mm (30mm*) 1:8.0 Body Cap

An ultra-slim cap and flexible, fixed-focus, fixed-aperture lens in one; this is an ideal first accessory for the powerful new PEN Lite and PEN mini. PEN cameras famously combine portable dimensions with ease-of-use for goanywhere SLR-quality imaging, and the Body Cap stays true to that philosophy.

It adds a mere 9mm to the depth of your camera so you can still slip it into a jacket pocket with the confidence that sensitive components will be safe from dust, scratches and smears. When you pull it out again, you'll be able to capture subjects on the spur of the moment from one metre to infinity – with no need to focus and without attaching a fullsized lens. For close-ups, there's a lever to extend the focus range to just 30cm from your subject.

The 15mm 1:8.0 Body Cap lens for PEN is a bargain at just £70.