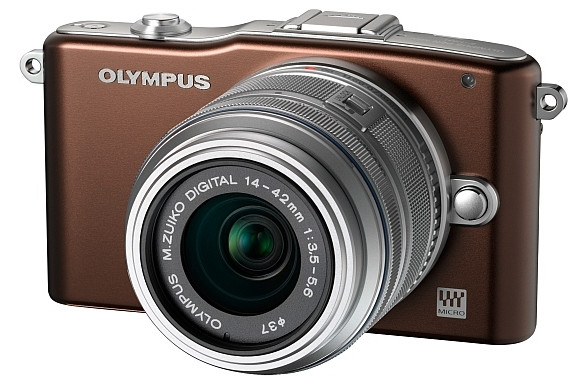 Olympus has divvied up the pricing details of its tres compact Olympus E-PM1 Micro Four Thirds camera, which also regales under the name of the PEN Mini.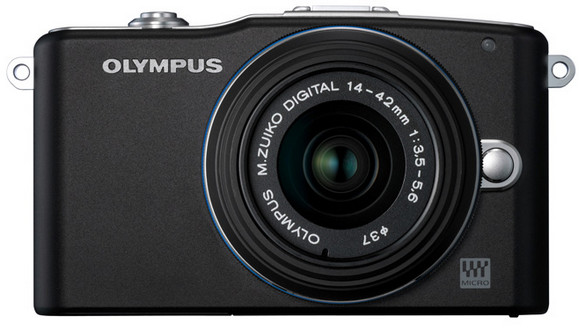 Big on features
It may be a wee little fella, but the 12MP compact system camera packs a ton of top notch features, including an ultra-fast 35-point auto-focus system,  Multi Exposure, 1080i Full HD movie recording with stereo sound and wireless flash control via a bundled clip-on unit.
Compatible with 20 Micro Four Thirds, 27 Four Thirds and more than 500 other lenses (via adapters), the PEN E-PM1 will be available from early autumn in silver, black, white, silver-rose, purple and brown.
Prices start at £449.99 for a standard kit including an M.Zuiko 14-42mm II R lens.
Bag the camera on Amazon:
Olympus E-PM1 Compact System Camera – Silver-Rose (includes M.ZUIKO Digital 14 -42mm II R Lens)
Olympus E-PM1 Compact System Camera Double Zoom Kit – White (includes M.ZUIKO Digital 14 -42mm II R and M.ZUIKO Digital 40 -150mm Lenses)

Full specs:
Type
Body material
Metal
Lens mount
Micro Four Thirds
Image Sensor
Type
4/3 " Live MOS sensor
Effective pixels
12.3 Megapixels
Filter array
Primary colour filter (RGB)
Aspect ratio & area
4:3 / 17.3 x 13.0 mm
Full resolution
13.1 Megapixels
Engine
Type
TruePic VI
Filter
Dust reduction filter
Supersonic Wave Filter
IR cut filter
Hybrid type
LPF filter
Fixed type
Live View
Displayed information
Aperture, Shutter speed, Auto bracket, AE lock, Focus mode, Shooting mode, Battery check, My Mode, IS activating mode, Internal temperature warning, Face / Eye detection mode, Record mode, ISO, Sequential shooting mode , White Balance, Metering mode, Exposure compensation value, AF frame display, AF confirmation mark, Shooting information, Spot metering area, Super FP, Flash status, Touch Panel Condition, Focal length, Eye-Fi condition, Flash mode
AF type
Contrast detection system
100% field of view
Approx. 100 %
Magnification levels
5 / 7 / 10 / 14 x
Image Stabiliser
Type
Sensor shift
Modes
Two-dimensional, vertical or horizontal activation
Shutter speed range
2 – 1/4000 s (not available when Bulb is selected)
Focusing System
Method
Contrast Detection AF system (when non high-speed contrast AF compatible lens is used, it works as MF assist)
Focus areas
35 points / Automatic and manual selection
AF lock
Yes , Locked by first position of shutter release button in single AF mode, AE/AF lock button (customised)
Modes
Manual focus, Single AF, Continuous AF, Single AF + MF, AF Tracking
AF illuminator
Yes
Face Detection extension
Eye Detect AF: Off, Left side priority, Near side priority, Right side priority
Full time AF
Yes
Manual focus
Yes , With enlarged focusing area
Exposure System
Modes
Programme automatic, i-Auto, Aperture priority, Shutter priority, Manual, Scene Modes, Art Filter
Exposure compensation
+/- 3 EV ( 1, 1/2, 1/3 steps )
Exposure bracketing
2 / 3 / 5 frames ( +/- 1/3, 2/3, 1 EV steps )
7 frames ( +/- 1/3, 1/2, 2/3 EV steps )
ISO bracketing
5 frames ( 1/3, 1/2, 1 EV steps )
AE lock
Yes (Fn1/Rec button)
My Mode
4 settings storable
Enhancement function
Shadow Adjustment Technology
Scene Modes
Number of scene modes
24
Modes
Portrait, e-Portrait, Landscape, Landscape with Portrait, Macro, Sports, Night Scene, Night Scene with portrait, Children, High key, Low key, Digital Image Stabilisation, Nature Macro, Candle, Sunset, Documents, Panorama, Fireworks, Beach and Snow, Fisheye converter, Macro converter, 3D
Multi-Exposure
Max. number of frames
2 frames (shooting)
3 frames (editing)
Auto gain control
Yes
Frame assistance
Live View
Light Metering
Method
TTL open aperture light metering
Zones
324 zones Multi-pattern Sensing System
Detection range
0 – 20 EV (17mm f2.8, ISO 100)
Modes
ESP light metering, Spot metering, Centre weighted metering, Highlight, Shadow
Art Filter
Modes
Pop Art, Soft Focus, Grainy Film, Pin Hole, Diorama, Dramatic Tone
Sensitivity
Auto
ISO 200 – 12800 (customisable, default ISO 200 – 1600)
Manual
ISO 200 – 12800
Shutter
Shutter type
Computerised focal-plane shutter
Self timer
2 s / 12 s
Shutter Speeds
Shutter speed range
1/4000 – 60 s (in 1/3, 1/2, 1 EV steps)
Bulb mode
Up to 30 minutes (selectable longest time in the menu, default: 8 minutes)
White Balance
AUTO WB system
Advanced detection system with Live MOS sensor
Manual White balance (One-Touch)
Yes
White balance bracketing
3 frames / +/- 2, 4, 6 mired steps
One-touch white balance
2 custom settings can be registered
Custom WB
1 setting can be registered at Kelvin temperature (2000K – 14000K)
Preset values
Tungsten, Flourescent 1, Sunlight, Flash, Overcast, Shade
Auto Flash adjustment
Off / Auto WB / Flash
Keep warm colour
On / Off
Sequence Shooting
Speed (H)
Approx. 4.1 fps
Approx. fps 5.5 fps (when I.S. is switched off)
Image Processing
Colour space
sRGB / AdobeRGB
Sharpness + Contrast
5 levels
Contrast
5 levels
Saturation
5 levels
Black & White filter
Yellow, Orange, Red, Green
Black & White toning
Sepia, Blue, Purple or Green in Black & White mode
Picture mode
i-Enhance, Vivid, Natural, Portrait, Muted, Monotone, Art Filter
Gradation
4 levels (auto, high key, normal, low key)
Engine
TruePic VI
Art Filter bracketing
Available
Tele converter effect
2 x
Internal Flash
Modes
AUTO, Manual, Manual (Full, 1/4, 1/16, 1/64), Red-eye reduction, Slow synchronisation with red-eye reduction, Slow synchronisation, Slow synchronisation 2nd curtain, Fill-in, Off
Type
Detachable flash (bundled)
Flash compensation
+/- 3 EV ( 1/3, 1/2, 1 EV steps )
Guide number
10 (ISO 200)
Manual settings
Full, 1/2, 1/4, 1/8, 1/16, 1/32, 1/64
X-sync speed
1/160 s
External Flash Control
X-sync speed
1/160 s / 1/4000 s (Super FP Mode)
Type
TTL AUTO, AUTO, MANUAL, FP TTL AUTO, FP MANUAL
Modes
Auto, Red-eye reduction, Slow synchronisation, 2nd curtain and slow synchronisation, Fill-in for exclusive flash, Manual
Intensity
+/- 3 EV ( 1/3, 1/2, 1 EV steps )
Note: Some functions are only available if they are supported by the external flash.
Wireless Flash Control
Number of channels
4 channels
Compatible external flash
FL-50R, FL-36R, FL-300R
Control method
Triggered and controlled by built-in flash light
Group setting
3 groups
Available when used together with cameras compatible with the Olympus wireless RC flash system.
Monitor
Monitor type
LCD
Monitor size
7.6 cm / 3.0 " (16:9)
Resolution
460000 dots
Brightness adjustment
+/- 7 levels
Colour balance
A-B: +/-7 levels, G-M: +/-7 levels
Super Control Panel
Displayed information
Battery indicator, Record mode, Shutter speed, Aperture value, Exposure compensation indicatior, ISO, AE bracketing, AF frame, Focus mode, AEL notification, Face detection, Number of storable frames, Metering mode, Exposure mode, Exposure level view, Flash compensation value, Colour space, Gradation, Colour saturation compensation value, Sharpness compensation value, Contrast compensation value, White balance, White balance compensation value, Noise reduction, Flash mode, Drive mode, Internal temperature warning, Histogram
Recording Formats
RAW
12 bit
RAW & JPEG
Yes parallel recording
JPEG
Yes
Aspect ratio
4:3 / 3:2 / 16:9 / 6:6 / 3:4
MPO (3D)
Yes
Image Size
RAW
4032 x 3024 compressed / 13.8 MB / frame
4032 x 3024 Fine (compression: 1/4) / 5.9 MB / frame
4032 x 3024 Normal (compression: 1/8) / 2.7 MB / frame
2560 x 1920 Normal (compression: 1/8) 1.1 MB / frame
1024 x 768 Normal (compression: 1/8) / 0.3 MB / frame
Still Image Recording
EXIF
2.2
PIM
III
DPOF
Yes
DCF
Yes
Movie Recording System
Recording format
AVCHD / AVI Motion JPEG®
Image Stabilisation Mode
Yes Digital Image Stabilisation
HD Movie quality
Full HD 1920 x 1080 (16:9) 60i, 17Mbps (AVCHD)
Full HD 1920 x 1080 (16:9) 60i, 13Mbps
HD 1280 x 720 (16:9) 60p, 17Mbps
HD 1280 x 720 (16:9) 60p, 13Mbps
HD 1280 x 720 (16:9) / 30fps (AVI Motion JPEG®)
Movie quality
640 x 480 / 30fps (AVI Motion JPEG®) 14min.
Max. recording time
14 min (SD) / 7 min (HD) (AVI Motion JPEG®)*
29 min (HD) (AVCHD)
Max. file size
2 GB (Motion-JPEG)
4 GB (AVCHD)
Exposure Modes
Aperture priority, Art Filter, Manual, Programme automatic, Shutter priority
Sound Recording System
Internal microphone
Stereo
External microphone
Optional
Recording format
Dolby Digital (AVCHD)
Stereo PCM/16bit, 48kHz, Wave Format Base (Motion-JPEG)
Image footage
30 s
Speaker
Yes
View Images
Modes
Index, Calendar, Zoom, Slide show, Movie, Single
Light box
Yes
Histogram in playback mode
Yes
Shooting information
Off / On
Erase / Protect / Copy Function
Erase modes
Single, All, Selected
Image protect mode
Single frame, Selected frames, All Frames, Release protect (Single/All selected)
Image Editing
RAW data edit
Yes
Red-eye reduction
Yes
Sepia
Yes
Black & White
Yes
Resize
Yes
Correction of saturation
Yes
Shadow Adjustment
Yes
Trimming
Yes
e-Portrait
Yes
Menu
Menu languages in camera
English, French, German, Spanish, Italian, Russian, Czech, Dutch, Danish, Polish, Portuguese, Swedish, Norwegian, Finnish, Croatian, Slovenian, Hungarian, Greek, Slovak, Turkish, Latvian, Estonian, Lithuanian, Ukrainian, Serbian
Customisation Options
My Mode
4 settings storable
Interface
Media
SD Memory Card (SDHC, SDXC, UHS-I compatible) Class 6 is recommended for Movie shooting
HDMI™
Yes Mini connector (type C) *
USB 2.0 High Speed
Yes
Combined V & USB output
Yes NTSC or PAL selectable
* "HDMI", the HDMI logo and "High-Definition Multimedia Interface" are trademarks or registered trademarks of HDMI Licensing LLC.
Eye-Fi Card compatible
Yes
Bluetooth®
Yes (with optional adapter PENPAL)
Power Supply
Battery
Lithium-Ion Battery
Sleep mode
1, 3, 5, 10 min. and off selectable.
Live View shooting
Approx. 330 images (50% with Live View) /
Environment
Temperature
0 – 40 °C operating temperature / -20 – 60 °C storage temperature
Humidity
30 – 90 % operation humidity / 10 – 90 % storage humidity
Size
Dimensions (W x H x D)
109.5 x 63.7 x 34.0 mm (without protrusions)
Weight
265 g (including battery and memory card)
217 g (body only)
Exterior
Available Colours
Black, Silver, White, Brown, Purple, Silver-Rose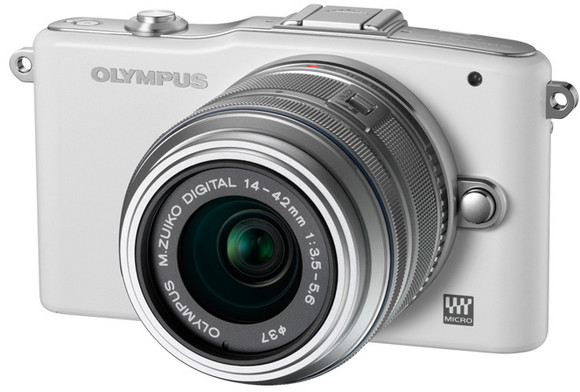 Olympus Press Release:
Stylish vision – Olympus unveils the sexiest system camera ever

SLR quality without the complexity Meet the gorgeous Olympus PEN Mini

London, 25 August 2011 – The new PEN Mini is a tiny powerhouse of a system camera with interchangeable lenses. It's also a beautiful camera that takes even more beautiful images and it couldn't be any easier to use. The Mini is ideal for anyone who wants a fuss-free camera that fits in at a party as well as it fits in their pocket. Just like a point-and-shoot, it comes in six colours but the Mini is really an SLRquality camera hiding behind the simplicity and looks of a genuine compact. It makes high-class photography and movie-making wonderfully easy.

Olympus' Live Guide gives beginners intuitive control of key parameters like aperture and depth of field, without them needing to know how they work. Six Art Filters add fun creative effects to both Full HD movies or stills and if you don't know what a setting in the menu is for, a window pops up to tell you.

With the world's fastest* autofocus systems, great low light performance plus a superb choice of high-grade Olympus lenses and stylish accessories, it's tough to see just what the PEN Mini can't do.

Also known as the PEN E-PM1, it's available from early autumn in silver, black, white, silver-rose, purple and brown. Pricing will start at £449.99 for a standard kit including an M.Zuiko 14-42mm II R lens.

A camera for everyone

Olympus developed the PEN for people who get a kick out of great images, but find shooting with high-end cameras way too tough since most SLR cameras are heavy to carry and relatively difficult to use. The Olympus PEN Mini changes all that. The Mini generates the stunning picture quality of a large SLR camera, with none of the hassle or baggage.

It's smaller and lighter than almost every other system camera with interchangeable lenses, has a faster autofocus*, plus it's easy to use and it looks fantastic. This new PEN has the inimitable style of a must-have icon. With its slender contours and premium finish, it's the sort of camera you're happy to take out and show off wherever you are. Even the supplied high-grade lens looks the part.

A guide for every shot

Like the rest of the PEN range, no matter how bad (or good) a photographer or filmmaker you are, the PEN Mini makes sure you get your settings just right, with none of the work. There are pop-up descriptions in the main menu in case you forget what all the different things mean. And with the quick-access Live Guide assistant, you can see on the LCD what needs adjusting to get the best shot available – and check how any changes will affect your picture when you push a dial on the back.

With Live Guide, without knowing how they work, you can adjust factors that are essential to final picture quality, including Colour Intensity, Lighting Mood, Brightness, Background Blur and Motion Blur. Of course, the Live Guide helps you capture excellent movies as well as stills. The Mini can record moving footage in the beautiful 1080i Full High Definition AVCHD format, which generates smaller files that are perfectly suited for playing back on TV. Alternatively, you can select 720p HD Motion JPEG video, which makes the files easier to edit on a PC.

Art Filters for special effects

If you like the visual effects graphic designers add to photographs in magazines, you'll love the creative Art Filters on the PEN Mini. There's Pop Art, Soft Focus, Grainy Film, Pinhole, Diorama and Dramatic Tone, which gives shots a dynamic atmosphere by boosting the contrast.

All six filters can be applied on-camera to both Full HD movies and stills – at the touch of button, no PC software required. As soon as your photos are ready, you can share them with friends on the LCD as a slideshow – or in radiant colour on a big High Definition TV.

System lenses for excellent images

As a system camera, the Mini is compatible with a huge range of accessories and lenses for every possible situation. The main kit includes a first-class M.ZUIKO DIGITAL 14-42mm (28-84mm**) 1:3.5-5.6 II R lens, but the Mini can also take more than 500 other lenses (some via an adapter), including Olympus' legendary M.ZUIKO DIGITAL range of ultra-high quality optics.

Thanks to the Mini's in-body Image Stabilisation, irrespective which lens you choose, blur-free shots are virtually guaranteed. The Mini's FAST AF has a big role to play here too. It's one the world's fastest* autofocus systems for cameras with interchangeable lenses.

In addition to the external flash supplied with the camera, users can attach a growing number of classic Olympus accessories via the Accessory Port 2, for example the Bluetooth®-compatible PENPAL Communication Unit that automatically reformats still photos for wireless transfer to other compatible devices and social media. For safe, stylish and inconspicuous storage, the optional sporty Street Case fits the Mini like a glove.

The PEN Mini is available in black, white, silver, dark brown, purple and silver rose from early autumn 2011.

PEN Mini main features:

Design
 Small, light system camera with interchangeable lenses
 Super-stylish design available in six attractive colours
 Interchangeable decoration ring on supplied lens

Image Quality
 Powerful TruePic VI image engine for faster recovery time and excellent image quality
 Ultra-effective in-body image stabilisation for blur-free movies and stills with any lens
 Compact M.ZUIKO DIGITAL 14-42mm (28-84mm**) 1:3.5-5.6 II R fast and near-silent (Movie and Still compatible) lens
 12.3 effective Megapixel High Speed Live MOS sensor for excellent low-light performance and Full HD movie recording
 ISO 12800 sensitivity
 1080i Full HD stereo movie recording as AVCHD or Motion JPEG Ease of Use
 3.0" LCD with 460,000 dot resolution
 FAST AF, world's fastest* autofocus system. Always on, with 35 AF points, low-light AF Illuminator and out-of-picture AF Tracking
 Intuitive Live Guide in HD Movie, still and P/S/M/A mode
 Pop-up description for each menu point
 Live View in HD Movie and still mode
 Easy-to-use Live Wheel feature menu
 Fewer buttons means simpler operation

Creativity & Flexibility
 Six creative Art Filters in HD Movie and still modes
 Accessory Port 2 for compatibility with the growing family of PEN accessories
 Compatible with 20 Micro Four Thirds, 27 Four Thirds and more than 500 other lenses (via an adapter)
 1/4000th sec. shutter speed with 5fps sequential shooting
 Multi Exposure mode for 2 RAW images
 Long-life BLS-5 Li-ion battery

Other highlights
 External, tiltable flash supplied
 3D still photos
 Slideshow playback
 SDXC*** card and Eye-Fi compatible
 Wireless flash control

For a full list of PEN Mini features, go to http://www.olympus.co.uk

* As of June 2011.
** 35mm camera equivalent.
*** SD is a trademark of SD Card Association
[Olympus]