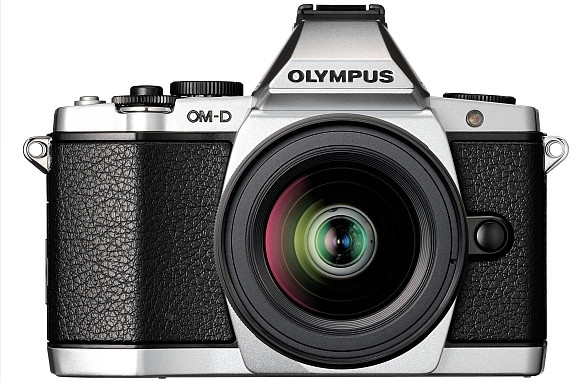 We got all excited about the leaked photos earlier in the week, and now Olympus have officially announced their new retro-styled Olympus OM-D camera, and served up the all-important spec sheet.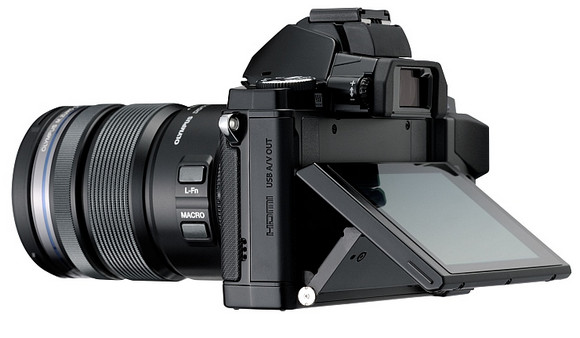 The dust and splash-proof 16.1-megapixel compact system camera looks a treat in its old-school OM metal body, while inside can be found the "world's first 5-axis image stabilisation (IS) system" for keeping away the camera shakes.
Early, hands on previews say that the camera is actually smaller than it looks – smaller in fact than the 35mm film Olympus 4-Ti which the design is based on.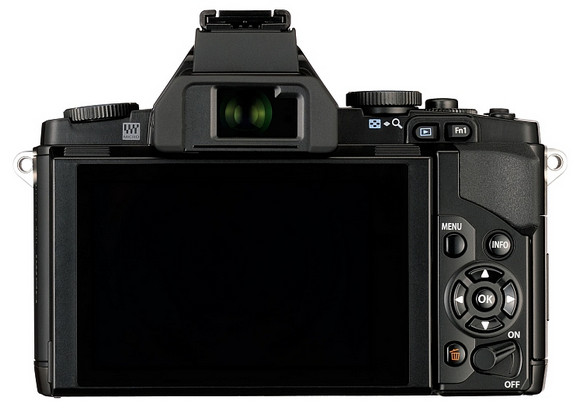 The OM-D features a 1.44-million-dot EVF with "best-in-class auto focus with 3D subject tracking," and is capable of rattling out photos at a speedy rate of  up to 9 frames per second (4.2fps with AF, when fitted with the M.Zuiko DIGITAL ED 12-50mm f/3.5-6.3 lens).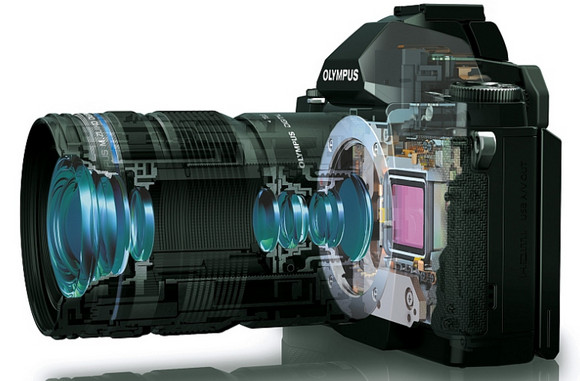 There's an eye proximity sensor that allows automatic switching between the EVF and the articulated OLED touchscreen, with the camera able to recording Full HD video, saved in either AVI or MOV formats with M.JPEG or MPEG-4 encoding.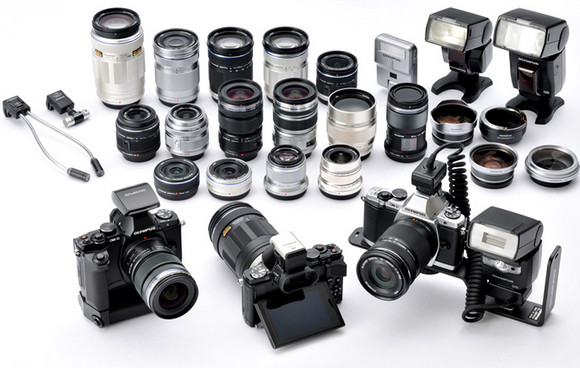 The Olympus OM-D is available from April 2012 bundled with the M.Zuiko DIGITAL ED 12-50mm f/3.5-6.3 lens for £1149.99.
We're still waiting on the body only price.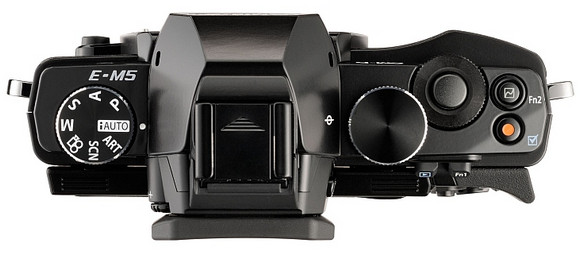 Olympus Press Release

Speed and sophistication, sublimely packaged – welcome to the next generation

Faster, sharper, smarter: the dust and splash-proof Olympus OM-D, with game-changing IS, electronic viewfinder and stunning new lenses

London, February 8 2012

Olympus is taking the forty-year pedigree of the OM series into the next generation with the launch of the OM-D, featuring the world's first*1 5-axis image stabilisation (IS) system to eliminate blur in stills and movies.

See the blur reduction effect live via the fast electronic viewfinder, while simultaneously benefitting from the fastest*2 auto-focus of any interchangeable lens camera (including all D-SLRs) with a further refinement of the world-beating FAST AF (Frequency Acceleration Sensor Technology) also found on the popular PEN series models. The camera's innovative new 16.1 megapixel high-resolution Live MOS Sensor works in tandem with the powerful TruePic VI image processing engine to achieve outstandingly refined image quality and high sensitivity.

The integrated 1.44 million dot high-definition electronic viewfinder lets the photographer to check manual adjustments to brightness and colour tones on-screen and with a new interface for exceptionally easy viewing.

This faster, sharper, smarter camera comes attractively packaged in a durable dust-/splashproof magnesium-alloy body that ensures lets the OM-D go-anywhere.

New accessories such as the optional HDL-6 power battery holder grip, MMF-3 Four Thirds mount adapter and FL-600R electronic flash add to its adaptability, while two new lens options – the M.ZUIKO DIGITAL ED 75mm 1:1.8 and the M.ZUIKO DIGITAL ED 60mm 1:2.8 macro – are under development and will extend creative applications for the user.

The OM-D (E-M5) comes in a silver or black body.

The OM-D is available from April 2012 as a kit with the M.ZUIKO DIGITAL ED 12-50mm 1:3.5-6.3 for £1149.99. Body only price to be confirmed.
Mark Thackara, National Marketing Manager, Olympus UK. "Why can't a camera be more like a camera?" paraphrasing some much loved film dialogue.

Well for all those who asked, it can. We have listened and delivered with the OM-D. Let's not talk retro, let's say classic: the logical consequence of evolution in design.

A familiar, well loved shape with controls where they should be and the choice of Olympus genius in packing all this into body of a size and weight you won't mind carrying or an ingenious two part grip for those who prefer a fuller figure. Come and see us at Focus to get the full effect. OM is back."

Superior speed

Experienced camera users will appreciate the advances in camera speed on the OM-D, with the FAST (Frequency Acceleration Sensor Technology) AF system, a world-beater also featured on the PEN E-P3, driving the Live MOS Sensor at 120 fps. The speed of communications for controlling the lens action has been improved, while the MSC (Movie & Still Compatible) system has also been adopted for AF speed increase and noise reduction in the lens. In sequential shooting, the camera is capable of operating at an impressive 9 fps, and even with focus employed it can perform at a maximum speed of 4.2 fps *3. Users are also sure to appreciate the noticeable reduction in Live View return time after release. This has been achieved by using independent image-processing cores for the recorded images and Live View images, as found in the new TruePic VI engine, since the output to the rear-panel monitor or electronic viewfinder is no longer dependent on completing recording of the captured image Superior image quality and colour reproduction, plus Art Filter enhancements

The new High-Speed Live MOS Sensor on the OM-D comes with 16.1 megapixels, and allied to the TruePic VI image processing engine it offers excellent noise reduction capability and still image shooting sensitivity as high as ISO25600. There's more faithful reproduction of a wide brightness range, thanks to the expanded dynamic range. Fine Detail Processing technology, first seen on the E-5, eliminates moiré and pseudo-colours, while Real-Colour Technology is used to reproduce previously hard-torender colours such as emerald green.

The OM-D offers a new "Key Line" filter to enhance edge lines, allowing the picture to look more like an illustration; there are two variations, providing different-strength effects. Art Filter Bracketing enables the user to generate multiple pictures with different Art Filters from a single shot – all features designed to inspire the user to experiment and become more creative in their camera use.

Superior viewfinder quality

The 1.44 million dot high-definition integrated electronic viewfinder is a first on an Olympus interchangeable lens camera, and is sure to prove a strong selling point. It features a 100% field of view and max. 1.15x magnification, with an 18mm eye point. The optimised display time lag is a major benefit, particularly when shooting fast sports action, while the unique optical design means the image can be viewed clearly from the centre to the periphery with little or no vignetting. The camera's eye sensor can switch between the rear-panel monitor and electronic viewfinder automatically – a small but significant enhancement to ease-of-use. Information, including shutter speed, is displayed at the bottom of the viewfinder – allowing the user to concentrate on the framing operation. The electronic viewfinder, unlike an optical viewfinder, also assists in image composition, by allowing the user to check the effects of various manual adjustments and Art Filters.

Extended through-the-viewfinder operation is further facilitated via a new interface, EVF Creative Control, which enables separate adjustment of highlight and shadow brightness, monitored using the viewfinder image with a tone curve overlay. White balance, magnification and aspect ratio can similarly be adjusted without the eye moving away from the viewfinder.

Superior, world-first*1 5-axis image stabilisation (IS)

The previous mechanism compensated for camera shake by dealing with two kinds of rotary movement, yaw and pitch. However, camera shake is actually caused by five different kinds of motion, and the new IS mechanism now also corrects effectively for horizontal shift, vertical shift and rotary motion (rolling). Particularly when shooting at larger magnifications (macro shooting), the user will appreciate the value of being able to correct blur. The OM-D also comes equipped for shooting on the move, as multi-motion IS with wide frequency-band compatibility compensates for shake.

Superior movie functions

The camera's built-in IS has evolved into the MSC (Movie and Still Compatible) IS system, offering improved stabilisation of movie images. Users who like to perform their movie post-editing on a PC will particularly appreciate the Full-HD movie recording function which adopts the MOV format (MPEG-4 AVC/H.264). It allows a recording time of about 29 minutes. Traditional AVI (Motion JPEG) format is also available. Linear PCM audio is used for both recording modes. One-shot echo and multiecho effects can now be added to movies, adding to the user's creative options.

Superior ease-of-use and reliability

Alongside the enhancements to facilitate operation while working through the viewfinder, the OM-D also features a 3.0-inch OLED rear-panel monitor that can be tilted by max. 80° upwards or max. 50° downwards, to assist when shooting from high and low angles. It uses a special layout of 610,000 dots and can display video data equivalent to VGA, while its capacitive-type touchscreen has a high response speed that enables intuitive operation with finger-tip focussing and shutter release. In a further development facilitating ease-of-use, the Live Bulb feature updates the Live View image on the rear-panel monitor at preset intervals during bulb shooting. It also allows the user to assess the final image during the exposure and to adjust the exposure time accordingly.

The OM-D is a camera to rely on, even in demanding conditions. It makes extensive use of shields and has a tough dust-/splashproof construction. To facilitate use of interchangeable lenses, Olympus has developed the SSWF (Super-Sonic Wave Filter). Installed in front of the image sensor, it is activated as the camera is switched on to remove any dust attached to the image sensor by generating supersonic vibrations.

Superior lens options

The OM-D is compatible with all MFT Olympus lenses, which will be supplemented by two new lens options later this year: the M.ZUIKO DIGITAL ED 75mm 1:1.8 and the M.ZUIKO DIGITAL ED 60mm 1:2.8 macro. The 75mm lens is in a high-quality metal design and affords fast aperture settings for portraits and indoor sports shooting, while the dustand splash proof 60mm lens features 1:1 macro and a closest shooting distance of just 0.19m. Lens prices will be announced later.

OM-D main features:

· Speed – the world's fastest*2 FAST AF auto-focusing system plus 3D tracking for improved moving object tracking performance
· 16.1-megapixel new Live MOS sensor, for high resolution and excellent low-light performance
· 1.44 million dot high-definition electronic viewfinder, with unique optical design to reduce vignetting, 100% field of view and very short display time lag

· Powerful TruePic VI image engine, for faster recovery time and excellent image quality (still image shooting sensitivity as high as ISO25600)
· Ultra-effective in-body image stabilisation using the world's first*1 5-axis IS, for blur-free movies and stills with any lens
· Compact, lightweight body in the tradition of the famous OM series, in magnesium alloy and enhanced with proven dust-/splashproof capability
· Fully compliant with the Micro Four Thirds System standard
· Additional lens options under development – the M.ZUIKO DIGITAL ED 75mm 1:1.8 and the M.ZUIKO DIGITAL ED 60mm 1:2.8 macro

Additional features:

· Tilt LCD (3.0-inch swivel-type OLED monitor, capacitive touchscreen panel with fast response)
· Full HD (1920 x 1080), now in MPEG4
· New Echo effect for movies (one-shot echo and multi-echo)
· Live Bulb feature, updating the Live View image on the rear-panel monitor at pre-set intervals during bulb shooting
· New "Key Line" Art Filter, making the picture look more like an illustration by enhancing the edge lines; and new variations "Cross Process II" and "Dramatic Tone II"

Accessories (Prices to be announced)

· HLD-6 power battery holder grip, in the same dust-/splashproof construction as the OM-D body. This innovative, adaptable two-part grip can be used either as a landscape grip, for easier camera handling, or (with the second part attached) as a portrait grip with an additional shutter release. The portrait grip accommodates an extra lithium-ion battery to supplement the one in the OM-D, thus extending battery life. Used together, the camera can record about 650 images (CIPA test standard).

· FL-600R electronic flash (GN 50 at ISO200 or GN 36 at ISO100), with improved recharge time and enhanced flexibility and operability for movie recording, and with a wireless control option. The flash is equipped with an LED that can be used to light movies and as a brighter AF auxiliary light.

· MMF-3 four thirds mount adapter. Designed for mounting a four thirds lens on a micro four thirds camera body, the MMF-3 features the same dust-/splashproof construction as the camera. It is ideally suited for use with similarly dust-/splashproof "Pro" and "Top Pro" series lenses.

For a full list of OM-D features, go to http://www.olympus.co.uk

*1 As of February 2012. Among interchangeable lens cameras.
*2 As of November 2011. Among interchangeable lens digital cameras on
the market, and using Olympus's in-house test conditions.
*3 When fitted with the M.ZUIKO DIGITAL ED 12-50mm 1:3.5-6.3 EZ lens.

Buy the Olympus OM-D from Amazon:

Olympus OM-D EM-5, Silver with 12-50mm lens
Olympus OM-D EM-5, Black with 12-50mm lens
Olympus OM-D EM-5  Silver (Body Only)
Olympus OM-D EM-5 Black (Body Only)