Busting out of Chez Olympus  just in time for summer  is the company's new top-of-the-range Olympus PEN E-P3 Micro Four Thirds system camera.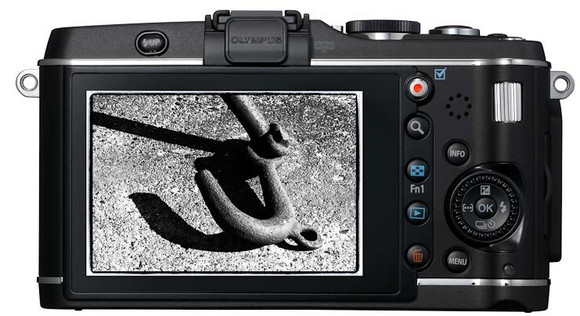 Serving up ultra-fast autofocus, manual controls galore, a pop-up flash, and a 610,000-dot touch-sensitive OLED screen, the 12.3-megapixel snapper struts the streets with a High Speed Live MOS sensor offering a top sensitivity setting of ISO 12800,
Claimed to have the fastest auto-focus of any camera with interchangeable lenses, the PEN also offers 3fps continuous shooting, s in-body image stabilisation, 1080i/60fps high-definition video recording with stereo sound, a flash hot-shoe, a handy electronic level gauge and three user-customisable buttons.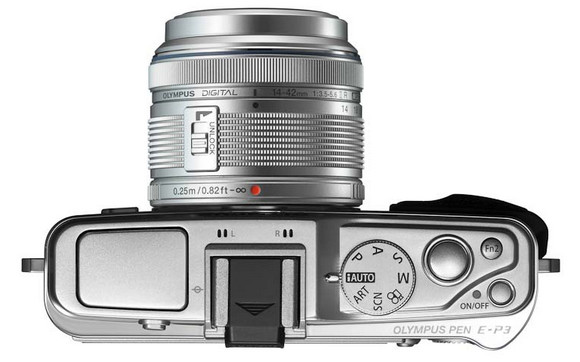 Around the back, the OLED touchscreen lets users get interactive with their digits, offering the ability to scroll and enlarge photos, select AF points, call up the pop-up Live Guide and blast off shots via the onscreen shutter release .
The Olympus E-P3 will be thrusting into stores from August, with the camera body and 14-42mm kit zoom package selling for £799.
It's certainly a lovely looking camera but – ouch! – that price is a little on the high side for our tastes.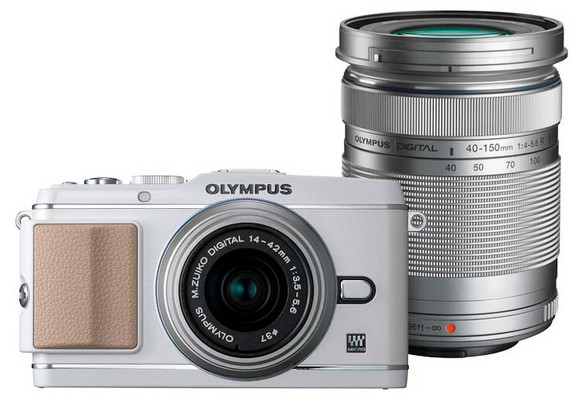 Here's the Olympus Press Release to make your Friday complete:
New PEN flagship rewrites category rules

PEN E-P3 boasts record-breaking FAST AF and touch display

Hamburg, 30 June 2011 – When Olympus launched its PEN Micro Four Thirds system cameras, it created a whole new camera category. Now it has launched a visionary new PEN flagship that defies categorisation altogether. The PEN E-P3, or simply 'PEN', has the fastest auto-focus of any camera with interchangeable lenses.

With its world-beating FAST AF (Frequency Acceleration Sensor Technology) , timeless metal design and state-of-the-art touch-sensitive OLED display, it's a genuine alternative to bulkier and more expensive SLRs.

Leading a three-strong generation of new PEN range cameras, it owes its amazing focussing speed to a powerful new processor: The TruePic VI image engine designed especially for mirror-less cameras. In addition to the new FAST AF, TruePic VI serves as the motor for ten Art Filter special effects and the large, tap-sensitive OLED display that previews and plays back in photo quality.

In combination with a faster and more sensitive 12.3 Megapixel sensor, TruePic VI ensures outstanding picture quality, especially in low light.

For experienced users, the PEN has more special treats in store – two dials on the back for making quick adjustments to exposure and aperture, plus in-body image stabilisation that counteracts camera shake irrespective of the attached lens. The PEN E-P3 14-42 lens kit is available from August 2011 for £799.

Pick up the new PEN and you realise you're holding a potential style icon. The craftsmen at Olympus have managed a rare feat, drawing on the charm of the golden era of camera design some 50 years ago to create a camera that will still turn heads 50 years from today. If their vision was a timeless classic, that's exactly what they achieved.

Instant AF
With its compact design, user-friendly features and first class picture quality, Olympus' award-winning PEN system camera range is already a firm favourite with both ambitious amateur photographers and professionals looking for a practical second camera. Led by the E-P3, the new PEN generation significantly enhances that reputation.

One of the PEN's most striking – and useful – characteristics is the sheer speed and versatility of the record-breaking autofocus. Driven by the new and powerful Olympus TruePic VI processor, the FAST AF focuses quicker* than any other camera with interchangeable lenses, giving PEN owners the very best chance of capturing fast-moving shots. What's more, it offers 35 separate focus points, spread over nearly the whole sensor, making it possible to focus on small subjects, no matter where they appear in the picture.

In low light conditions, the built-in AF Illuminator compensates for potential loss of accuracy while new AF tracking technology ensures subjects stay sharp even when they move in and out of the frame. Another potentially shot-saving bonus is Full Time AF – the focus is always active so the image is always in focus and the camera doesn't waste time focusing when the user applies pressure top the shutter release.

Instant control
Unique to the flagship PEN is the three-inch, touch-sensitive OLED display. It's not only intuitive and practical to use, but also delivers a superb, photo-quality picture, regardless of ambient light conditions. Compared to similar LCD screens, an OLED display generates superior contrast, deeper blacks and a broader spectrum of colours. It is brighter, the angle of view is wider and it uses less power.

The PEN's display offers fingertip scrolling and enlarging of photos as well as control of the shutter release, AF points and the pop-up Live Guide – the celebrated PEN assistant that makes it easy for less experienced users to get crucial parameters such as aperture and depth of field exactly right.

Even professionals will be glad to note that there's now direct access to Live Guide in P, S, M and A modes, if need be. Unlike with some of PEN's rivals, Live Guide is available for both movies and stills.

But for most serious photographers, experimenting with settings is half the fun – and they don't want to scroll through endless menus to make their adjustments. That's why Olympus has incorporated two additional dials on the back of the PEN. With just their thumb, users can fine-tune aperture and exposure time in an instant – without having to switch between menu sections.

The chosen settings appear bright and clear on the OLED screen, or in the optional electronic viewfinder. Fans of hands-on shooting will also love the three customisable buttons they can assign to their favourite functions. The buttons, dials and new FAST AF help users react quicker to spontaneous situations and capture fleeting scenes or fast-moving subjects before the opportunity is lost.

Instant art
A wide choice of creative Art Filters and effects is a bonus for ambitious users and pros alike. The PEN offers ten different filters for adding special effects without the hassle of computer software. Several of these can be combined with additional effects, such as new Starlight and White Edge.

Users can choose from the Pop Art, Soft Focus, Pale & Light Colour, Light Tone, Grainy Film, Pinhole, Diorama, Cross Process, Gentle Sepia and Dramatic Tone Art Filters. All ten filters can be applied to both still shots and movies.

The PEN records movies with a stereo soundtrack in radiant 1080i Full HD quality at 60fps – and in a choice of formats. For playing back on TV, users can choose AVCHD, which generates a smaller file size. If they want to edit their movies first, the 720p HD Motion JPEG format is ideal. It generates larger files but is easier to handle with PC editing software.

Instant power
At the heart of every new PEN is the powerful TruePic VI image engine. Like the processors in computers, TruePic VI is essentially two units in one, with one half dedicated purely to image reproduction. The result is outstanding quality, colour and detail, with light sensitivity boosted to an impressive ISO 12800. TruePic VI also shortens recovery time and reduces noise noticeably during movie recording.

Instant compatibility
Like every other PEN, the PEN E-P3 is a system camera. The moment users purchase it, they gain instant access to more than 500 Micro Four Thirds, Four Thirds and other lenses (via a adapter), including Olympus' legendary M.ZUIKO DIGITAL range of high-quality optics. Highlights of the range are two new fast-aperture lenses.

The M.ZUIKO DIGITAL ED 12mm 1:2.0 (24mm**) wide-angle 'Street Photography' lens is ideal for capturing broad subjects such as landscapes, especially in low-light conditions. By contrast, the M.ZUIKO DIGITAL 45mm 1:1.8 (90mm**) portrait lens delivers remarkable portraits with beautiful background blurring. Another first-class option is the re-sculpted M.ZUIKO DIGITAL 14-42mm (28-84mm**) 1:3.5-5.6 II R. All three lenses are specially designed for near-silent operation, so users can shoot HD movies in stereo without the background whir.

Their metallic casing and compact, lightweight design makes them a perfect match for the PEN. Irrespective of the specifications of the lens users attach, thanks to built-in Image Stabilisation they can be confident of capturing blur-free shots.

And thanks to Accessory Port 2, they can also select from the ever-growing family of PEN-dedicated accessories, including the Bluetooth®-compatible PENPAL that automatically reformats still photos for wireless transfer to other compatible devices and social media.

The PEN E-P3 14-42 kits is available with the body in classic black, white or silver from August 2011, for £799.

PEN E-P3 main features:

Image Quality
Powerful TruePic VI image engine for faster recovery time and excellent image quality
Ultra-effective in-body image stabilisation for blur-free movies and stills with any lens
12.3 effective Megapixel High Speed Live MOS sensor for excellent low-light performance and Full HD movie recording
ISO 12800 sensitivity
1080i 60fps Full HD stereo movie recording as AVCHD or Motion JPEG
Compatible with the new generation of dedicated PEN lenses

Convenience
World's quickest* FAST AF for cameras with interchangeable lenses, always on, with 35 AF points, low-light AF Illuminator and out-of-picture AF Tracking
Super-bright, wide-angle, touch-sensitive 3.0" OLED display with 610,000 dot resolution for photo-quality colour reproduction
Separate dials for quick manual adjustment of aperture and exposure
Touch-sensitive Live Guide in HD Movie, still and P/S/M/A mode
Live View in HD Movie and still mode
3 customisable buttons
Level gauge for at-a-glance appreciation of position relative to horizon
Easy-to-use Live Wheel feature menu

Creativity & Flexibility
Ten creative Art Filters in HD Movie and still modes
Five effects that can be combine with Art Filters: Pinhole, Soft Focus, Frame Effect, plus new Starlight and White Edge
Accessory Port 2 for compatibility with the growing family of PEN accessories, e.g., the VF-2 Electronic Viewfinder and PENPAL Communication Unit
Compatible with 20 Micro Four Thirds, 27 Four Thirds and more than 500 other lenses (via an adapter)
1/4000th sec. shutter speed with 3fps sequential shooting
Multi Exposure mode for 2 RAW images
Long-life BLS-5 Li-ion battery

Other highlights
Timeless PEN design with interchangeable, removable grip in two sizes
3D still photos
SDXC card and Eye-Fi compatible
Wireless flash control

For a full list of E-P3 kits and features, go to
http://www.olympus.co.uk