We've long been spreading the cut price love for Orange's long reigning Budget Belle, the ultra cheap San Francisco, and the network looks set to unleash another bargain Android handset in the shape of the Monte Carlo.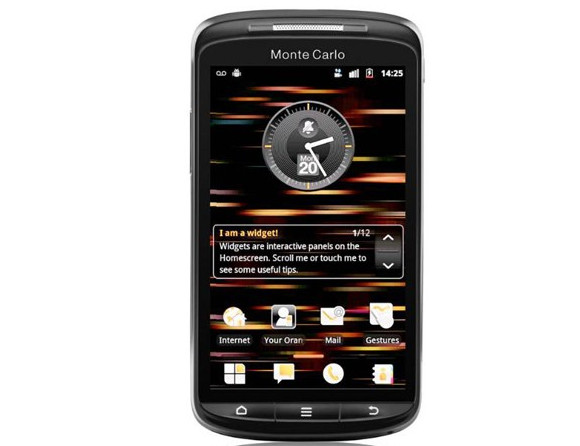 The soon-come smartphone improves on the 'Frisco specs by upping the the processor to a snappier 800MHz number, slipping in a 5MP camera and upgrading the screen to a generous 4.3-inches.
Running Android 2.3 Gingerbread and packing a FM radio, the handset measures up at 10.4mm x 125.9mm x 67.8mm.
There's been no prices announced yet, but if it's priced as competitively as its predecessor, we expect Orange to have a winner on its hand.
Spec-feast
5-megapixel camera
HD Voice
Signal Boost (UMA)
Android™ 2.3 Gingerbread
4.3-inch capacitive touch screen
WiFi
micro USB v2.0
FM radio and MP3 player
video messaging
video recorder
video playback
email
pop3/imap4 email
Orange Wednesday apps
Orange App Store
HSDPA
3G+
music player
3G
camera
touch screen
photo messaging
dimensions
depth:10.4mmlength:125.9mmwidth:67.8mm
battery life
talk time:5 hoursstandby:12 days