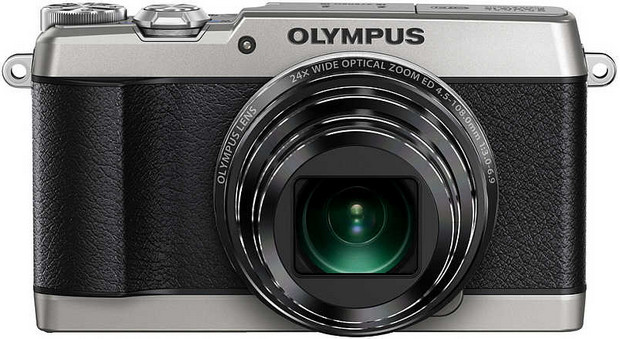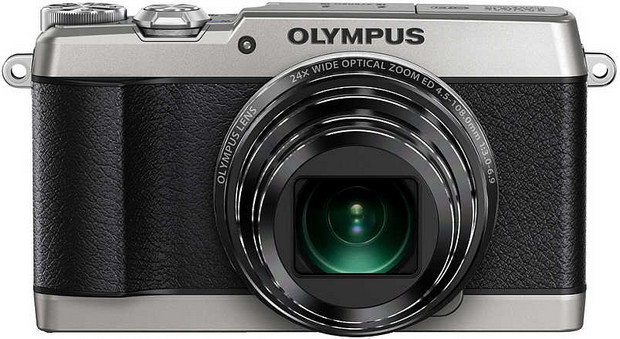 Keen to keep travelling on the retro-themed gravy train,  Olympus have announced their vintage-styled  Stylus SH-1, a natty looking snapper sporting a 16MP sensor and  24x zoom optical zoom.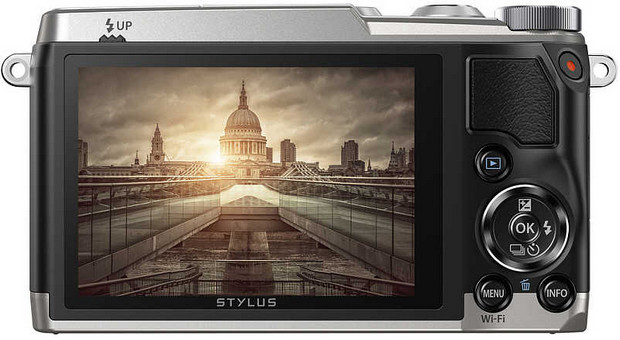 Packing a hefty 25-600mm (eq.) f/3-6.9 lens zoom lens backed by the same 5-axis optical image stabilisation as seen in the more upmarket Olympus OM-D models, the camera is packaged in an attractive aluminium alloy body.
The high-end TruePic VII image processor is also inherited from further up the range, meaning that this little fella should be capable of a decent enough low light performance, although the diminutive 1/2.3″ (6.17 x 4.55 mm) sensor should keep expectations grounded .
Other key features of the SH-1 are the ability to shoot 1080p movies, high-speed video recording for slow-motion playback, a time-lapse movie mode, a 460kdot/3in touchscreen, and Wi-Fi connectivity. 
Available in a choice of silver, black or white, the SH-q wil be shimmying on to shop shelves from the end of the month, priced at for £349.99/$399.99.
Olympus Press Release
Gorgeous looks and world-exclusive technology?

Olympus Stylus SH-1 shows how it's done.

The beautiful Olympus SH-1 puts the wow factor back into compact camera design – and its record-breaking technology puts genuine quality back into razor-sharp photos and high-speed HD movies shot on the fly. It's the world's only* digital compact to feature 5-axis optical** image stabilisation for both stills and 1080p HD movies.

When you're on the move and only have a split second to capture a crisp close-up or video at 24x zoom, image stabilisation of this calibre can make or break that once-in-a-lifetime shot. The SH-1 will be available in a choice of silver, black or white for £349.99 from the end of April 2014.

Sharp edges
World-class image stabilisation makes the SH-1 the compact category leader. It takes the blur – and worry – out of shooting high-resolution videos or still photos on the move.

Lightweight cameras can be difficult to hold steady and when you focus with a powerful 24x optical zoom, camera shake can be exaggerated to the extent that it ruins your shot.

The SH-1 fixes this problem with the world's only* 5-axis image stabilisation system for both high-speed HD movies and stills in a compact digital camera. Conventional systems only correct yaw and pitch – and have their limitations.

But the Olympus system virtually eliminates blur in all five planes of movement. For example, it counteracts the tendency of lightweight cameras to rotate around the lens when they're used without a tripod, as well as the juddering from side to side that often affects macro shots.

Blur is even more disappointing when it affects a video because you don't normally get a second take. But the 5-axis technology on the SH-1 works so well that you can shoot long Full HD movies from the back of a moving scooter, with up to 240fps.

Fast framing

Image stabilisation isn't the only clever technology hidden beneath that head-turning body. The SH-1 comes with a handy level gauge, or artificial horizon, to keep your images straight and centred leaving you free to focus on framing your shot – which you can do with just one touch of the LCD screen.

Unusually for a camera with a 24x optical zoom, the SH-1 lens delivers excellent, 16-Megapixel image quality all the way from 25mm*** wide angles to 600mm*** telephoto shots.

The image stabilisation system and high-end TruePic VII image processor are inherited from Olympus' latest prize-winning OM-D cameras. Together these exclusive technologies effectively ensure you can focus fast and capture excellent images, even in low light.

Smart sharing

The SH-1 has the design to match the chicest tablets and smartphones, and pairs effortlessly with both at a touch of the WiFi button. Olympus' OI.Share app takes the hassle out of setting this up.

OI.Share also lets you import stills and movies to a compatible smartphone for easy sharing, and you can even use the phone as a remote control for your camera. You can zoom in, choose focus points and take the shot directly from your mobile – ideal for selfies and easily startled subjects like animals.

Accessories

> CSCH-120 genuine leather protective body jacket with a luxurious, fashionable look that also improves camera grip. Exclusive to the SH-1.

> CSS-S109LL II genuine leather shoulder strap for a stylish and comfortable way to carry your SH-1.

> CSS-S110LS genuine leather hand strap for an elegant, coordinated look.

Main Features:

>  PEN-like design with aluminium alloy body, metal finish and synthetic leather grip

>  Wide 24x optical super-tele zoom lens

>  Powerful 5-axis image stabilisation system

>  Advanced HD Movie recording incl. high speed and time lapse movie, Photo and Movie capture

>  WiFi for remote control and sharing via a smartphone using the Olympus Image Share app.

>  3.0" 460k dots LCD touch display with protective panel

* According to Olympus research. As of March 2014.
** Optical image stabilisation is defined by the Camera & Imaging Products Association (CIPA) guidelines and includes sensor-shift image stabilization.
*** 35mm equivalent.