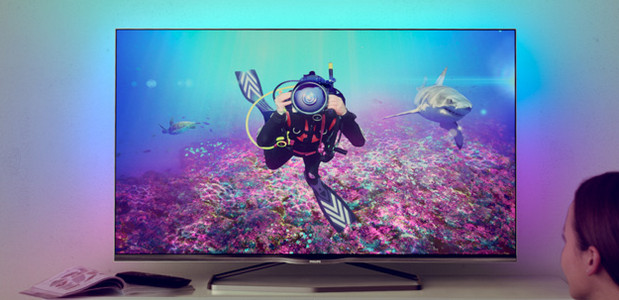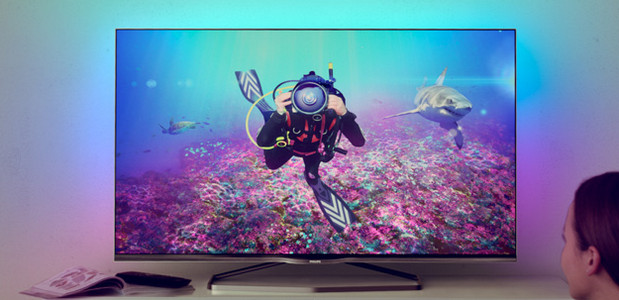 There's already been a few TVs running the Android OS, but Philips have just introduced a real bad boy in the shape of the 55″ 8809  Ultra HD TV series .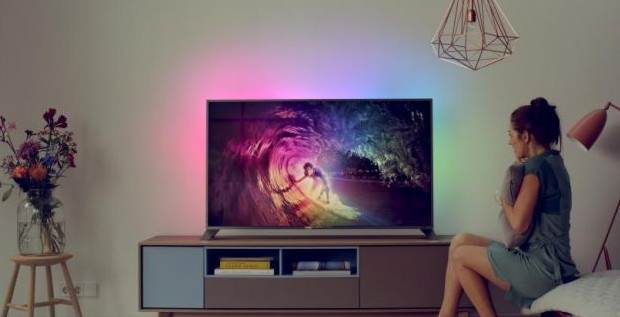 What's an 'Ultra HD TV' some of you may ask?
Well, it's a TV with an  3,840×2,160 pixels  4K UHD (2160p) display, which means that it's capable of quite staggering detail and clarity.
Wafer thin with barely a bezel in sight, the Philips 8809 looks set to be an absolute stunner, packing a room-filling 55-inch screen, with a beefy hexa-core processor motoring on Android 4.2.
The TV comes with Philips' rather excellent (yes, we're fans) Ambilight technology which projects complementary colours behind and around the TV to match the display, the mood, or the individual room.
With Android on board, users will get full access to Google Play, so you'll be able to play games, surf the web and do most other things you may already been doing on your wee l'il tablet.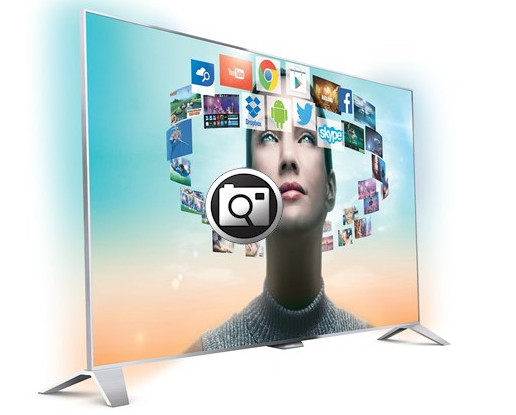 Rounding off the spec list, there's also gesture control, voice recognition, remote control via smartphones or tablets, screen mirroring, recording, and dual channel display.
If the no-doubt formidable price of this 4k beastie is causing an unpleasant commotion in your wallet department, Philips has also announced the Android 4.2 quad-core Philips 8109 and 8209 TVs, which feature a more modest 1920×1080 resolution, and come in 48 or 55 inches screen sizes.
Philips say that the TVs will be rolling in to European and Russian markets in Q2 2014. We'll take several review models, if you're offering, please. Thanksverymuch. 
Specs: 
xxPFS8109
xxPFS8209
xxPUS8809
Display
Full HD LCD with 1920×1080 pixels
4K Ultra HD LCD with 3,840×2,160 pixels
Screen sizes
48 inch / 121 cm 55 inch / 139cm
48 inch / 121 cm 55 inch / 139cm
55 inch / 139cm
Firmware
Android OS 4.2.2 (Jelly Bean)
Ambilight
4-sided
3-sided
built-in Amiblight+hue, Wall colour adaptive, Gaming mode, Lounge light mode
Picture Enhancement:
Perfect Pixel HD, 800 Hz Perfect Motion Rate, Micro Dimming Pro, Local contrast, Perfect Natural Motion, Super Resolution
Perfect Pixel Ultra HD, 1000 Hz Perfect Motion Rate Ultra, Micro Dimming Pro, Perfect Natural Motion, Ultra Resolution
3D-TV
Active 3D, 2 Player Full Screen Gaming, Premium2D to 3D conversion, Auto 3D detection
Android TV
Android OS: 4.2.2 (Jelly Bean) Pre-installed apps: Google Chrome, browser, Search, Voice Search, Google Play Movies, Google Play Music, YouTube Google PlayStore apps: TV libraries, TV player, many more that run on TV? Memory size to install apps: 2.7 GB
Smart TV
Interactive TV: HbbTV Smart TV apps: Catch-up TV, Netflix, Spotify, Online Video stores, Skype, Online apps Social TV: Skype, Facebook, Twitter
Smart user interaction*
SimplyShare, Wi-fi Miracast, MultiRoom Client and Server
TV Remote app
remote control with keyboard, pointer and voice
Connectivity:
4 HDMI, 3 USB, 1 Scart, 1x YPbPr, Wi-Fi, Ethernet LAN RJ45, 2x CI+, EasyLink (HDMI-CEC), Digital Audio out
4 HDMI (1x with HDCP 2.2), 3 USB, 1 Scart, 1x YPbPr, Wi-Fi, Ethernet LAN RJ45, 2x CI+, EasyLink (HDMI-CEC), Digital Audio out
Sound
30Watts (RMS)
HD Stereo, Ambi wOOx, Natural Sound
Processing power
Quad Core
Quad Core
Hex Core
Broadcast reception
DVB-T/T2/C/S/S2 Twin Tuner
Set thickness
13mm mm: 48 inch 13 mm: 55 inch
13 mm: 48 inch 13 mm: 55 inch
38mm: 55 inch
Included accessories:
2 x 3D active Glasses, Edge feet stand