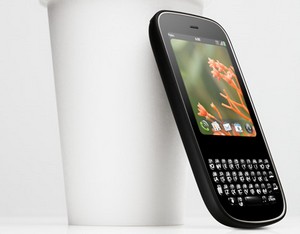 It may be five days until US consumers are able to get their mitts on the pint-sized Palm Pixi, a mini-me version of the well reviewed Palm Pre smartphone, but a video of the phone in action has already leaked onto YouTube.
Running the innovative webOS and coming with a Treo-style keyboard, the Pixi runs a lower spec processor (Qualcomm's high-performance MSM7627) but still seems a fairly nippy performer on the video.
The Pixi packs in a peck of pickled Pre features, with  the same proximity, accelerometer and light sensors , albeit with a lightly smaller 320×400 resolution TFT display.
The camera is only a 2MP number (with flash), but all the webOS goodness is onboard, packed into a pleasingly small body measuring a decidedly bijou 55mm (W) x 111mm (L) x 10.85mm (D) [2.17 in. (W) x 4.37 in. (L) x 0.43 in. (D).
We've no idea when the Pixi will become available in the UK, but we're rather taken with the wee thing: in fact, if they bolted on Wi-Fi, we'd probably prefer it over our Pre (which we are loving, by the way – expect a full review soon).
Palm Pixi Features
* High-speed connectivity (EVDO Rev. A)
* 2.63-inch multi-touch screen with a vibrant 18-bit color 320×400 resolution TFT display
* Gesture area, which enables simple, intuitive gestures for navigation
* Exposed QWERTY keyboard for fast messaging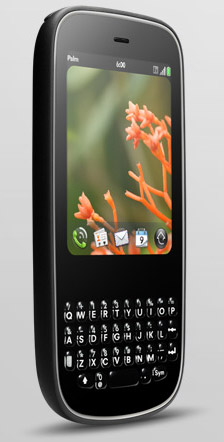 * Robust messaging support (IM, SMS and MMS capabilities), including Google Talk, AIM and Yahoo! IM
* High-performance, desktop-class web browser
* Integrated GPS
* Multimedia options, including pictures, video playback and music, and featuring a 2-megapixel fixed-focus camera with LED flash, and a standard 3.5mm headset jack
* Email, including Exchange ActiveSync (EAS) (for access to corporate Microsoft Exchange servers), as well as personal email support (Google push, Yahoo! push, POP3, IMAP)
* Bluetooth® 2.1 + EDR with A2DP stereo Bluetooth support
* 8GB of internal user storage (~7GB user available)
* USB mass storage mode
* MicroUSB connector with USB 2.0 Hi-Speed
* The first handset to launch with Qualcomm's high-performance MSM7627™ chipset
* Proximity sensor, which automatically disables the touch screen and turns off the display whenever you put the phone up to your ear
* Light sensor, which dims the display if the ambient light is dark, such as at night or in a movie theater, to reduce power usage
* Accelerometer, which automatically orients web pages and photos to your perspective
* Ringer switch, which easily silences the device with one touch
* Removable, rechargeable 1150 mAh battery
* Dimensions: 55mm (W) x 111mm (L) x 10.85mm (D) [2.17 in. (W) x 4.37 in. (L) x 0.43 in. (D)]
* Weight: 99.5 grams (3.51 ounces)
* Sprint services, including Sprint TV® and Sprint Radio, Sprint Navigation, Sprint's exclusive NFL Mobile Live and NASCAR Sprint Cup Mobile Live
[Via] – [Palm Pixi homepage]