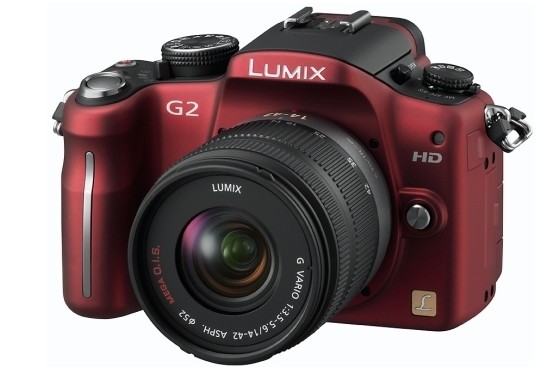 Panasonic has flapped out the spec sheets of its new Lumix Micro Four Thirds cameras – the touchscreen DMC-G2 – and we're rather liking the look of what we're seeing.
The direct descendant of the trailblazing Lumix G1, the DMC-G2 comes with a 12.1MP Live MOS sensor and shoots 720p video in AVCHD lite, and can lay claim to being the first interchangeable lens system camera with a fold-out touchscreen.
Touch control
With a design sure to please contortionists, the articulated screen moves 180 degrees side to side and tilts 270 degrees up and down, letting you  bag just about every conceivable photo-snappin' angle.
The 3″ LCD touchscreen packs in 460,000 dot pixels, and lets you adjust focus by touching the desired subject on the screen, with the photo talen with a second tap. In manual focus mode, users can enlarge a subject by touching it and then choosing to enlarge it by 1x, 5x or 10x, and there's still the option to change all settings via the the control pad.
The G2 – available in red, blue or black – comes with the new Vario 14-42mm/F3.5-5.6 compact zoom lens (35mm equivalent to 28-84mm – see press release below), with pricing to be announced a month before the cameras ship.
Read on for the press release in all its glory.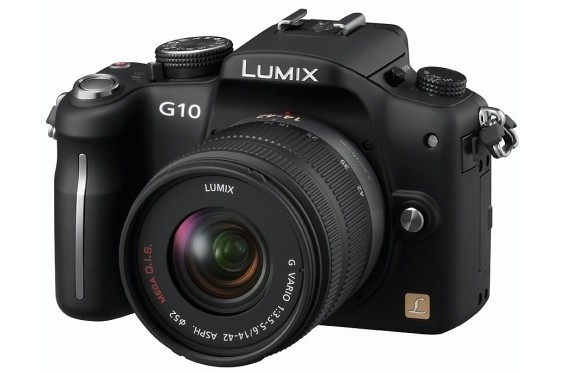 LUMIX DMC-G2, WORLD'S FIRST* INTERCHANGEABLE LENS SYSTEM CAMERA WITH TOUCH-CONTROL MOVABLE LCD

Panasonic LUMIX G2 Features a 3-Inch Touch-Screen, Allowing for Quick and Intuitive Setting Changes, such as Focus, with a Single Touch

Secaucus, NJ (March 7, 2010) – Panasonic today announces the LUMIX DMC-G2, the world's first* digital interchangeable lens system camera with a movable LCD that allows for touch-control, and the successor to the award-winning and revolutionary LUMIX G1, which was the world's first Micro Four Thirds digital camera. The intuitive touch-control shooting elevates the camera's operability, letting the user adjust auto focus (AF) simply by touching the subject on the large 3.0-inch 460,000-dot high- resolution LCD. The LUMIX G2, also shoots 720p High Definition video using the AVCHD Lite format, and joins the LUMIX G10, also introduced today, as the latest models in the LUMIX G Micro System.

With the touch-screen operation, users can even snap a photo by touching the LUMIX G2's screen. Additionally, the touch-screen operation excels not only for shooting but also during playback. Users can touch one thumbnail viewed among many to quickly and easily see the full size of the desired photo. Also, to view images one-by-one, photos can be dragged across the screen to browse as though flipping the pages of a book.

"With the LUMIX G2, Panasonic is pleased to continue to lead the evolution of the Micro Four Thirds platform and also be the first in the industry to offer a touch-screen interchangeable lens system camera," said David Briganti, Senior Product Manager, Imaging, Panasonic Consumer Electronics Company. "Touch-operation is a user interface with which many consumers are both familiar and expect, and we think the LUMIX G2's touch-operation makes it easier and quicker to take photos and videos that have professional-like effects."

Using the touch-screen operation, once a user locks onto a subject, the LUMIX G2 enables AF Tracking and will track the subject as it moves within the frame. Then, with a touch on the screen, users can select the part and the size of AF area with the 1-area AF. The Multi-area AF sets a group of AF points according to the composition. While using the manual focus, users can enlarge a subject by touching it and then choosing to enlarge it by 1x, 5x or 10x and then smoothly moving the part by dragging it on the screen. With this touch operation, menu settings can be changed quickly; cutting the time it takes to navigate using standard cursors. However, all setting changes can still be done using the control pad, if preferred.

The LUMIX G2 records 1280 x 720 HD videos in the AVCHD Lite format, which increases recording capacity and is highly compatible with audio-visual equipment. With a dedicated video record button, users can easily start recording a video. To complement its high-quality video capabilities, the LUMIX G2 features advanced audio options, as sound is recorded with Dolby Digital Creator and an optional accessory stereo microphone can be attached. A Wind Cut function further enhances the sound as it helps reduce noise caused from background wind.

The 3.0-inch touch-operation LCD has a wide-viewing angle and rotates 180° from side to side and tilts 270° up and down, providing approximately 100% of field of view. This free-angle LCD with a touch-screen operation makes it possible to both view and touch the screen from any angle. The double Live-View function offered by the high-resolution, 460,000-dot free-angle Intelligent LCD and 1,440,000-dot 1.4x (0.7x) Live View Finder allows users to see the settings' results before pressing the shutter.

The 12.1-megapixel Live MOS sensor featured in the LUMIX G2 offers the best of both worlds – the outstanding image quality of a CCD sensor, and the lower power consumption of a CMOS sensor. Advanced technology enables it to read four channels of data simultaneously, helping the LUMIX G2 to deliver 60 frames-per-second Full-time Live View images, while faithfully reproducing high-resolution images with fine detail and rich gradation. Plus, with the high-speed, high-performance Venus Engine HD II, which has been re-engineered to further improve image quality.

The new high-speed, high-performance Venus Engine HD II supports the new image processing technology Intelligent Resolution, which enables the recording of beautiful photo and HD video with high quality signal processing. With Intelligent Resolution technology, three areas – outlines, detailed texture areas and soft gradation – are automatically detected. The outline parts are enhanced effectively to give edges increased clarity, while simultaneously giving a moderate accentuation to the textured areas so they look finely detailed. For the soft gradation areas, the improved noise reduction system of the Venus Engine HD II is applied to achieve a smoother effect. Apart from the uniform enhancement of sharpness, the innovative technology Intelligent Resolution precisely performs signal processing pixel by pixel in the most effective way, resulting in images that are naturally clear.

For users looking for additional creative options for both photos and videos, the LUMIX G2 delivers. While shooting HD video, users can set the camera in "P" mode – to change the aperture for professional-like movie effects where the images blur into focus. For still photos, the LUMIX G2 features the My Color mode with a total of seven preset effects – Expressive, Retro, Pure, Elegant, Monochrome, Dynamic Art, and Silhouette while also keeping the Custom mode, which lets users manually set the color, brightness and saturation levels and save their favorite settings into memory.

On the other hand, for beginner users not yet ready for manual modes – the LUMIX G2 features iA (Intelligent Auto), a popular setting in the LUMIX point-and-shoots that automatically engages features and settings for optimal image quality by detecting the shooting environment. Panasonic iA is available in both still photo and video recording settings and a new dedicated iA button, which illuminates in blue when engaged, makes it even easier to use this handy feature.

Other features of the LUMIX G2 include:
• Dust Reduction System: If dust or other foreign matter gets inside the camera when you're changing lenses, it could cling to the image sensor and show up as a spot in your photos. The Dust Reduction System in the G2 helps eliminate this possibility by placing a supersonic wave filter in front of the Live MOS sensor. Vibrating vertically around 50,000 times per second, the filter repels dust and other particles effectively.
• Included Software: PHOTOfunSTUDIO 5.0 HD Edition makes it possible to sort and organize photos. Videos can be uploaded directly to YouTube using the built-in YouTube uploader – even in HD quality. It also lets you create a 360-degree rotation panorama file in .MOV files. The software is compatible with the Windows 7.

The Panasonic LUMIX G2 will come equipped as part of its kit, with the newly announced LUMIX G VARIO 14-42mm/F3.5-5.6 ASPH/MEGA O.I.S. lens. The new lens offers a versatile zoom range of 14-42mm (35mm camera equivalent: 28-84mm), making it suitable for a wide variety of scenes, everything from dynamic landscape to portrait. Additionally, the LUMIX G2 is compatible with all Micro Four Thirds System lenses, allowing users even higher levels of performance in a digital interchangeable lens camera.

The LUMIX DMC-G2 and other LUMIX G Micro System digital cameras can use any interchangeable lens that complies with the Four Thirds standard via an optional mount adaptor DMW-MA1 and with the prestigious Leica M/R Lenses via DMW-MA2M or MA3R. Other accessories include external flashes, filters, a remote shutter, HDMI mini cables and a variety of stylish straps and bags. To learn about the Panasonic LUMIX Micro Four Thirds System and all the available accessories, visit www.panasonic.com/lumix. The Panasonic LUMIX G2 will be available in red, blue and black models and pricing and availability will be announced 30 days prior to shipping date.

PANASONIC ANNOUNCES COMPACT AND LIGHTWEIGHT STANDARD ZOOM LENS FOR LUMIX G SERIES DIGITAL CAMERAS

SECAUCUS, NJ (March 7, 2010) – Panasonic today introduces a new interchangeable lens for its LUMIX G Micro System, the ultra-compact and lightweight LUMIX G VARIO 14-42mm/F3.5-5.6 ASPH/MEGA O.I.S. lens offers versatile zoom range of 14-42mm (35mm camera equivalent: 28-84mm), making it suitable for a wide variety of scenes, everything from dynamic landscape to portrait. The LUMIX G VARIO 14-42mm/F3.5-5.6 ASPH/MEGA O.I.S. lens will be part of the kit lens for the latest additions to the LUMIX G Series of digital cameras: the LUMIX DMC-G10 and LUMIX DMC-G2, also introduced today.

The new LUMIX G VARIO 14-42mm/F3.5-5.6 ASPH/MEGA O.I.S. lens incorporates Panasonic's MEGA O.I.S. (Optical Image Stabilizer), which makes it easy to shoot clear photographs, even in low-lit situations, by suppressing the blur caused by a shaky hand. Adopting an inner-focus system driven by a stepping motor, the superior optical design realizes outstanding smoothness to support the high-speed AF (Auto Focus) system of LUMIX G cameras. When mounted on any of these cameras, this new lens allows users to maximize all of the AF system's functions.

With its minimum focus distance of 30cm even at full zoom, this lens provides a maximum photographic magnification of 0.32x (35mm equivalent). Seven aperture blades make up a circular aperture diaphragm to produce an attractive smoothness in out-of-focus areas even when shooting at a large aperture. The LUMIX G VARIO 14-42mm/F3.5-5.6 ASPH/MEGA O.I.S. lens system uses multi-coated lens elements that reduce blur, helping to deliver superior performance. This new lens system also features excellent contrast even at its highest zoom level. The inclusion of an aspherical lens improves optical performance by minimizing distortion, even at the 28mm wide end. For more information on the Panasonic LUMIX G Series digital cameras, lenses and accessories, please visit www.panasonic.com/lumix.