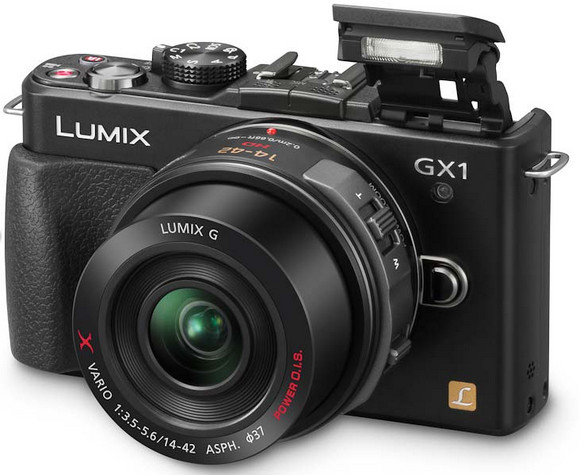 We were huge fans of the Panasonic Lumix DMC-GF1, and we're currently switching our lustful gaze between its follow-up, the Lumix GX1 and Olympus's sensational new OM-D camera.
Panasonic's news Micro Four Thirds compact thankfully takes its design cues from the original GF1 and not the last GF3 camera which seemed to be taking the upmarket line deep into consumer-friendly land.
The GX1 looks more or less identical to the GF1, albeit a tiny bit smaller, but improves the camera in just about every area, in  particular with the addition of a touchscreen LCD.
Unlike the Olympus OM-D however, there is no built-in EVF viewfinder, with the optional LVF2 viewfinder costing another $200, which  annoyingly comes without the ability to automatically switch between it and the rear LCD screen.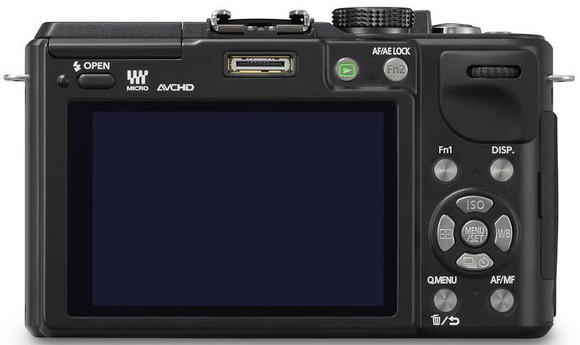 Great control system
As with the GF1, there's plenty of well-positioned external controls that fall easily to hand, backed by loads of manual controls and an intuitive interface.
The Lumix interface and handling remains one of our favourites, and the GX1 provides no shortage of options for enthusiast snappers, with its handy 15-item Quick Menu,  four custom Fn buttons (two of which are onscreen), mode dial, dedicated AF/MF button, 4-way controller and thumb dial.
Although it's clearly aimed at enthusiast photographers, there's plenty of auto and semi-auto controls on offer too, including Panasonic's excellent iAuto and face detection modes.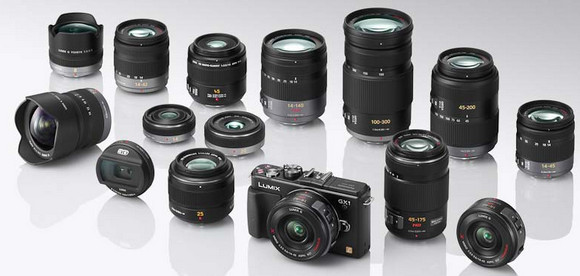 Positive review
Photo site DPreview has just posted up a comprehensive review, where they praised the GX1's 16MP sensor, commenting that it matched, "the highest resolution of any current Micro Four Thirds camera," adding that, "Improved image processing produces the most impressive high ISO JPEG performance we have seen in any Micro Four Thirds offering."
Chroma noise was found to be well suppressed with the camera delivering an "impressive amount of image detail" in images taken with the IS rating as high as ISO 6400.
The review did find a few problems though, noting that the GX1's 'multiple' metering mode often drifted on the side of under exposure, with the limited manual exposure controls for video recording were also coming in for censure.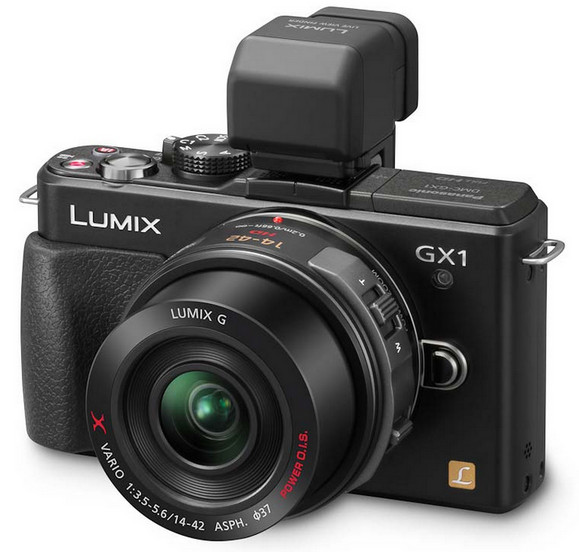 Awarding the GX1 a Silver Award, DPreview said that it was a worthwhile upgrade from the GF1, observing that they were, "hard-pressed to find areas in which the GX1 does not either maintain the positive attributes of the earlier camera or offer significant improvement."
The review concluded that, "The GX1 packages external camera control points and a class-leading touchscreen interface in a classically styled small form factor that produces the best image quality we've yet seen from a Micro Four Thirds camera."
Tech site Engadget also declared themselves "quite thrilled" with the Panasonic Lumix DMC-GX1, saying it was a "terrific shooter, exceeding our expectations and giving us the first viable alternative to the stellar Sony NEX-C3."
Awarding the GX1 4.5 stars out of 5, ePhotoZine praised the camera's solid build quality, fast focus and low noise, adding that it made up, "an extremely compact and responsive camera with great controls."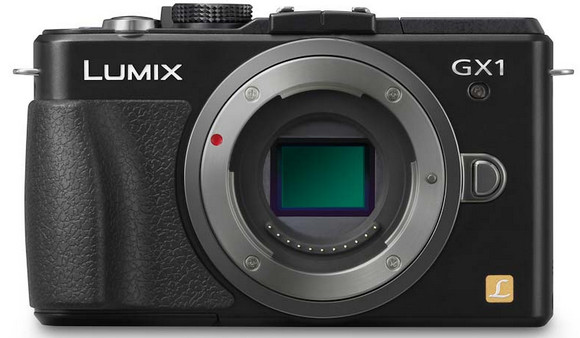 Is it a Olympus OM-D beater?
Although we're very much stoked by this camera, we're still finding our heart being distracted by the gorgeous retro lines of the Olympus OM-D, while our head suggests we take a closer look at the higher quality images offered by larger sensor snappers like Sony's NEX-5N, NEX-7 and Samsung's NX200 APS-C.
The Olympus OM-D is still tugging at our heart-strings though because we love its old school looks, tough body, flip out LCD, built-in viewfinder and all-weather abilities, but the GX1 serves up a more compact offering with a beautifully intuitive interface.
And it's also a lot cheaper too.
Decisions, decisions….
If you think the GX1 is the one for you, get a-buying on the Amazon links below!
Panasonic Lumix DMC-GX1EB-K 16MP Compact System Camera Body Only
Panasonic Lumix DMC-GX1XEB-K 16MP Compact System Camera Kit with H-PS14042E-K Power Zoom Lens