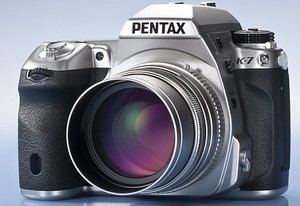 Pentax is launching a limited-edition silver version of its Pentax K-7 digital SLR camera, serving up a delicious old school look sure to get traditionalists twitching towards their wallets.
The Pentax K-7 Limited Silver updates the existing K-7 body with a new silver and black finish backed by a reinforced  "highly shock and scratch resistant" LCD glass cover, said to be tougher than what you'll get on the standard K7.
Pentax is also bigging up a new exclusive "golden section ratio" focusing screen, but apart from that you'll be getting a standard K-7 camera in a nattier outfit.
This means you'll be enjoying a 14.6 megapixel APS-C CMOS image sensor, tough magnesium alloy weather-sealed body, high-res 3.0" LCD with live view function, 100% pentaprism viewfinder, 11-point AF, 77-segment metering, and a double whammy of in-camera shake reduction and dust reduction.
There's also a 5.2 frames-per-second burst mode and a 1/8000 second top shutter speed for grabbing action shots,  electronic level and composition adjustment functions, in-camera HDR capability, and a high-definition movie mode with external microphone jack.
Pentax is rightly proud of the K-7's video capabilities and recently commissioned two production companies to knock out a couple of entertaining short films, shot exclusively on the dSLR.
Pricing and availability for the Pentax K-7 Limited Silver is you to be murmured – an announcement is expected at the end of the month –  but the run has been set at just 1,000 units.
Here's the full press release:
PENTAX K-7 Limited Silver

A silver-colored, limited-edition model of the high-performance digital SLR camera

HOYA CORPORATION PENTAX Imaging Systems Division is pleased to announce the launch of the PENTAX K-7 Limited Silver digital SLR camera. To be marketed in a limited quantity of 1,000 sets, this special-edition model comes with several features that distinguish it from the original black-colored PENTAX K-7 (launched in summer 2009), including a silver-colored body and a "golden section ratio" focusing screen.

Major Features of PENTAX K-7 Limited Silver

In response to the enthusiastic requests from many devoted PENTAX lovers, the camera body is finished in silver. It is identical with the color of the high-performance FA Limited interchangeable lens series, a family of lenses designed for the highest level of image description. Because of this, the K-7 Limited Silver is the perfect stylistic match for any FA Limited-series lens. Set in lower area of the camera body, the SR (Shake Reduction) lettering is in a special gold color that stands out proudly against the subdued black-colored, leather-like finish.
The K-7 Limited Silver comes equipped with an exclusive "golden section ratio" focusing screen. Since the guiding lines and points are curved on the screen, the photographer can swiftly and effortlessly compose a perfectly balanced image in keeping with this classic design concept.
The LCD monitor on the camera's back panel is protected with a reinforced glass plate, which is highly shock- and scratch-resistant. This protective plate makes the K-7 Limited Silver even more durable and dependable than the original K-7, especially under demanding shooting conditions. Thanks to this extra protection, the photographer can concentrate on picture-taking in challenging outdoor assignments.
The camera firmware has been upgraded to the latest version (Ver. 1.03) to make the camera's lens compensation function operable with the FA Limited-series lenses.
The latest version (Ver. 4.10) of the PENTAX Digital Camera Utility 4 image processing software is included in the camera package.

Note: The specifications of the camera body are identical with the original K-7, except for the focusing screen and firmware.