To show off the HD video shooting abilities of their Pentax K-7 digital SLR cameras, Pentax commissioned two production companies to knock out a couple of entertaining short films.
Shot entirely at night in Denver, Colorado, the all-action Uncle Jack movie was created by film-maker Jamin Winans and Futuristic Films and features a mad clown, a crazed woman, magic pills, gunshots and lots of driving (sounds a bit like a night out in Brixton to us).
The quality is excellent throughout, although with a vast arsenal of lenses at their disposal and some highly professional film shooting and editing techniques on show, we wonder if regular consumers may be a tad disappointed when they try and create their own movie on a rather more humble selection of  lenses.
The lens used to shoot Uncle Jack were the smc PENTAX DA Star 16-50mm F2.8 ED AL (IF) SDM, the smc PENTAX DA 10-17mm F3.5-4.5 ED (IF) Fish-Eye and the smc PENTAX DA Star 60-250mm F4 ED (IF) SDM.

The second movie, The River, was made by All Terrain Studios, and "shares a typical day in the life of a snow bum who lives for his daily terrain park fix".
Naturally, there's lots of dramatic scenes of snowy Rocky Mountain landscapes, stunning blue skies and snowboarders catching wicked air (or whatever it is they do), and once again the skill of the film-makers shine through, using techniques that would be well beyond the capabilities of the average  Pentax K-7 user.
At least the lens roll-call was a little more restrained, with the movie being being 'primarily filmed' (whatever that means) with the smc PENTAX DA 15mm F4 ED AL LIMITED, the smc PENTAX DA Star 55mm F1.4 SDM and the smc PENTAX DA Star 300mm F4 ED(IF) SDM lenses.
They're great. But what's the point?
Although we  enjoy the technology-fix of seeing this new breed of video-recording dSLRs being pushed to the limit, we're not entirely sure what the point of these movies is.
If you're seriously interested in film making, you'd be far better off buying a dedicated movie camera, because to match the work seen here you'd have to spend an absolute fortune in extra lenses and still end up with a bulkier and more cumbersome outfit.
Anyway, see the movies for yourself here: http://www.youtube.com/pentaxian1 and if you're suitably impressed, bag yourself an excellent Pentax K7 DSLR body
off Amazon for around £830.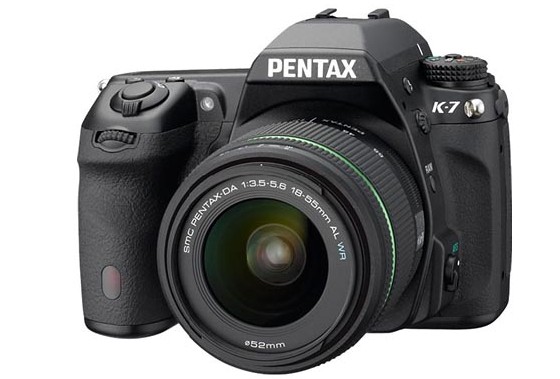 Pentax K-7 specs
Dimensions – 131 x 97 x 73 mm
Weight – 670 g
Optical sensor – CMOS
Resolution – 14.6 megapixels
Light sensitivity
ISO 100 to ISO 3200; ISO 6400
Focusing
11-point TTL phase-match AF with 9 cross-type sensors (SAFOX VIII)
Shutter speed – 30 to 1/8000 second
Creative controls – Yes
Other features: 77 segment metering
Viewfinder type – Pentaprism
Type of flash – Pop-up
Video out – Yes
Storage – Secure Digital, Secure Digital HC
Remote control – Yes
Hotshoe – Yes
Image Capture
Still image format – JPEG, RAW
Max. image resolution – 4672 x 3104
Digital video capture – No
Digital video format – AVI
Max video resolution – 1280 x 720 @ 30 fps
Audio capture – Yes
Face recognition – Yes