Aimed at fumbling newbies, photographic Johnny-come-latelies, and tech-challenged dads who perhaps fancy taking to the streets with an attention-grabbing fire engine red camera around their necks is the new Pentax K-r DSLR camera.
Packing, a compact, lightweight body with a stainless-steel chassis, the mid-priced dSLR features a 12.4 megapixel sensor, 11-point AF system and an ISO sensitivity that hurtles northbound into the low-light realms of ISO 25600.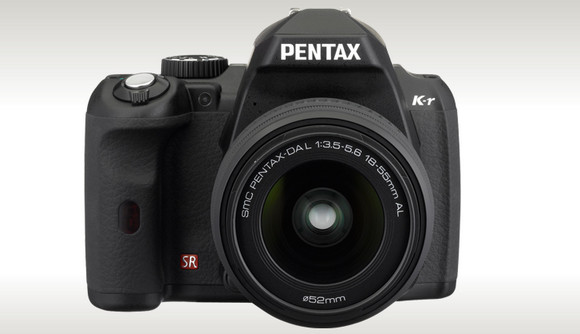 Happily also available in more sedate black and white finishes, the camera can record movies at 720p (1280 x 720 pixels at 25 frames per second), and rattle out stills at 6fps continuous shooting with Shake Reduction onboard trying to keep things free from the wobbles.
Around the back, there's a high-resolution 3.0-inch LCD monitor, with the K-r powered by the supplied lithium-ion battery or AA-size batteries.
The PENTAX K-r will be charging into the UK next month and be available in two kits, with the 18-55mm DAL lens kit costing £599.99, and the 18-55mm DAL and 50-200mm DAL lens bundle retailing for £699.99.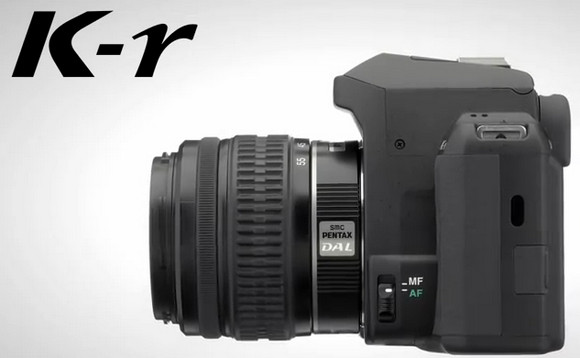 Key features:
•    Available in stylish colors including traditional black, classy white, and PENTAX red.
•    High quality 12.4 megapixel CMOS sensor captures detailed images with high color accuracy and low noise.
•    Large 3 inch LCD with 921,000 dots of resolution for responsive Live View and detailed image/video review.
•    Compact and lightweight body is exceptionally comfortable to use, and highly portable.
•    Powerful automatic shooting modes, such as Auto Picture mode and various scene modes, take the guesswork out of taking great pictures.
•    Fast 6 FPS framerate captures quick action in dynamic environments.
•    Highly responsive and accurate 11 point SAFOX IX autofocus system includes a dedicated AF assist lamp.
•    High sensitivity 100-25600 ISO range features improved noise performance for high quality image capture even in extremely challenging lighting.
•    Li-Ion battery compatibility can also be adapted to use AA batteries providing the ultimate flexibility for both field use and travel.
•    Capture widescreen HD video with sound at 720p and 25 FPS, using any PENTAX lens.
•    A maximum 1/6000 second shutter speed freezes fast action without subject movement blur.
•    A viewfinder focus point indicator confirms the area of focus in an image.
•    Improved in-camera HDR image capture features a Night Scene HDR mode, more blending options, and better pixel registration for easier operation without a tripod.
•    A wide range of in-camera image processing and special effects filters encourages the photographer's artistic expression.
•    Infrared data transfer (IrSimple) includes file transfer and a unique camera-to-camera image comparison mode.
•    SDXC memory card compatibility (via firmware update).
Pentax Press Release
Compact, lightweight, multi-features…
It's the mid-range digital SLR camera

PENTAX Imaging Systems announces the launch of its latest digital SLR camera – the K-r.  Encased in a compact, lightweight body, this new model combines simple, user-friendly functions with a wide array of advanced features, designed to enhance the fun and excitement of digital SLR photography.

Developed to be a mid-range model targeted at digital SLR novices and family users, the PENTAX K-r offers an assortment of features and functions that make it easy for everyone to effortlessly capture the high-quality images people expect of a digital SLR camera.

In addition it comes equipped with a host of handy tools that help create more personalised, creative images, including:
• high-quality image reproduction with approximately 12.4 effective megapixels
• HDTV-proportion movie recording
• high-speed continuous shooting at approximately six images per second
• super-high-sensitivity shooting at ISO 25600 (via a custom function)
• a large, easy-to-view 3.0-inch high-resolution colour LCD monitor

The K-r boasts outstanding performance and versatility, almost the equivalent of more advanced digital SLR cameras, while allowing the photographer to easily deal with different photographic requirements.  Its dual-power-source design offers a choice between the standard rechargeable lithium-ion battery and a set of AA-size batteries.

It is also compatible with the IrSimple™ high-speed infrared data transmission system for wireless data transfer to IrSimple-compatible devices, and for swift image data exchange.

What are its key functions?
1. High-quality, true-to-life image reproduction: The K-r incorporates a new-generation CMOS image sensor with approximately 12.4 effective megapixels. It also features the high-performance PRIME (PENTAX Real Image Engine) II imaging engine to ensure accurate and high-speed data processing equal to that of upper-level models

2. Compact, lightweight body: Despite the incorporation of the large 23.6mm x 15.8mm image sensor, the K-r sports a compact, lightweight body, thanks to a trim, stainless-steel chassis, a downsized in-body shake reduction mechanism, and state-of-the-art, high-density packaging technologies that ensure space-efficient positioning and layout of the camera components

3. High-speed continuous shooting at approximately six images per second: The shooting mode records as many as 25 images (in JPEG recording format) in a single sequence at a maximum speed of approximately six images per second — the fastest of all entry-class models

4. High-precision AF system: The K-r's high-precision, wide-frame SAFOX IX autofocus system features 11 sensor points (with nine cross-type sensors positioned in the middle) for pin sharp focusing. Spot beam is also available for difficult lighting situations.

5. Bright, clear optical viewfinder: Thanks to the combination of PENTAX-original finder optics and the renowned Natural-Bright-Matte focusing screen, the K-r's viewfinder offers a bright, clear subject image at 0.85X magnification and a 96% field of view

6. Large, easy-to-view 3.0-inch LCD monitor with wide-view design and approximately 921,000 dots: High-resolution colour LCD monitor with approximately 921,000 dots.  Its wide-view design assures a clear view of the monitor image from approximately 170 degrees horizontally and vertically

7. Versatile dual-power-source design: Powered by a standard rechargeable lithium-ion battery or four AA-size batteries using optional AA Battery Holder D-BH109

8. PENTAX-original SR mechanism for sharp, blur-free images: Features the PENTAX-developed SR (Shake Reduction) mechanism, producing sharp, blur-free images even under demanding conditions prone to camera shake; compatible with the full range of Pentax lenses

9. Innovative image-processing functions to produce distinctive photographic expressions: Custom image function for distinctive finishing touches/ Versatile digital filter function/ Cross process mode with three options/ Upgraded HDR (High Dynamic Range) function

10. High-speed infrared data transmission system: The first PENTAX digital SLR camera equipped with the IrSimple™ high-speed infrared data transmission system

11. High-quality, HDTV-proportion movie recording at 1280 x 720 pixels and at 25 frames per second: True-to-life movie clips in 16:9 high-definition TV proportions (1280 x 720 pixels) at a frame rate of 25 frames per second

In addition it has…
• DR (Dust Removal) mechanism, to shake dust off the CMOS image sensor
• User-friendly layout of essential control buttons and levers, all positioned on the camera's grip side for quick, effortless access by the photographer
• Auto Picture mode, for effortless, automatic selection of the most appropriate shooting mode, even during Live View shooting
• Eleven scene modes, including a new Night Scene HDR mode
• Versatile white balance control, featuring a new CTE mode designed to emphasise the dominant colour components of the captured images
• Automatic compensation of distortion and lateral chromatic aberration (available only with DA-,DFA- and FA Limited-series lenses)
• PENTAX Digital Camera Utility 4 software package, with RAW-data processing and browser applications

The PENTAX K-r will be available from October 2010

Recommended Retail Price:
• K-r + 18-55mm DAL – £599.99
• K-r + 18-55mm DAL + 50-200mm DAL – £699.99