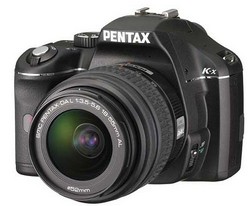 Pentax have released a firmware update for their affordable Pentax K-x DSLR camera which shuffles in a few minor tweaks and the odd feature-ette.
The firmware update to version 1.01 adds three effect shooting functions, lobs in Cross Processing function support to the green button and claims to improve the accuracy of the Battery Level Indicator.
Pentax also say that the update offers "improved stability for general performance",  although it doesn't get too specific on that score.
You can download the latest update from here, or if you 're wondering what the Pentax can do, check out the promo video headed up by the enthusiastic chappie below. We think it's an excellent camera for the price.