Just in time for the World Cup – and the inevitable English disappointment – Philips will be wheeling out two new Freeview HD set-top boxes, snappily named the Philips HDT8520 HD PVR and DTR5520 HD receiver (who dreams up these awful names?).
The £299 HDT8520 HD PVR does all the usual PVR stuff, letting viewers record and play back programs, pause or rewind live TV with a three-hour buffer limit, with the twin tuners letting TV addicts feast on one programme while recording another.
There's a 500GB hard drive onboard, giving up to 250 hours of recording time in standard definition or around 125 hours in HD, ably supported by an eight-day EPG.
Rounding off the feature set, there's 1080p HD upscaling, Dolby Digital 5.1 audio output, USB 2.0 and Ethernet ports for enhanced connectivity, and low power consumption.
Philips are also shunting out their Pace-designed DTR5520 HD receiver for £159 in mid-April – check out the specs for both boxes below.
Technical Specifications
Philips HDT8520 Freeview HD PVR
– Reception and recording of Freeview and Freeview HD channels and programs
– Broadcast Resolution: 720p, 1080i
– Up to 1080p upscaling
– Automatic adaptation to TV set preferred resolution
– Automatic installation
– Up to 1000 channels
– Parental control (Child lock)
– Dolby Digital 5.1 audio output
– USB 2.0 output
– Capacity: 500GB
– Recording time:
– In MPEG2: up to 250 hours
– In MPEG4: up to 125 hours
– Pause Live TV with 3 hour time shift buffer
– Up to x1/4 slow motion and x 128 fast forward / rewind
– Easy record programming via 8 day Program Guide
– Extra low noise levels in active and recording modes
– Power consumption: 15 W typical
– Standby: <1 W
– Dimensions: (mm) 240 x 65 x 210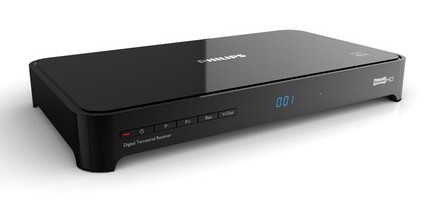 Philips DTR5520 Freeview HD Receiver
– Reception of Freeview and Freeview HD channels
– Broadcast Resolution: 720p, 1080i
– Up to 1080P upscaling
– Automatic adaptation to TV set preferred resolution
– Automatic installation
– Up to 1000 channels
– Parental control (Child lock)
– Dolby Digital 5.1 audio output
– USB 2.0 output
– Power consumption: < 6 W
– Standby: <1 W
– Off mode: <0.3 W
– Weight: 1.6 Kg
– Including packaging: 2.3 kg
– Dimensions: (mm) 290 x 37 x 160