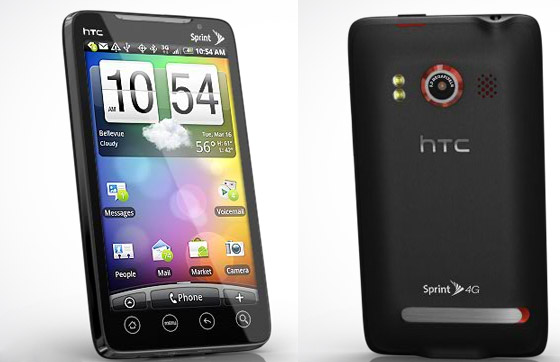 US network Sprint has announced the fruits of its partnership with HTC and Google at the CTIA 2010 press event -and it looks an absolute beaut.
Say hello to the world's first fully-integrated 4G consumer handset, the EVO 4G.
Sporting a mahoosive 480×800 4.3″ TFT LCD screen, the EVO packs a 1GHz Snapdragon processor, Bluetooth, 3.5mm jack and a microSD card slot.
Running Android 2.1 with Sense, the phone's feature set is second to none with GPS, a digital compass, Wi-Fi, 1280 x 720 pixel HD video recording, proximity and motion sensors, mobile HDTV and all sorts of social networking shenanigans bolted on.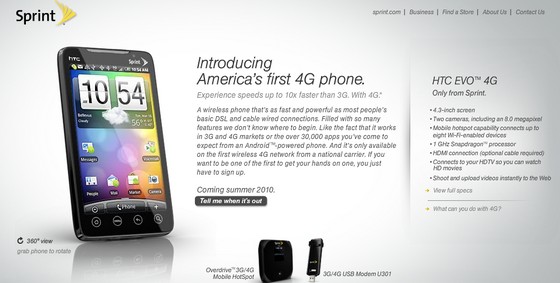 There's two cameras onboard, with the main one packing a hefty 8 megapixel sensor (the second one is a front facing 1.3MP job for video chat),  a custom web browser with Flash support, YouTube HQ support, and you can hook up the handset to your TV via the optional HDMI cable.
There's also the ability to use the phone as a mobile 3G/4G hotspot for connecting up to eight Wi-Fi enabled devices – and for that video watching, there's a kickstand at the back.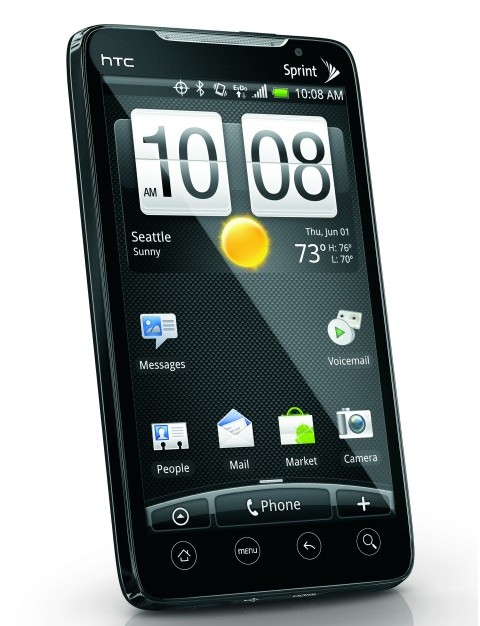 The phone is set to hit America this summer, but there's no news of when us Brits can get our chip-stained paws on this glorious beast.
Killer?
What's that we hear?  "iPhone killer"?
Well, unless Apple come back with something that's a bit more substantial than their usual incremental iPhone upgrades, we know what our next handset is going to be – and it won't have an Apple on the back.
Press Release:

HTC EVO 4G
The ultimate multimedia experience at Sprint 4G speeds
The world's first 3G/4G Android handset, exclusively from Sprint, HTC EVO 4G, offers a rich mobile Internet experience with a fully integrated suite of services built on the AndroidTM 2.1 platform. HTC EVO 4G includes a blazing-fast 1GHz Qualcomm Snapdragon processor, the award-winning HTC Sense user experience, an 8.0 megapixel auto-focus camera with HD-capable video camcorder and a forward-facing 1.3 megapixel camera.
The large vibrant 4.3 inch display, built-in kickstand, 3.5 mm headset jack and HDMI output make HTC EVO 4G an unparalleled platform for wireless entertainment. Download music, pictures, files, or videos in seconds – not minutes – and watch streaming video on the go on a network with download speeds that are up to 10 times faster than 3G speeds.
With built-in mobile hotspot functionality, HTC EVO 4G also allows up to eight Wi-Fi-enabled devices, including laptop, camera, music player, video player and any other Wi-Fi-enabled device, to enjoy the benefits of 4G speeds on the go.
PRODUCTIVITY
* 3G/4G capability
* Qualcomm Snapdragon QSD8650 (1GHz) processor
* 4.3" capacitive display with pinch-to-zoom and tactile feedback
* World-class HTML browser – bandwidth and quality that rival that of netbooks
* Android 2.1, with access to more than 30,000 apps on Android Market
* Google mobile services including Google Search, Google Maps, Google Talk, Gmail, YouTube , and syncs with Google Calendar
* Access to Google Goggles™ to search with pictures instead of words
* Sprint Navigation, with turn-by-turn driving directions and 3D maps
* Updated HTC Sense, award-winning user experience, which includes Friend Stream to integrate Facebook, Twitter and more into a single flow of updates
*Visual voicemail
* Messaging – personal and business email, IM and text messaging
* 3G/4G Mobile Hotspot capability – connects up to eight Wi-Fi enabled devices
* 4G data speeds (WiMAX) – peak download speeds of more than 10 Mbps; peak upload speeds of 1 Mbps; average download speeds of 3-6 Mbps.
* 3G data speeds (EVDO Rev A.) – peak download speeds of up to 3.1 Mbps; peak upload speeds of 1.8 Mbps; average download speeds of 600 kbps-1.4 Mbps.
ENTERTAINMENT
* 8MP autofocus camera with dual LED flash and 1.3MP front-facing camera
* High-quality video streaming and downloads at 3G and 4G data speeds
* Capture and share HD-quality video (720p) from your phone
* Output pictures, slides and videos in HD quality (720p) via HDMI cable (sold separately)
* Live video sharing with Qik
* Built-in kickstand for hands-free viewing
* Media player with 3.5mm stereo headset jack
* FM radio and Amazon MP3 store
* Sprint applications including Sprint TV® and NASCAR Sprint Cup Mobile(SM)
* Bluetooth 2.1 with A2DP Stereo and EDR
* Built-in WiFi: 802.11 b/g
* Digital compass, G-Sensor, proximity sensor, light sensor, GPS
* Expandable memory: 8GB microSD card included; supports up to 32GB
SPECIFICATIONS
* Dimensions: 4.8″ x 2.6″ x .5″ (LxWxT)
* Weight: 6 ounces
* Main display: 4.3" WVGA (800×480) 65K colors
* Standard removable 1500mAh Lithium (Li-on) battery
* Memory: 1GB ROM, 512MB RAM
[Sprint]