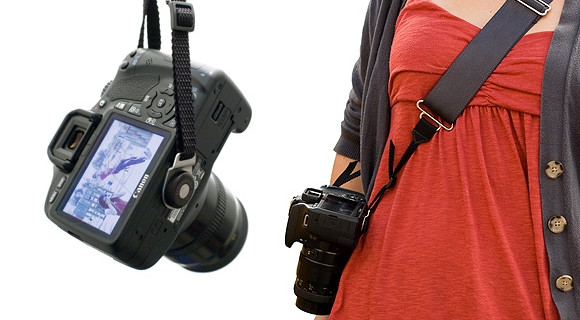 If you have a fairly large lens attached to your dSLR, then you inevitably end up walking about with a large appendage thrusting from your loins, with the camera straps keeping the camera inconveniently horizontal .

Carrying a big-lens SLR using the traditional straps not only makes your camera awkward to carry and hugely conspicuous, but if you're in a bit of a hurry your tummy ends up getting a pounding as the thing bounces to and fro.
To get around this, we always wore the strap over our shoulder and twisted the camera so that the lens pointed down, but this can make it hard to pull the camera up quickly into the shooting position.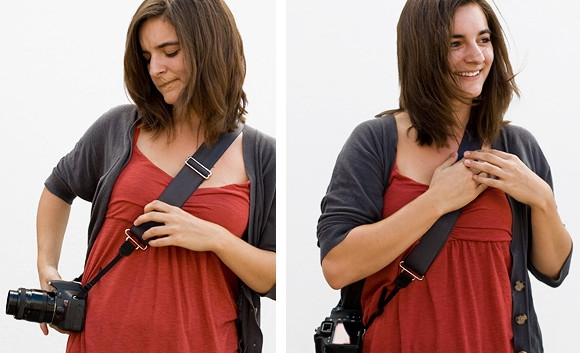 A cunningly simple invention called the Strap Buddy elegantly solves this problem by screwing one end of the camera strap into the tripod thread at the bottom of your camera. The screw allows the strap to move freely, so it won't snag when you start swivelling it around.
As a result, the camera naturally points downwards, but is still easily accessible for quick grab shots.
We've been using it for the past few weeks and found it a huge improvement, although the lack of a zoom lock on our Nikon 18mm-200mm lens means that the lens keeps extending itself out.
It's a slight annoyance, but still better than strutting around town with a man camera dildo sticking out, so we'll be keeping it on our Nikon. Of course, it's not going to be much use to  regular tripod users.
Simple and cheap
Although you might correctly observe that the solution is so ruddy simple, you could easily make one yourself, the thing only costs £9, and we think that's a pretty small investment for the convenience. Recommended.
Photojojo Camera Strap Buddy Ratings:

– Build


– Design


– Value for money


– Overall
Buy Camera Strap Buddy on Amazon