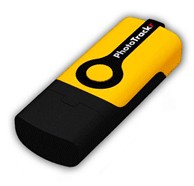 Perambulating photographers looking to score a bit of geotagging action as they amble about may be interested in taking a look at the GiSTEQ PhotoTrackr Mini GPS tracking device.
Unlike some of the bulkier beasts we've seen in the past, this is one GPS gadget that'll slip into the tightest of lycra-tight pockets, measuring 3.05 (L) x 1.1 (W) x 0.7 (H) inches – roughly the size of a USB key.
Combined with the bundled PhotoTrackr software (which syncs the time that photographs were taken with GPS coordinates), photographers can get the precise locations of their shots, including coordinates and the approximate address.
Of course, the accuracy of the unit depends on the camera time being correctly synchronised with GPS unit, so the software comes with tools for this.
The data is transferred to the computer via an included USB cable and users have the choice of embedding the GPS information into the EXIF tag of the pictures, or just saving the information in the PhotoTrackr software.

The company claims that the unit will pinpoint photo locations to 'within a few feet,' and there's the option to directly upload the geotagged images up to  Flickr or Picasa.
Jog on
Runners, cyclists, joggers and walkers can also use the SportTracks feature to track their progress as they strut around town getting their towelling headbands sweaty.
Pre-orders for the PhotoTrackr Mini are being accepted now at $69, with shipments due in November. We'll get in touch and ask them about UK availability.
Features
Share your photos with family and friends with location mapping in PhotoTrackr™ software. (With integrated Google Maps.)
Integrated with Flickr™ / locr / Picasa Web Album / SmugMug for easy online photo sharing.
Keep track of your digital photos with satellite precision.
Display or playback trip routes with the PhotoTrackr software.
Compatible with ALL digital cameras
Light weight & low power consumption.
Compatible with Mac
Automated photo slideshow function.
Geo-tagged function enables image-sharing in 3rd party Geo-photo sharing websites.
Capable of writing GPS info to the pictures and exporting NMEA and GPX info from the GPS log files
Google Earth support (PhotoTrackr program is able to export GPS log files and pictures to google earth format)
Multi-language support
Support RAW format (optional)
Built-in Rechargeable Li-ion Battery
SportTracks Support (optional)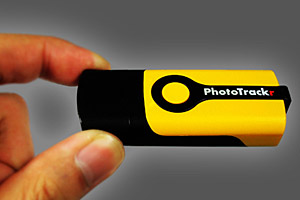 Specs:
Data Storage: 2MB flash memory, store up to 250K data records
GPS channel support 65
GPS Sensitivity: -160dBM
Cold Start/Warm Start/Hot Start: 30/30/1 seconds
RAW photo support: Optional
Mac Support: YES
Antenna: built-in antenna
Battery Life: 18 Hours
Rechargeable Battery: Yes, built-in rechargeable Li-ion battery, 1100mAh
USB GPS Receiver:YES
Connection to PC: USB
USB Power: YES
Power Saving: Not Available
Waypoint Tagging: YES
Built-in Speaker : Not Available
Weight: 0.53 oz with battery
Dimensions: 3.05 (L) x 1.1 (W) x 0.7 (H)