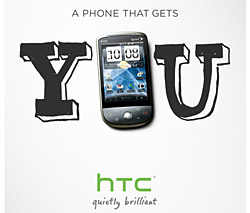 Mega mobile manufacturer HTC has started a promotional blitz for its range of smartphones, and they're rather slick affairs too.
Designed to tie in with the video campaign is their first print advert, which, as you can see, insists that HTC phones are ones that 'get you' (but not, we trust, as in: "O0000oooh! Get you!").
HTC have been knocking out high quality smartphones for some years now, with their recent tally including  the much loved Hero, the spec-touting HD2, and Tilt2 with the Dragon and Droid Eris looming on the horizon,
The company have carved out a reputation for producing both innovative Android handsets and for managing to paper over the cracks of Windows Mobile clunky interface with their seductive'n'smooth Sense UI, which is pushed hard in the adverts.
The result of a collaboration with Los Angeles-based advertising agency, Deutsch LA Inc, HTC insist that the YOU campaign reflects their "commitment to focus on people, their needs and how they work and live to ensure that HTC devices suit them," but we say: "enough of the corporate yacking, squire –  let's see the videos!".
And here they are. Especially for you.