We're no strangers to throwing down tunes at Wirefresh (we run our own London club after all) but Pioneer's new DJM-2000 is the kind of kit we can only dream of. And then probably need a change of sheets in the morning.
The four-channel digital mixer is dominated by a 5.8-inch multitouch screen allowing DJs to employ touch panel effects and check them visually while 'bubble scratching' down some 'massive' tunes.
Designed to cwtch up with the matching CDJ-2000 players and sporting enough knobs, sliders and buttons to control the Large Hadron Collider, this mixer is not aimed at the likes of Ron's Mobile Disco (every Saturday at the Dog & Duck, Grimethorpe, ladies in free), a fact reflected by the decidedly upmarket $3,000 price tag.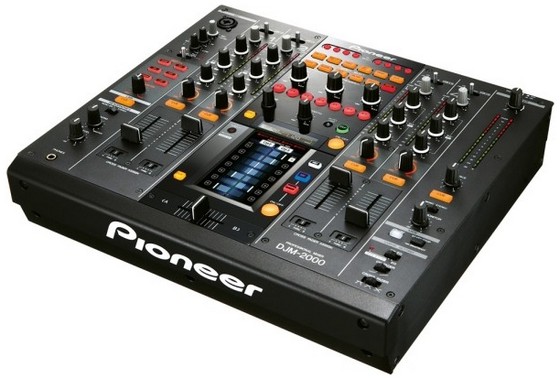 For pros though, the DJM-2000 serves up a compelling package, with an integrated audio effects suite packing six dedicated processors, multitouch music control, six kinds of effects (Noise, HPF, LPF, JET, ZIP & Crush), three kinds of performance modes ( Frequency Mix, Sidechain Remix and Evolved Beat Effects), plus a host of other hi-tech goodies.
Top notch DJs
Pioneer's top of the range mixer was developed with the help of a number of international DJs like James Zabiela, Roger Sanchez, Eddie Halliwell, Tom Middleton, the Swedish House Mafia, Paul Woolford, John '00' Fleming and Radio 1's  Kutski.
We guess our mixer must have got lost in the post.
The DJM-2000 will be debuted at the MixMove Show in Paris on 14th March and at Musikmesse, Frankfurt on 24th March, with DJs being able to get their hands on this beauty in June.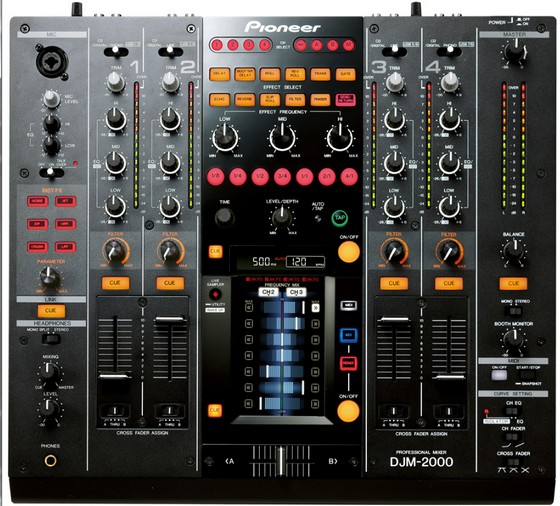 Main features

Interface layout allows more originality in arranging music
We have laid out the interface in the centre of the mixer to give intuitive performance. DJs can add arrangements to music by not just rotary control, but via Tap and the new Trace method within the three Effect sections. Plus, the three Effect sections can be used in combination, giving the DJ all the more scope for original arrangements.
5.8 inch Full-Colour, Multi-touch Display
Our industry first 5.8-inch large LCD multi-touch panel display means the DJ can see and hear the result of effects, while easily and intuitively operating the mixer like no other before.

Three Performance Modes
We have added three kinds of performance modes: the Frequency Mix enables a more precise music mix, the Sidechain Remix has seven kinds of dynamic effects, and the four types of MIDI mode allow the DJ to use a computer – making every DJing scenario possible. The unique new EQ cross fader takes frequency mixing to a whole new level.

Evolved Beat Effects manipulate every frequency and alter sound to the beat
The new DJM-2000 is also equipped with an evolved Beat Effect, a highly acclaimed function of the DJM series. Effect Frequency allows the DJ to control the level of effects to add to each frequency band, so an echo can be added just to the vocals, or the hi-hat rhythm can be doubled, providing flexibility to perform like never before. Physical buttons have also been added for selecting effects and beats, making it possible to jump between different measures instantly.

6 INST FX on every channel with rotary control
The DJM-2000 also boasts six kinds of effects (Noise, HPF, LPF, JET, ZIP & Crush), with an HP and LP Filter knob for each channel. The Parameter knob allows for fine-tuning of each effect. Innovative effects such as Noise (a white noise generator) when combined with new beat effects such as Gate, Slip Roll or Multi-Tap instantly unveil powerful remixing possibilities.

Connect 4 CDJ-900/2000 and 2 rekordbox laptops via ProDJ Link
DJ players (CDJ-2000 & CDJ-900) that are compatible with ProDJ LINK and a computer with rekordbox installed can be connected to the mixer via a LAN cable which enables music to be shared across all 4 players from a single source.

* Storage: the music files and control data saved on an SD card or USB storage device can be shared and played on up to four CDJ-2000 or CDJ-900 players via this mixer.
* rekordbox link: the music files and control data of rekordbox can be read and played on CDJ-2000 or CDJ-900 players via this mixer.
* Live Sampler: sound input from MIC or sound output from the Master can be recorded to this mixer and played on a CDJ-2000 or CDJ-900. Words recorded from the MIC can be immediately used for scratching or for other new performances on the linked CDJ's.
* Link Monitor: the music files in rekordbox can be monitored on headphones. This allows the DJ to check the song before playing it on a player, thus making it a smooth-flow for selecting and playing a song.
* Status Information: The status of each connected channel (On-air status, channel number, etc.) is sent to the connected CDJ-2000 or CDJ-900. The colour of the JOG wheel light changes for the current on-air channel, allowing the current status to be checked at a glance during DJ play.
* Convenient for club or studio as it is 19-inch rack mount ready (meets EIA standards) when connected to separate rack ears (not included).

Internal USB Audio/Midi Interface
The mixer is equipped with a USB Audio Interface, which allows the audio signal of music playing on a computer to be inputted to the DJM-2000 via a USB connection with the computer. This makes it possible to use a computer, even without an external sound card.

From one computer up to a maximum of four sources of audio signal can be assigned to each channel. It is also possible to output the master output to the computer. This makes it extremely convenient to record the mixed audio.

High-quality Sound Design Achieves Ideal Club Sound
The DJM-2000 uses a balanced output amp and its completely discrete structure allows the sound quality in each bandwidth to be adjusted. We pursued the ideal club sound by painstakingly creating a sound down to the very details of how sound resonates. By using a high fidelity, balanced hybrid op-amp and a perfectly balanced output circuit in the analogue processing, they achieved a reduction in noise with a dynamic range of 107dB with 0.004%THD, providing a clear, powerful sound.

Isolator EQ on every channel
Equipped with a switching 3-band EQ and 3-band Isolator on each channel the EQ provides control of +6dB to -26dB & the Isolator gives +6dB to -∞dB.

Other Features

A digital IN on each channel permits input of an audio signal with no deterioration in sound quality.
Connection with a CDJ-900/CDJ-2000 with ProDJ Link or Control Cable will allow the player to start playing music by switching faders ("Fader Start Play").
A Talkover function lowers the volume of the music when there is input from the Mic.
All channels are equipped with a Peak Level Meter for checking the input levels at a glance of the sources being input to each channel.
Our Crossfader Assign function allows the flexible assignment of the input on each channel to the crossfader.
A Fader Curve Adjust function allows changes to crossfader and channel fader curves.

Specifications
Number of Channels AUDO 4-CHANNELS, MIC, 1-CHANNEL
Input Terminals CD / LINE x 6 (RCA)
PHONO x 2(RCA)
DIGITAL IN x 4 (COAXIAL)
MIC X 1 (ON TOP, XLR & ¼ INCH GENERAL- PURPOSE PHONEX1)
Output Terminals MASTER OUT x 2 (XLR x 1, RCA x 1)
BOOTH OUT x 1 (¼-inch phone)
HEADPHONE MONITOR OUT x 1 (ON TOP, ¼ INC PHONE)
REC OUT x 1 (RCA)
DIGITAL OUT×1(COAXIAL)
Other Terminals SEND x 1 (1/4 INCH PHONE)
RETURN x 1 (1/4 INCH PHONE)
MIDI OUT x 1 (5P DIN)
CONTROL OUT x 2 (3.5mm mini-jack)
USB-B Port x 1
LINK TERMINAL x 6
Sampling Rate 96kHz
D/A Converter 32-bit
A/D Converter 24-bit
Frequency Response 20Hz to 20kHz
Total Harmonic Distortion 0.004% or less
Signal-to-Noise Ratio 107 dB (LINE)
Headroom 19dB
Power Source 220-240V 50/60 Hz
Weight 8.5 kg

[Pioneer]