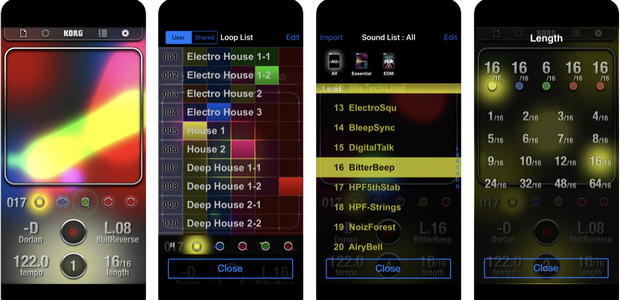 Usually priced at a hefty premium, Korg have made their fascinating Kaossilator app for iOS and Android free of charge for a limited time.
Presumably in response to the coronavirus crisis (they say it's to "help you with a musical way to occupy your mind"), the 'dynamic phrase synthesizer' lets you create music simply by moving your finger across the touchscreen.
Here's how they describe it:
KORG Kaossilator for Android" is a synthesizer app that lets anyone enjoy full-fledged instrumental performance simply by freely moving their finger across the touch panel. From electronic sounds to acoustic instruments and drums, you can play a wide range of sounds with a single finger. Also provided is a sequencer that's indispensable for creating songs, so you can create tracks by recording and layering your performances. This easy yet full-fledged instrumental experience is now available on your Android smartphone.
App features:
– Perform using touch gestures: Kaossilator uses the unique X-Y interface. Create melodies and phrases simply by stroking, tapping, or rubbing the touch screen with your finger.
– 150 diverse sounds covering many music styles: Use the 150 built-in sounds to perform and produce a broad range of dance music styles including EDM, hip-hop, house, techno, dubstep, nu-disco, and electro.
– Scale/Key feature eliminates any wrong notes: The Scale setting ensures that the notes of your performance will stay in the key you've specified. Choose from 35 different scales including chromatic, major, minor, and even blues scales.
– Loop sequencer for easy track-making and live performance: The built-in loop sequencer lets you layer up to five musical parts. By recording sounds such as synth, bass, chords, sound effects, and drums into each part, you can quickly complete original loop tracks that are distinctively your own.
A recent Android review was full of praise:
A simply stunning instrument for all. Takes a bit of headscratchin at 1st to be expected. E.g saving loops as a sequence to record, but we'll worth having a go & rewarding. The finger pad is a MASTERSTROKE. Complex jazz progressions & never a bum note. I cannot fathom why korg offers this free. The hardware version is £280 I cannot praise this enough in short terms.
Download the app