Construction is due to start next year on what will become the world's longest marine causeway, including a bridge measuring up at a massive 13 miles long.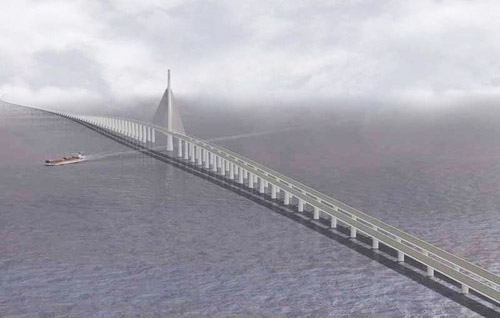 The monster bridge will connect Qatar and Bahrain, with the project costing an estimated $3 billion, which is an awful lot of wonga.
Chummily called the 'Qatar-Bahrain Friendship Causeway', the bridge is expected to take up to five years to complete.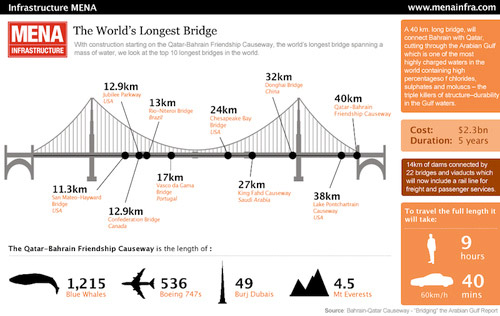 As you can see from the near-surreal comparisons above, the Qatar-Bahrain Friendship Causeway will be as long as 1,215 blue whales and 4.5 Mount Everests.
Travel times will be slashed from the current four hours to a mere half an hour, with anything from 10,000 to 20,000 vehicles expected to trundle across every day.
Hold on… is it the longest?
Actually, we're not sure how they're working this one out, because the Lake Pontchartrain Causeway near New Orleans is 24 miles long – but maybe that doesn't count because it goes over a lake?
And then there's the Chesapeake Bay Bridge-Tunnel which connects the Delmarva Peninsula with south eastern Virginia in the US. That's measured at 23 miles, but crosses a bay.
Or maybe – despite the illustration of the ruddy great bridge – this one is all abut being an open sea causeway, and that's the record they're claiming?
It's making our head hurt, but however they measure it, 13 miles is still a very long bridge.