Quickoffice has released its Quickoffice Connect Mobile Suite for Android devices, offering full editing of Microsoft Office files as well as access to a variety of cloud-based services such as Apple MobileMe, Google Docs, Box.net and Dropbox.
Running on the the Android Eclair 2.0/2.1 and Donut 1.6 operating systems, Quickoffice Connect Mobile Suite "seamlessly integrates access to remote cloud services within a full Office suite".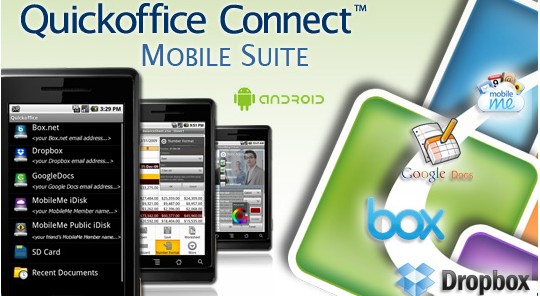 This means that users are able to view and edit Word, Excel and PowerPoint documents, including Office 97-2008 file formats, and view PDF files.
Quickoffice can also open email attachments and side load files to the SD memory card, with a built in file manager providing handy folder navigation for easy selection and movement of documents.
Thanls to deals done with Box.net and Dropbox,  users can quickly pull up files stored in the cloud from within the Quickoffice application.
Halpin is happy
"We've been shipping our viewing application on a variety of Android phones for the past year, and we're extremely excited to launch our full-featured Quickoffice Connect Mobile Suite in the Android Market," air-punched David Halpin, vice president of engineering at Quickoffice.
"Now, users of supported Android phones can purchase this powerful productivity app, and enjoy increased functionality combined with access to key cloud services."
Quickoffice already comes pre-loaded on some high end Android devices, with users able to buy an upgrade to include full editing and cloud access functionality from the Android Market for an introductory price of £10.40.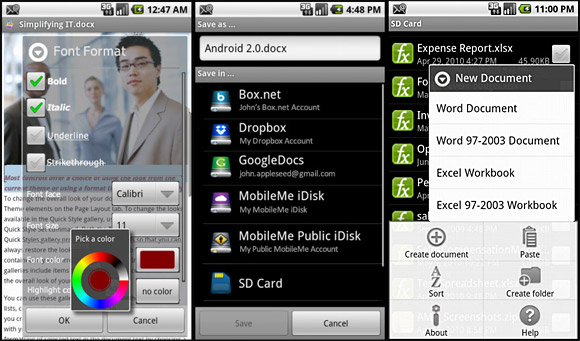 Full feature list:
With Quickoffice Connect™ Mobile Suite, you can:
View & edit Microsoft® Office 97-2008 Files (DOC, DOCX, XLS, XLSX, PPT, PPTX)
Enjoy continuous and convenient, easy mobile access to the Google® Docs, Dropbox, Box.net, and MobileMe remote storage services with an intuitive interface
Access & manage email attachments with the most popular file formats in our Connected Filemanager
Experience advanced PDF viewing while on the go
Save files to your remote storage provider, store files locally on device, or to your SD card
Localized in French, German, Italian & Spanish!
Reasons to buy Quickoffice vs. any other solution
Fast and responsive app performance
Easy access to multiple remote storage providers
Robust, rich features on Android 2.0 devices with Multitouch support for two-finger zoom and flick scrolling
Manage (copy, move, rename, create, delete and sort) files and folders
Search for files stored on your device, SD card or in your remote storage account
Browser & Open zip files
View documents in page layout view, including headers and footers
Edit directly into cells and view wrapped text in cells
Scroll through slides in a continuous view or in slide show mode
Very easy to use, intuitive user interface
100% data integrity – guaranteed Microsoft® compatibility
Responsive Customer Care Specialists
Simply works better!
Quickoffice Connect™ Mobile Suite offers 7 applications in 1 powerful mobile solution:
Create, open & edit Word documents
Create, open & edit Excel spreadsheets
Open & edit PowerPoint presentations
Easy access to multiple remote storage providers
Edit email attachments directly from the Android email app
View TXT and PDF files
Manage files and folders
Quickword® – Advanced Word Document Processing:
Create, open & edit Microsoft Word documents
Intuitively select and edit text
Rich text formatting; bold, italics, underline, strikethrough, font sizes & styles and font/background color
Reflow view wraps text at any zoom level, eliminating the need for repetitive left/right scrolling
Multi-touch zoom for Android 2.0 and higher with continuous zoom levels and support for flick scrolling
Page layout view displays headers and footers and indicates page numbers
Search for text
View and edit documents in portrait or landscape
View images and tables
Tap to follow hyperlinks, phone numbers and email addresses
View and edit bulleted and numbered lists
File Support: Edit (97-2008) .DOC, .DOCX, .DOCM, .DOT, .DOTX, .DOTM
Quicksheet® – Advanced Excel® Spreadsheet Editor
Create, Open & Edit Excel spreadsheets
Multi-touch zoom for Android 2.0 and higher with continuous zoom levels and support for flick scrolling
Directly edit cell contents in portrait or landscape
Extensive formatting; bold, italic, underline, strikethrough, font size & style and font & cell background color
Number formatting such as currency, accounting, date, time and scientific
Search for text
Quick navigation with Go To Cell
View images and charts
Select cells, columns, rows, and cell ranges for formatting
Formulas are dynamically recalculated
Navigate between worksheets inside a single spreadsheet
Tap, hold, and drag column/row headers to increase/decrease column width/row height
Easily change formula inputs and recalculate
Supports 140 Excel functions
File Support: (97-2008) .XLS, .XLSX, .XLSM, .XLA, .XLAM, .XLT, .XLTM, .XLTX
Quickpoint® – Advanced PowerPoint® Presentation Editor
Open PowerPoint presentations & Edit slide text
Multi-touch zoom for Android 2.0 and higher with continuous zoom levels and support for flick scrolling
View presentations in portrait or landscape
Scroll continuously though slides
View slides in manual or automatic slide show mode
Quick navigation with Go To Slide
File Support: (97-2008) .PPT, .PPTX, .POT, .POTX, .POTM, .PPTM, .PPA, .PPAM, .PPSX, .PPSM
QuickPDF® – Advanced PDF Viewer
Open PDF files, including password protected and encrypted files
Multi-touch zoom for Android 2.0 and higher with continuous zoom levels and support for flick scrolling
View files in page view or reading view, which wraps text at any zoom level, eliminating the need for repetitive left/right scrolling
Find text
Quick navigation with Go To Page
View and navigate with bookmarks
Rotate documents
Follow hyperlinks, email addresses and phone numbers
Connected File Manager
Open Microsoft Office files and view non-Office files within the file manager (non-Office files will be handled by any appropriate third-party applications that may be installed on the device)
Create, copy, move, delete and rename files and folders
Sort files and folders by name, type, size or date modified
Browse zip files as folders and copy files from zip folders to other directories
View and open recent documents