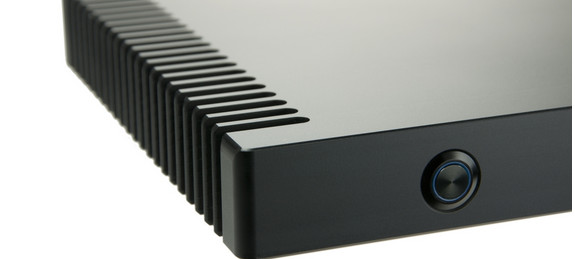 UK company Tranquil have released a novel, super-slim Windows 7 media centre PC designed to slip into a home hi-fi stack.
Measuring just 1.5in thick and minimally styled in a stylish matt black finish, the unit looks more like an audiophile CD player than a PC, with the  front panel containing nothing more than an on/off button and a CD/DVD writer slot.

Passively cooled and claimed to emit "zero noise," the MMC-12 packs a regular hard disk offering a rather modest 80GB of storage – Tranquil in fact recommend that their unit centre works best when hooked up with its own network storage solution.
Listed functions of the unit include:
Watch Live TV, pause or skip back (choose your own type and number of tuners)
Record / playback and schedule record TV shows
Playback all media files – pictures, music, videos
Playback CDs, DVDs, and BluRay discs (subject to disc player selected)
IPTV (ie BBC iPlayer included)

Attractively hewn from a "single piece of aerospace grade aluminium", the base configuration of the MMC-12 serves up a Core i3-2100T processor with 4GB of RAM, with upgrade options including a Core i5 processor, Blu-ray drive and an additional 2.5in hard disk.
The unit runs on Windows 7Home Premium and comes with a remote control.

The back of the unit is similarly sleek, with rather restricted connectivity options providing just two USB 3 and two USB 2 ports, a HDMI socket and a gigabit Ethernet port.
The unit has a maximum power consumption of only 19W, with the passive cooling keeping temperatures lover than 46 degrees centigrade.
Much as we're loving the look of this unit, the lack of twin built in HD tuners is a bit disappointing. Even though Tranquil list recommended external USB tuners, we're sure most people would rather live without the extra units and cable.
Prices start at £649 for the base configuration costs, with Tranquil offering a three-year, return-to-base warranty. The unit is also available OS-free for £278.
MMC-12 Specifications
Unit dimensions
395 (w) x 225 (d) x 40 (h) incl feet (mm)
Unit construction
Aluminium Unibody  (typically >70% recycled materials)
System heat sink
Fan less cooling of CPU, Southbridge and HDD
CPU
Intel i3-2100T
Memory
4GB DDR3 SODIMM 1333MHz – 1 slot free (max 8GB)
HDD
Optical drive
1x 2.5″ 13.5mm bay (empty), with 9mm HDD adapter
1x slot loading CD/DVD reader / writer
Colour options
Satin Black
Front panel
Power switch with integrated power LED (blue ring)
Rear panel
19v DC power in / 2x USB3.0 / 2x USB2.0 / 10.100.1000 LAN port / 1x eSATA
HDMI / DVI / Audio  (incl mini Optical SPDIF, needs 3.5″ > SPDIF adapter)
Weight
Base unit (nett) 8Kg
Power supply
External AC/DC with country specific power cord
Working temp
Maximum 46'C ambient
Mounting options
Desk
Power consumption
19W (incl 1xSSHDD) IDLE
Acoustics
0dBA (incl 1x SSHDD)
Software
Windows 7 Home Premium
[Tranquil]