This is an app that may be warmly welcomed by news junkies, commuters, students and folks who want a handy way of keeping webpages handy to read later, even without an internet connection.
A DVR for the web
Described as "a DVR for the web" and working much the same as the popular iPhone app Instapaper, Read It Later lets you easily save interesting web pages that can be accessed later on any PC or Android mobile device.
Articles can be saved from computers, browsers, phones, mobile devices and from within the 130 applications offering Read It Later Support, with all the devices tied together by a single log in.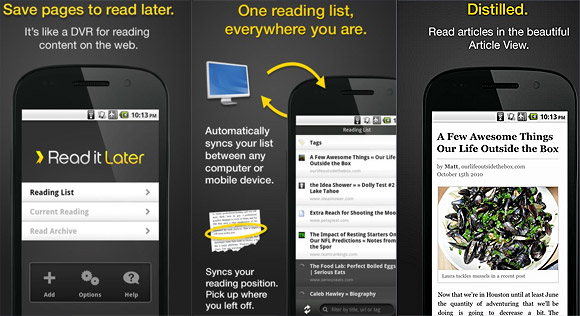 How it works
The service distils content to show just the words, images, captions and videos from an article (getting rid of sidebars, adverts and the like), with options to adjust the text size, font, alignment and more.
The Android app downloads articles on to your phone for offline reading (with the ability to store the cache on your SD card), with the option to search, sort, and tag items in your reading list.
With Instapaper seemingly not mindful to trouble themselves with an official app for their Android users (we've been using the subscription service InstaFetch up till now), we'll be transferring over to Read It Later, which is available now on sale in the Android Marketplace for just 50p.