One of the unexplained mysteries of modern technology is why mobile phones continue to get slimmer, smarter and more stylish while most home cordless phones look like chunky, great lumbering Stone Age slabs of ugly plastic with Neanderthal interfaces and squinty screens.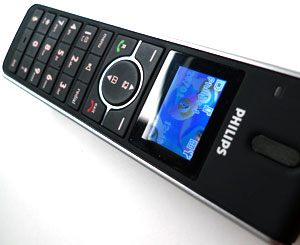 Looking rather dapper in its sleek and shiny modern finish, the Philips SE6552B cordless answerphone bucks the trend of beastly home phone design – but will its good looks be backed up by an equally pleasing performance?
The Philips SE6552B answerphone combo goes some way to redress the balance, although you certainly wouldn't mistake the beefy handset with a modern mobile as it's still a fairly substantial lump, although it does manage a colour screen.
Keypad
The backlit keypad comes in a rubberised finish with large buttons and a group of buttons below the screen for menu/option, make/end call and a circular button giving access to the call list and phonebook.
The handset was longer and thicker in the hand (oo-er) than we expected, and the hefty retro speakerphone grill on the back looked a little out of scale.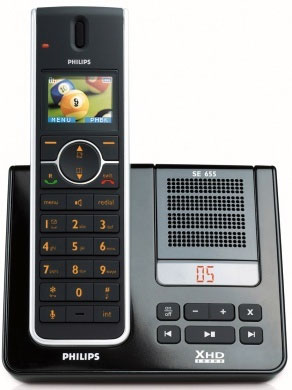 Colour screen
It may be 2009, but colour screens still remain something of a novelty on landline phones.
Even though Philips have fitted the SE655B with a colour screen, they haven't exactly pushed out the boat as it's a rather stingy 98 x 67 pixel affair.
The interface was easy enough to use and we rather liked the 'spirit of Amiga Workbench' pixelly icons, although there was only the usual duff range of annoying ringtones and nondescript wallpaper options on offer.
However, we warmed to the base unit with its clean lines, simple, over-sized buttons and large LED screen warning you of any new answerphone messages.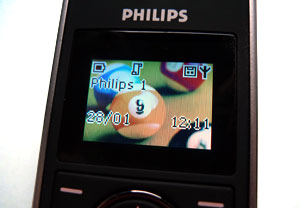 Ahoy! XHD Sound
Slapped on the front of the base unit was an 'XHD Sound' logo which Philips proudly boasts will offer a "level of clarity rarely heard before," all thanks to its "high-quality speaker, sophisticated technology and a real acoustic chamber."
We were rather excited by the promise of this high fallutin' technology, but the sound quality turned out to be a huge disappointment.
Every call was accompanied by a sort of swishing background noise that suggested that the conversation was taking place on a beach somewhere – or from inside a packet of crisps.
We tried using the handset closer to the base unit but still it sounded like we were swimming with the fishes.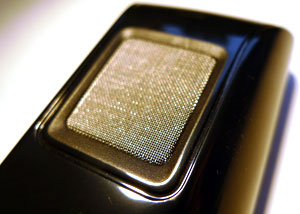 We tried moving the base unit to a different location, thinking its proximity to our broadband router may have been causing the interference, but still our Barnacle Bill soundtrack continued.
In fact, nothing we could do could get rid of the annoying background noise, even though earlier BT and Panasonic cordless phones had worked perfectly in the same location.
After a good half hour of moving things about and wandering around the office, we admitted defeat and put the Philips back in the box.
Conclusion
We really wanted to like this phone, but with a sound quality worse than our three year old Panasonic handset it was all but unusable.
Its failings could almost be forgiven if it were a cheap, low end phone, but with a price hovering around the £50 mark, it's a huge disappointment.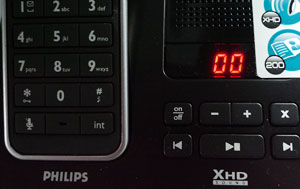 Our verdict
Ease of use: 90%
Build: 84%
Looks: 88%
Sound quality: 30%
Value for money: 40%
Overall: 32%
Philips SE6552B Cordless Answerphone Specifications
* Digital answering machine – 30 minute recording time
* Message counter on Base
* Backlight colour: White
* XHD sound
* Main Display Resolution: 98×67 pixel
* Main Display Technology: CSTN
* Main Display Type: Full Graphic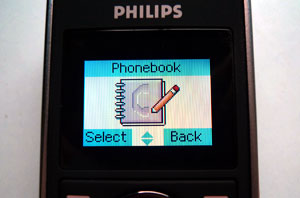 * Handset ringers: Polyphonic
* Volume Control: Volume Control up/down
* Call log entries: 50
* Phonebook: 200 names and numbers
* Redial List Capacity: 10
* Base dimensions: 131 x 116 x 76 mm
* Handset dimensions: 161 x 46 x 27.6 mm
* Battery capacity: 750 mAh
* Battery type: AAA NiMH
* Kind of Battery: Rechargeable
* Mains power: AC 120V – 60Hz
* Number of batteries: 2 per handset
* Standby time: Up to 150 hours
* Talk time: Up to 12 hours