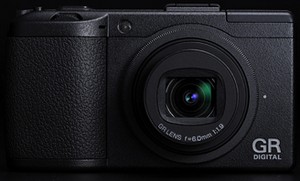 Ricoh has whisked out a firmware update for its high end 'street shooting' GR Digital III digital compact.
A lovely – if pricey –  little camera, the GR Digital comes with a fixed, wide angle 28mm (equiv)  f1.7 lens, set in a rugged, pocketable package that offers a host of manual controls for the 'hands on' photographer.
The latest firmware update serves up additional features and improvements,  including compatibility with the GF-1 external flashgun, the  addition of 1.5m snap focus distance and improved playback functions.
The firmware will be available for download from December 1, 2009 from Ricoh's website.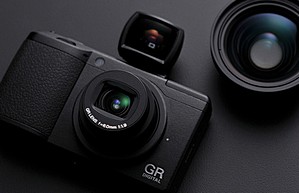 Press release
Tokyo, Japan – November 26 – Ricoh Co., Ltd. (President and CEO: Shiro Kondo) announced today that it will release on December 1 the first function-enhancing firmware update for its GR DIGITAL III, a high image quality compact digital camera launched in August 2009.
Successor model to the GR DIGITAL II, which went on sale in November 2007, the GR DIGITAL III features a F1.9 large-aperture lens and achieves high image quality in a compact body. Ricoh's function-enhancing firmware updates are developed in response to opinions and requests received from a large number of customers via GR BLOG, surveys submitted at customer registration time, etc. These updates enable customers who already own a GR DIGITAL III to update their firmware to include the latest functions.
In conjunction with the introduction of the new GXR, this first release enables the GR DIGITAL III to use new functions that include functions of the GXR (functions 2 to 5 below).
The function-enhancing firmware and instructions for using these functions can be downloaded free of charge from the Ricoh website.
Enhanced functions
External flash GF-1 compatibility
When the GF-1 external flash is connected, it is possible to switch to flash mode by pushing the flash button. During interval shooting, even if the GF-1 or some other external flash is connected, it will not flash.
Addition of function for playback by date
When the 81-frame view is displayed in playback mode, pushing the thumbnail display button again changes to a view sorted by date.
Addition of paging function for multi-frame views
When using multi-frame views (20-frame, 81-frame, or date sequence), it is possible to switch between the image selection screen and the paging screen.
Menu paging function
When displaying the shooting menu, the setup menu, or items selected in "Edit My Settings," it is possible to switch pages using the zoom button.
Addition of new focus distance when snap is selected
The setting choice "1.5 m" has been added to the snap focus distances of the shooting menu.
Addition of "ADJ. ISO direct change" function
The "ADJ. ISO direct change" function has been added to the setup menu. If it is set ON, in