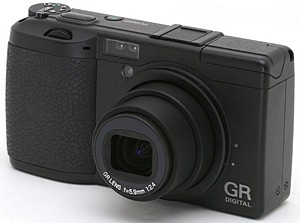 Ricoh's GR range of compact, high-end street shooting cameras is now up to version III, but we fell in love with the camera back in 2006 when the first model came out.
We reviewed the camera not long after it was released, but seeing as we're still using it, we thought you may be interested in both the original review and our long term opinion after three eyars with the camera.
Many of the comments equally apply to the GRD III, which shares a lot of features with the original camera, although several key areas have been much improved.
Original review:
If you're looking for an auto everything camera with a zillion hand-holding scene modes, big pretty icons and more wizards than a cauldron convention, this isn't the camera for you.
If you're after a camera with a ginormous zoom able to sweep in and capture the delicate fluttering of a wasp's wings from 300 yards, move on.
And if you like your cameras to look mean'n'lean with big shiny lenses, all-swivellin', flip-out LCD screens with hi-tech add-ons like optical image stabilisation and bleeping bells'n'whistles, walk on by.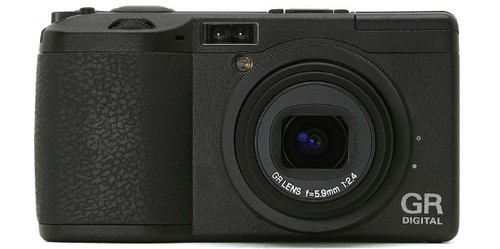 Less is more
Unlike any other digital compact we can think of, the Ricoh GR Digital is an 8 megapixel digital camera that seems to be unique in selling itself on having less whiz-bang features than its competitors.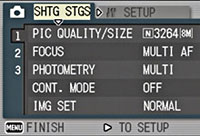 Although this approach may not appeal to the point'n'shoot brigade, for enthusiasts fed up with the endless button pushing and dial spinning that comes with most compact digicams, this camera is a revelation.
Based on the legendary Ricoh GR1 35mm film camera, the GR is a no-holds barred landscape/street photographer's dream offering a fast, fixed 28mm f2.4 lens, beautiful handling and dedicated manual controls giving full control over exposure.
An optional wide angle adapter provides an incredible, super-wide 21mm (film equiv) view – perfect for landscape/architectural photographers – although the removable lens mount ring looks a prime candidate to be promptly lost.
Sadly, there's no built in optical viewfinder, although the big 2.5″ LCD 210k pixel screen performed well in bright light and can also display a live histogram display.
Pro users (with deep pockets) may be tempted to shell out for the optional Optical Viewfinder – this clips onto the hotshoe socket and offered the brightest view we've ever seen on a compact digicam.
Handling
Despite its non-bling, ultra-basic looks (one person mistook the £400 camera for a disposable!) when you pick up the Ricoh you can instantly feel the class – it's tough, feels great, it's just the right size in the hands with all the controls exactly where you want them to be.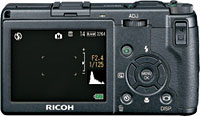 The camera is one of the smallest digital cameras with ultra-wide angle lens, and fits easily in a pocket, measuring 107 x 25 x 58 mm (WxDxH).
Ricoh's menu system proved very intuitive, with clearly labelled tabs guiding users through the various options available and the paper manual was one of the better ones we've read – and thankfully didn't come in five hundred obscure languages.
The camera takes a proprietary lithium-ion rechargable battery which gave a reasonable battery life of around 230 shots, while Ricoh usefully include the option to use 2 AAA batteries in an emergency.
Although these are likely to pack in after only 25 shots or so, they could be a life saver when batteries fail unexpectedly.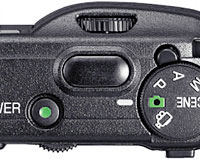 Exposure and shooting options
Although there is one 'Auto' mode, to appreciate this camera you've got to switch to the advanced modes: Program Shift, Aperture Priority and Manual (there is a scene mode, but this only has a voice recording option and a setting for capturing text).
In Aperture Priority, turning the dial at the front of the camera directly changes aperture values, with the updated shutter speed appearing in the LCD screen.
In Manual mode, traditional photographers may feel a nostalgic tear welling up in their eyes as they see the welcome reappearance of a time-honoured -2 EV to +2EV needle displaying the exposure status.
In any shooting mode, important values like ISO rating, focus, white balance and exposure compensation could be brought up instantly by clicking on the rear control wheel and then scrolling to the required parameter.
Usefully, these options could be configured to suit the photographer's preferences or the job in hand.
Shooting
The camera proved fairly nippy to start up and was ready to start snapping in about two seconds. Despite the power under the hood, the camera was really easy to use and we rarely found ourselves having to consult the manual.
Focusing was very fast with minimal shutter lag, with shot to shot time roaring along with a delay of just over a second between shots when refocused (without flash).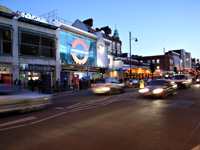 Shooting in continuous mode managed around four, full frame shots in just over a second before the camera had to pause to write to the card.
However, it was a different story when shooting in RAW with the camera locking up for anything up to 15 seconds – a veritable lifetime for a street photographer.
Both flash recharge times and image playback were speedy enough and we were particularly impressed with the macro performance which focused up to an outrageously close 1cm.
ISO settings went from ISO64 up to ISO1600, with shutter speeds adjustable from a long 3 minutes to 1/2000 sec, and the GR Digital also records 320×240 movies with sound at 30fps.
Image quality
We were very impressed with image quality and colour, with the fast, wide 28mm f2.4 lens producing excellent results, with sharp pictures and little in the way of chromatic aberration.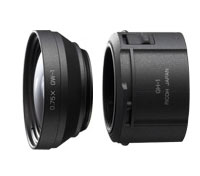 Shooting in RAW and spending a little time in post-processing produced some stunning results, but shooting at low ISO/high quality JPEG should prove fine for most users.
Noise was pretty much under control at the lower ISO ratings although things, not surprisingly, got a little messy at 1600 – but the quality was still good enough to knock out a 6″ x 4″ print or web image.
Conclusion
The Ricoh GR Digital is a truly unique digital camera that stands out from the crowd by concentrating on the basics, offering a speedy performance, full creative control, a good battery life and a fast, crisp wide-angle lens that made it perfect for landscapes and cameos.
We fell in love with the camera's lo-fi look, with its nondescript appearance barely attracting attention on the street, letting us get on with taking pictures unhindered.
Throughout the test period, the Ricoh constantly reminded us of our old 35mm super compact Olympus XA, a much loved camera which was hugely popular amongst pros and semi-pros. We've been looking for something to replace this camera for years. Maybe the Ricoh is it.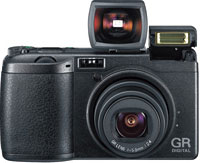 Because of its niche appeal, the Ricoh's a tough camera to unreservedly recommend, but for keen street/landscape photographers looking for a rugged, flexible, high quality camera capable of the very highest results, we'd put the GR Digital right at the very top of the list.
Our verdict
Features: 75%
Ease of Use: 85%
Image Quality: 90%
Overall: 90%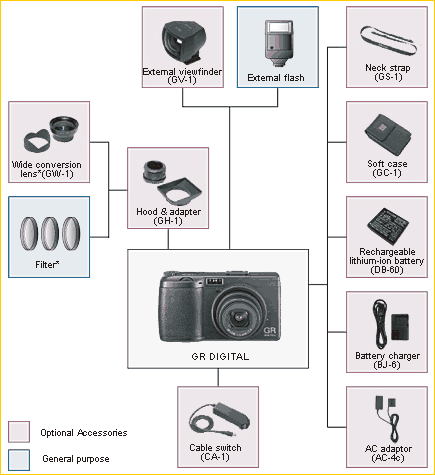 Specifications
Sensor 1/1.8″ Type CCD, 8.1 million effective pixels
Image sizes 3264 x 2448, 3264 x 2176, 2592 x 1944, 2048 x 1536, 1280 x 960, 640 x 480
Text: 3264 x 2448, 2048 x 1536
Movie clips 320 x 240, 160 x 120
File formats
Still: JPEG, RAW, TIFF (TEXT ONLY)
Movie: AVI
Sound: WAV
Lens 28 mm (35 mm equiv), F 2.4 – F 11
Digital zoom Up to 4x
Focus Auto focus, Manual focus, Snap, Infinity
AF assist lamp Yes
Focus distance Normal: 30cm to infinity
Macro: 0.02 m to infinity
Metering 256 multi-point, Spot metering, Centre-weighted average
ISO sensitivity ISO 64, ISO 100, ISO 200, ISO 400, ISO 800, ISO 1600 (not available in RAW mode)
Exposure compensation +/-2EV, 1/3 EV steps
Exposure bracketing -0.5 EV, 0, +0.5 EV
Shutter speed 180 – 1/2000 sec
Modes Program, Aperture priority, Program shift AE
White balance Auto, Daylight, Overcast, Tungsten Light, Fluorescent light, Manual, Advanced
White bracketing Yes
Self timer 2 or 10 secs
Continuous shooting Yes
Flash Built-in pop-up, Auto, red-eye suppression, force flash, slow synchro, no flash
Range: Approx. 0.2 to 3 m (when ISO Auto is set)
Viewfinder External viewfinder via hotshoe
LCD monitor 2.5″ TFT LCD, 210,000 pixels
Connectivity USB 2.0
Storage SD card/26 MB internal memory
Power 1x rechargeable D-60 battery or 2x AAA batteries
Weight 170 g (6 oz) (no card, batteries or strap), 200 g (7.1 oz) (with batteries and strap)
Dimensions 107 x 25 x 58 mm (4.2 x 1 x 2.3 in)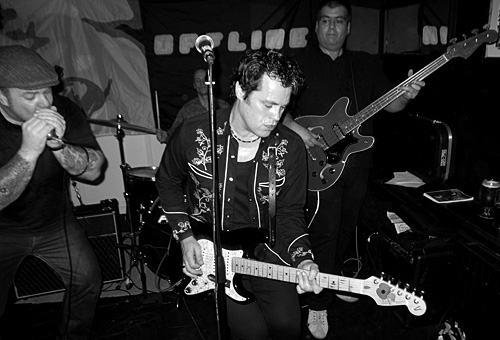 Long term verdict
Although we have a notoriously high turnover of cameras in the office, discarding perfectly good cameras as we're wooed by the latest shiny new gizmo, the GRD has remained, retaining a niche employment as our first choice of camera for shooting gigs and, err, pub shots.
It's perhaps rather an undignified end for such a long serving camera, but it was long replaced by the excellent Lumix LX3 as our choice of carry-everywhere compact.
That said, we do find ourselves relying on the Ricoh's fast lens and full manual controls to capture shots in the near-dark of concert halls that may have defeated other compacts.
Its slimline form factor means it's not a bind to lug about, although we have had issues with the retractable lens blades not opening fully.
We figure this is down to beer deposits from a lively night somewhere, but careful cleaning has not solved the problem, forcing us to manually flick the blades fully open (carefully).
However, when we have fired off a couple of shots with the lens not fully open, we've ended up with a not-too unpleasant vignette effect, which is fine for club shots but clearly would be a disaster for landscapes and 'serious' shooting!
Although long usurped by the LX3, the Ricoh GR is still a fine camera for photo enthusiasts, and we can definitely recommend picking one up second hand if you're looking for a fast, responsive camera that can be tailored to work the way you like.