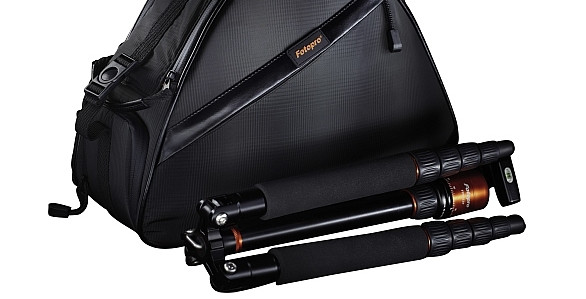 Rollei has unveiled a super compact tripod and waterproof camera bag combo in the shape of the Rollei Fotopro TT-1.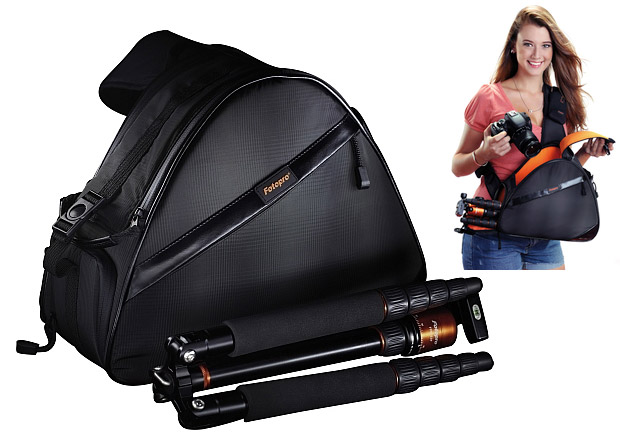 Designed for 'travel fans and outdoor photographers,' the TT-1 package is set to sell for  €199.95 with the bag and tripod weighing in a 1kg.
The X4i aluminium tripod offers a maximum load capacity of 5kg and a total height of 1.44m, folding down to 32mm for storage.
The B1 bag = which we have to say isn't really to our tastes – can fit both the tripod and a small dSLR camera with two lenses and other accessories, all kept safe inside a scratch- and dustproof inner lining.
Technical data Tripod Bag

Dimension: 35 x16 x 26 cm
Net weight: 650 g
Capacity: DSLR + Objektiv + Flash + Tripod or DSLR + 2 Objectives + Flash

Technical data Tripod

Material: Aluminium
Colour: Black, Orange trim
Tripod heights: maximum height: 135 cm | minimum height: 105 cm
Tripod pack size: 32 cm
Load: max. 5 kg
Weight: 1000 g
Here's the full press release:
Rollei Press Release

Rollei Fotopro TT-1: 2 in 1 travel-tripod and bag combination
Hamburg, 14 June 2012

Rollei Fotopro TT1

Rollei introduces an absolute highlight among tripods: the Rollei Fotopro TT-1, comprising the X4i travel-tripod and the B1 bag.

This combination of an elegant holster-bag and a compact aluminium tripod boasts small dimensions (32 centimetres) and low weight (1 kilogram including ball-head), making it a constant companion when you have your camera with you.

Doesn't that sound exciting? The X4i aluminium tripod could almost be called tiny; with a load-bearing capacity of 5 kilograms and a total height of 1.44 metres, it weighs just a kilogram including the ball head.

With these dimensions of course it fits perfectly in the holster-bag and photo-rucksack combination bearing the product name B1. In addition to a tripod the set also includes a padded and top-quality bag, which can accommodate not only the tripod but also a camera plus two lenses and accessories. This set is ideal for small DSLR systems and mirrorless cameras.

The black, waterproof, padded bag has a scratch and dustproof inner lining, which gives the accessories optimum protection. The bag can be carried on your back as a rucksack or to one side as a holster, so that the photographer always has the camera to hand. A pocket that is difficult to get into safeguards personal papers or storage media. For when you need to do a lot of walking, the bag has a narrow waist-strap so you can be extra secure. The strap on the bag has very good padding for maximum comfort, and has a removable neoprene section for mobile phones. The strap can easily be unfastened by means of a buckle.

The set is a real highlight in terms of workmanship and fine design, and is available in stores for EUR 199.95, including tools and spare feet. The bag and tripod also go together in terms of colour; the tripod collar and the ball-head are designed to be exactly the same orange as the interior of the bag. The high quality standard is finally also underpinned by a 24-month replacement service.

Included in the package:
TT1 tripod bag, X4i tripod with ball-head, rain cover and toolkit.