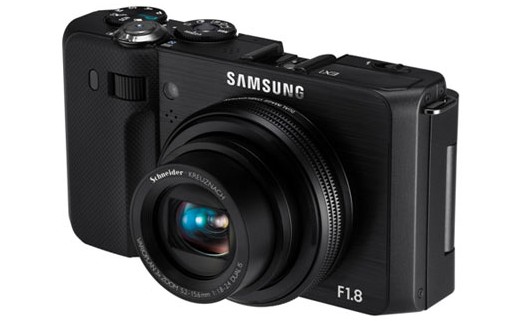 Samsung have slammed out the sizzling 10 mega-pixel EX1 snapper with a scorchio lens, aimed at advanced and enthusiast photographers.
The flagship of the company's compact digital camera family, the EX1 packs in a high-performance imaging sensor with the standout feature being an incredible 24mm f/1.8. ultra-wide angle zoom.
"With the EX1, Samsung further differentiates its line up from the competition and achieves yet another milestone in the industry," purred Steve Mitchell, General Marketing Manager, Samsung Digital Imaging.
"With ultra-wide angle capability and unparalleled speed, the EX1's lens offers a new level of versatility allowing the user to be more creative and take better pictures," he continued, in an insistent manner.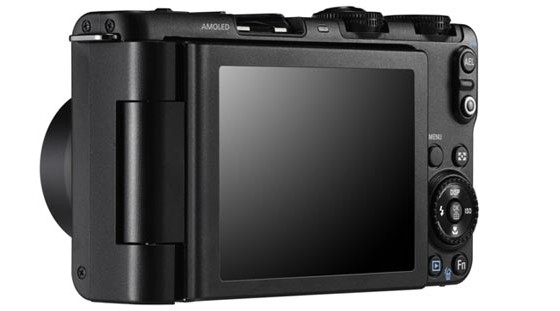 The ultra-fast, f/1.8 lens is coupled with Samsung's new high-performance 1/1.7" CCD sensor offering a max ISO 3200 at full-resolution, with the updated DRIMeIII imaging processor doing the backroom stuff.
Our favourite camera of last year – Panasonic's astonishing Lumix LX3 – also features a fast 24mm zoom, and once you get used to capturing big scenes with ultra-wide lens, even a 28mm lens feels restrictive.
The Samsung steals a march on the Lumix with its three-inch, super-swiveling AMOLED screen, offering a higher contrast ratio, deeper blacks and more accurate, vivid colours, with the lower power consumption promising an improved battery life.
There's also Samsung's Dual Image Stabilisation technology on-board to shun the shakes and banish the blurs.
Shooting modes
In line with its pro-pleasing aspirations, the The EX1 supports RAW and offers full shutter‑priority, aperture‑priority and full Manual shooting modes, as well as  Samsung's Smart Auto 2.0 (Still & Movie) scene recognition technology.
Movie what?
Rather surprisingly, when it comes to video recording, the EX1 can only muster a decidedly old school 640×480 / 30fps / H.264 which seems hopelessly outdated when you consider the two year old LX3 can shoot HD video at 16:9 aspect ratio at 1280 x 720 pixels at 24fps, and 848×480 at 30 fps.
Priced around £399.99, the Samsung should be shimmying into the stores come April.
We're certainly digging the looks and we're swooning over the fast lens – but come on Samsung – what were you thinking when you burdened this stylish snapper with such a crappy video mode?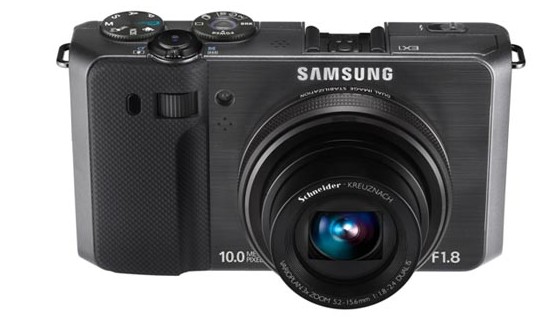 Samsung EX1 Specifications
• 10 megapixels
• 3x optical zoom / ultra-wide 24mm
• 3.0" swiveling AMOLED LCD
• Movie Mode: 640×480 @30fps / H.264
• Size: 114.3mm x 63.2mm x 29.2mm
• Special Features:
– The Bright f/1.8 lens on a compact camera
– 24mm Ultra-Wide-Angle Lens
- 3.0" Swiveling AMOLED
– Dual Image Stabilisation (Optical + Digital)
– Manual Controls: A/S/M
– RAW support
– Smart Auto 2.0 (Still & Movie)
- Large 1/1.7 inch, high sensitivity CCD
– Front Wheel Control